Cool Stuff: Gabz Created An Epic 'Lord Of The Rings' Trilogy Poster To Rule Them All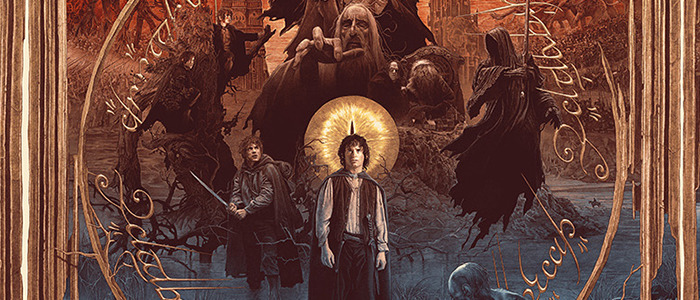 After giving us outstanding artwork for both Star Wars and Indiana Jones, the artist Gabz is back with another piece of cinematic trilogy art for The Lord of the Rings movies directed by Peter Jackson.
Paying tribute to The Fellowship of the Ring, The Two Towers and Return of the King, the Gabz Lord of the Rings trilogy poster from Bottleneck Gallery features all of your favorite characters in a triptych style poster, complete with the fiery, watchful eye of Sauron looking down upon them and one ring to rule them all prominently right in the middle. Check it out below and find out when and where you can get it.
Gabz Lord of the Rings Poster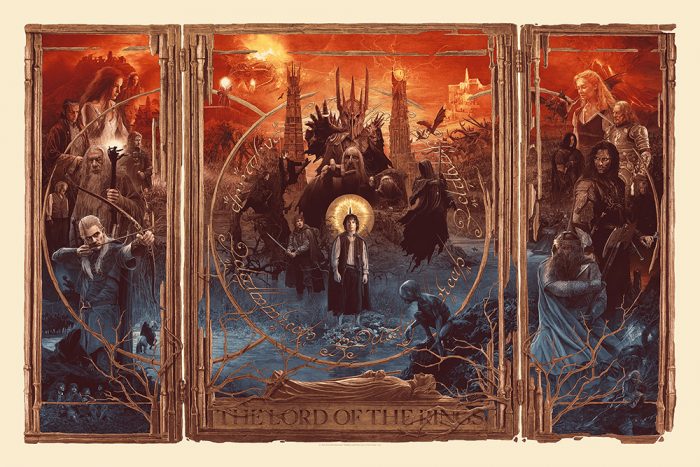 The Lord of the Rings Triptych by Gabz
20 color screen print with metallic inks
36 x 24 inches
Hand-numbered timed edition
Edition size will be determined by the number of print sold
through Sunday, December 13th @ 11:59PM ET
$65 / Set $215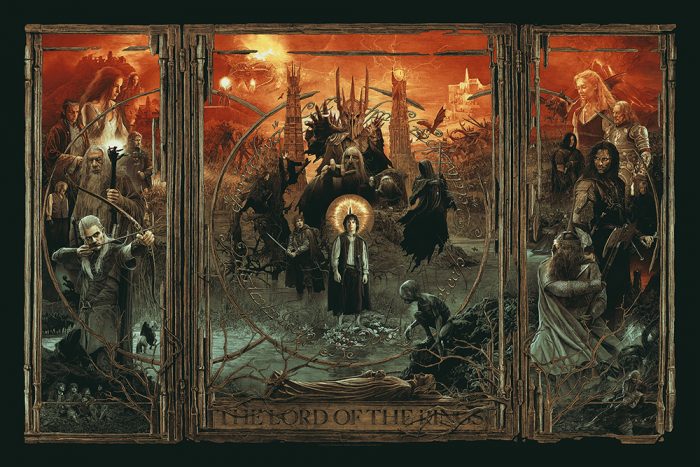 The Lord of the Rings Triptych – Variant by Gabz
14 color screen print with metallic inks
36 x 24 inches
Hand-numbered edition of 450
$75 / Set $215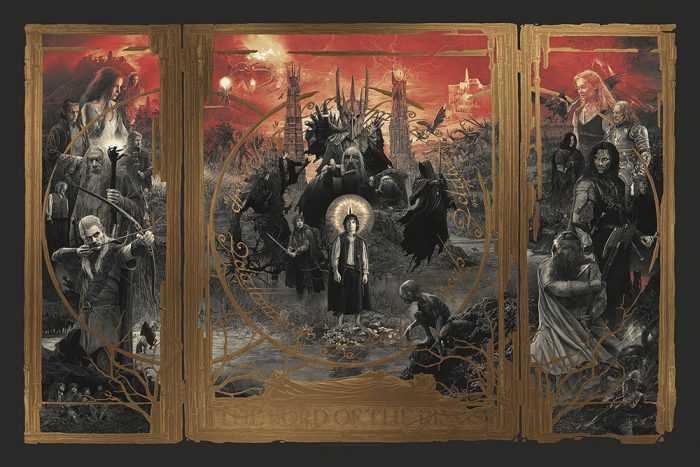 The Lord of the Rings Triptych – Gold Foil Variant by Gabz
14 color screen print on gold foil paper with metallic inks
36 x 24 inches
Hand-numbered edition of 275
$85 / Set $215
Personally, I think the variant is the best version of the artwork, even if the colors pop a little bit more in the standard edition. While I like the idea of a gold foil variant making the framing, the title, and the writing from the ring shimmer, it looks like maybe it's a little too much foil, especially since the print itself already has metallic inks. But maybe it won't be so overwhelming seeing the actual print in person. Honestly, whichever one you grab, you're getting a stellar Lord of the Rings print.
All of them go on sale at Bottleneck Gallery's website starting Wednesday (today), December 9 at 12:00 P.M. ET, but the alternate color variant and gold foil variant will only be available while supplies last. As for the regular version, it's a timed edition that will be on sale until Sunday, December 13 at 11:59 P.M. ET. So at least if you miss out on either of the variants, you won't have a hard time getting the regular edition.
Here's what Gabz wrote in his artist statement about the creation of his Lord of the Rings poster:
"Even the smallest person can change the course of the future"
I'm super excited to finally be able to share with you guys my take on Peter Jackson's "The Lord of the Rings" trilogy. It was quite a journey...
J. R. R. Tolkien has been a significant part of my childhood since my father read it to us back and forth when we were kids, but I also remember how impressed and mesmerised I was with Peter Jackson's adaptation when it hit the theatres. Great costumes, casting, spectacular visuals, music and storytelling throughout. As difficult as it turned out to be, I knew I wanted to fit the entire trilogy on a single artwork, similarly to my previous releases with Bottleneck Gallery for both Star Wars and Indiana Jones triptych prints. My main inspirations were Renaissance paintings (triptych compositions mainly) and to some degree classic fantasy illustrations, but of course I did want to give it my personal touch. With the main focus on Frodo, Sam and their journey to Mordor, I tried my best to include as many characters and crucial locations as I could... though some tough choices had to be made. Nearly 4 months of hard work during which 20 separate pencil drawings were created, later scanned and combined in Photoshop where I also applied colors, shading and polished all the necessary details and likenesses.
Big shout out to everyone that helped or advised me along the way: including my brother Krzysztof who helped with the title, my good buddy Tomasz Lassota who did the color separations, to my pal Piotr Buczkowski for 3D renderings and last but not least, to the biggest Tolkien fan I know, Micha? Czapski, who's input in the first stage of sketching in particular was extremely helpful. Thank you all!"