Adele Annoys The Cast Of 'The Bachelor' And Can't Stop Laughing In A Decent 'Saturday Night Live'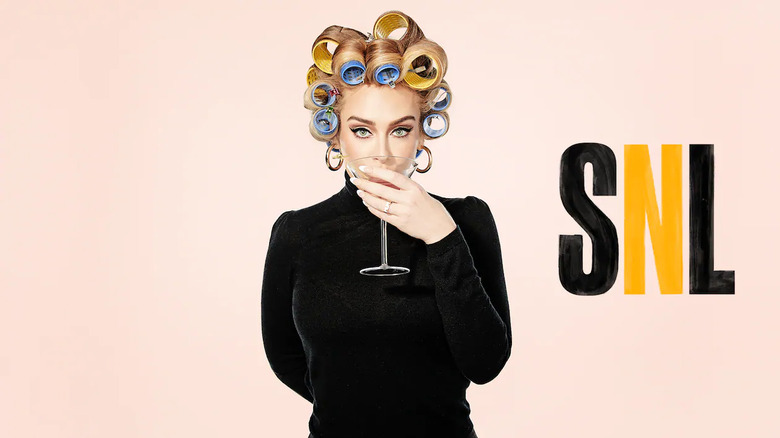 After a lackluster episode that didn't take full advantage of the comedic skills of Issa Rae, the latest episode of Saturday Night Live hosted by Adele brought some life back to the late night sketch series. The chart-topping Grammy winner hosted for the first time and didn't pull double duty as musical guest, but that didn't stop her from belting out some of her signature tunes in one of the best sketches of the night. But she also couldn't keep her composure and kept cracking up during one of the worst sketches.
So let's get down to the best and worst sketches of the Adele hosted Saturday Night Live.
The Best
Madame Vivelda – In 2019, everyone thought 2020 was going to be the year that we turned it all around. But as we all know, this year kicked us square in the face. But what if a fortune teller knew about all the insanity that awaited us, and a group of friends just didn't know how to decipher the madness that awaited us? That's what happens in this sketch, which even manages to get a timely reference to Jeffrey Toobin's inappropriate Zoom gaffe in there.
The Bachelor – You've seen SNL tackle The Bachelor before, but usually the formula finds a variety of contestants constantly interrupting quality time between The Bachelor and the rest of the women. But this approach was a lot more fun as it found Adele playing herself, trying to find love on the reality dating show. Because she's Adele, she can't help but interrupt the usual flow of the show with excerpts of her chart-topping songs. Yes, she really sings, and yes it's hilarious.
Visiting Grandma – One of the sadder sides of quarantine is our inability to visit the older members of our family, whether it's in their homes or at some kind of assisted living facility. But some grandchildren do as much as they can be speaking to their grandmother as she looks down at the from the balcony of her room, along with the nurse who helps her. Maya Rudolph is brought in to this sketch, and it's her portrayal of grandma that really makes this sketch shine, but the increasingly frustrated grandchildren who hate how grandma just cuts to the core of their excuses and shortcomings raise it up too.
The Average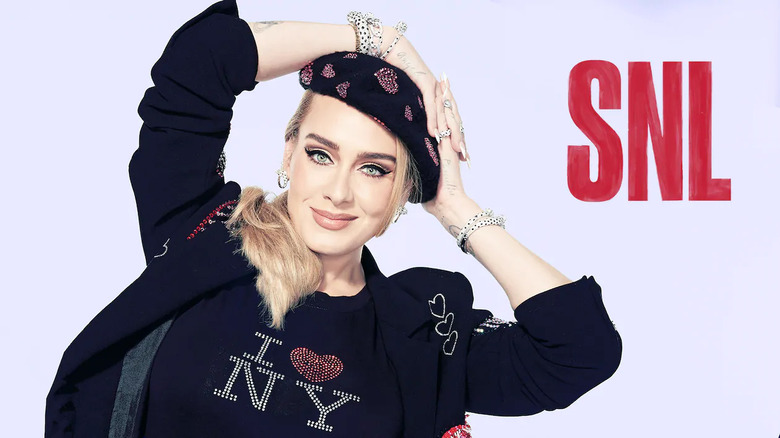 Final Debate Cold Open – Maya Rudolph kicked off this episode as the moderator of the final presidential debate (she doesn't even show up as Kamala Harris in this episode). Just as we're all grateful that this past week gave us the last debate of this election, I'm glad that this is the last presidential debate sketch we have to deal with. They've all been fairly middling, and Jim Carrey's take on Joe Biden has started to lose its luster. This one especially felt like it was Carrey tapping into more of his own physical comedy rather than trying to be Biden. He even does an impersonation of Clint Eastwood, but somehow it's not as good as he's done it before.
Chad in a Haunted Mansion – I'm surprised this wasn't held until the Halloween episode next weekend, but having Adele playing a spooky haunted house ghost is probably better than anyone else doing it. You already know what's going to happen when Pete Davidson makes a return as Chad, but here, there are some fun twists on the formula as Chad messes up the unfinished business of Adele's ghostly character, and then ends up succumbing to his own stupidity. It makes me wonder if this is the end of Chad, or if SNL could possibly keep the continuity of the end of this sketch going.
Election Ad – While it does feel weird to think of what the political discourse will be like when/if Donald Trump is defeated in the upcoming election, the mere possibility is thrilling. But this ad features people worrying what their lives will be like without Trump's insanity in. While the concept itself is amusing, it does feel a little tone deaf when you consider how much really is at stake of Trump wins the election. It elicits more nervous chuckles than genuinely hearty laughter.
The Worst
Ass Angel Jeans – Every now and then, SNL does these retro kind of commercials. Sometimes they work, other times you get something like Ass Angle Jeans that is all sizzle and no steak. The aesthetic of this commercial is perfect, and Adele, Maya Rudolph and Beck Bennett are giving it everything they got. But it's just not that funny. The idea of the jeans being too chemically enhanced to touch anything is probably the best gag, but beyond that, it feels like the sketch is half-baked.
Africa Tourism – The suggestive premise at the center of this sketch is mildly amusing, but not enough to sustain a four minute sketch. The funniest thing about this sketch is that Adele suddenly can't contain herself, and she keeps breaking character. She just can't handle how calmly they're saying the most sexually suggestive things. I just wish the sketch around this great candid moment was funnier.
Weekend Update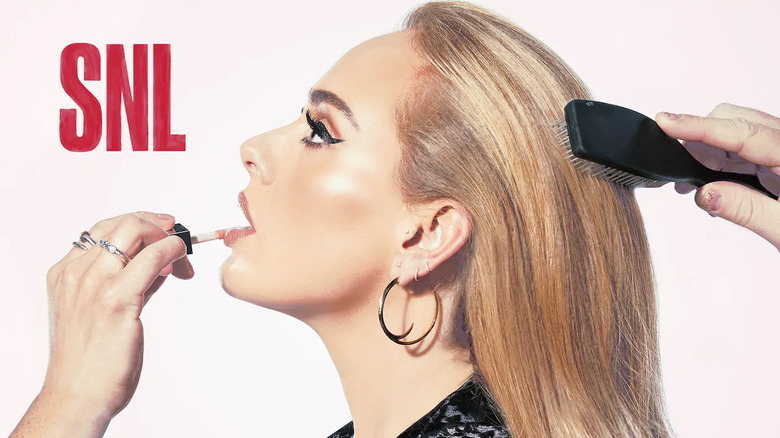 After last weekend's stilted edition of Weekend Update, Colin Jost and Michael Che were back with a vengeance this weekend and the audience was on board with them. They get some good laughs at each other's jokes, even a couple that they're not fully on board with, and they have some sharp one-liners in there too. I will say that their political material this time feels less like comedy than their genuine perspective on what they wish would have happened in the final presidential debate, but it does allow them to take some digs at Donald Trump, so it's all right.
Melissa Villaseñor on How to Quarantine Alone – It's been awhile since Melissa Villaseñor was able to shine as herself at the Weekend Update desk. This bit is a little awkward and only amusing, but it's also has some great impressions, and it's honestly just a cute, harmless kind of bit. Not everything at the Weekend Update desk needs to have sharp social commentary, and I thoroughly enjoyed this.
Village People on Donald Trump Using Their Music – This was an outstanding departure from the usual Weekend Update guest segment. Having The Village People parody YMCA with new lyrics telling Donald Trump to stop using their music was solid, but the bit gets even better when they dig into their frustration in a weirder way. They talk about tricking Ivanka Trump with a fake salon, and there's also the complex dynamic of the group where one of them is still a MAGA supporter. Loved it.
The Host
This is the first time Adele hosted Saturday Night Live, but you wouldn't know it since she was so comfortable having fun with the cast. Unlike last weekend's episode with Issa Rae, the writers gave Adele plenty of opportunity to go big and dig into a variety of characters, even if most of them were still British. Adele clearly has no problem getting goofy, and she even used her incredible voice for laughs. Hopefully next time she hosts, she can double as host and musical guest.
The MVP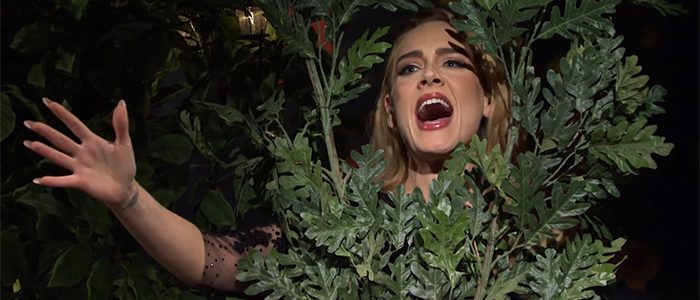 Adele – The presence of the cast was pretty evenly distributed throughout the evening, and none of them had multiple standout moments in the best sketches (though Maya Rudolph surprisingly came close in her guest appearance). That's why Adele gets this week's MVP title. For being a first time host, she knocked it out of the park and put herself on par with the likes of Justin Timberlake and Chance the Rapper as great musical guests turned hosts. I'm very much looking forward to her being asked back to host sometime in the future.The Final WordSaturday Night Live bounced back this week after last weekend's letdown. It wasn't a knockout episode, but it was solid. We'll see if they can continue to pick things back up when John Mulaney returns to host the Halloween episode next weekend on October 31. But we'll be heading into the show's fifth consecutive episode, and the cast and writers might be tired. Then again, they could be ramping things up for the holiday, especially with the election coming up. It's tough doing this many episodes back-to-back, but they could get a second wind. Plus, they now have a sixth consecutive episode planned for after the election, which will hopefully have something more to celebrate.