Netflix Debuts 'The Crown' Season 4 First Looks At Gillian Anderson As Margaret Thatcher, Emma Corrin As Princess Diana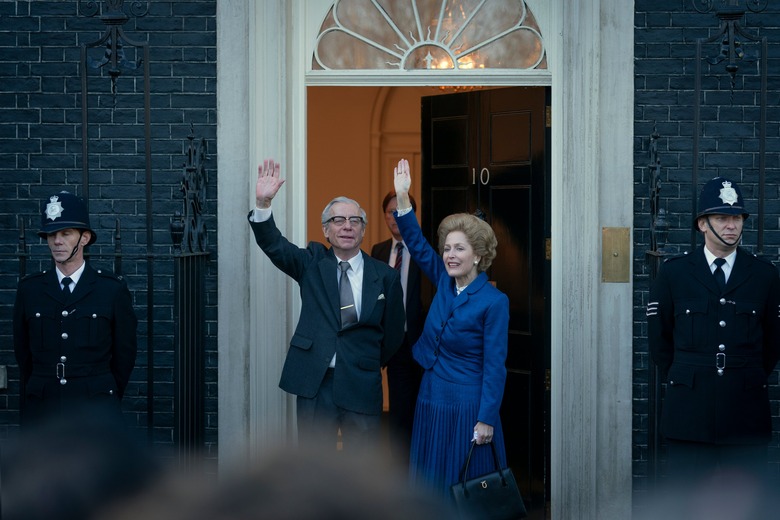 The Crown season 4 is getting a few steely new additions to its cast. In the fourth season of Netflix's royal drama, Gillian Anderson makes her debut as the Iron Lady herself, Margaret Thatcher, while newcomer Emma Corrin steps out as the beloved Princess Diana. See The Crown season 4 first look images below.
The Crown Season 4 First Look
Netflix has revealed the first looks at Gillian Anderson as U.K. Prime Minister Margaret Thatcher and Emma Corrin as Princess Diana, ahead of The Crown season 4 premiere this November. Anderson is completely transformed as the Iron Lady, wearing a wig that looks like it could withstand a few tons of iron and a sleek blue suit. Meanwhile, Corrin makes her debut as "Shy Di" walking a red carpet with Josh O'Connor's Prince Charles.
The Crown season 4 begins in the late 1970s where Queen Elizabeth (Olivia Colman) and her family become preoccupied with safeguarding the line of succession by securing a bride for Prince Charles, still unmarried at 30. The fourth season also delves into the divisive policies introduced by Britain's first female prime minister Margaret Thatcher (Anderson), with whom tensions rise with the Queen.
Created and written by Peter Morgan, The Crown stars Oscar winner Olivia Colman as Queen Elizabeth II, Tobias Menzies as Prince Philip, Helena Bonham Carter as Princess Margaret, Ben Daniels as the Earl of Snowden, Erin Doherty as Princess Anne, Josh O'Connor as Prince Charles, and Marion Bailey as the Queen Mother.
In July, it was announced that The Crown would be extended for a sixth and final season. Season 5 will see the final cast change, with Imelda Staunton taking the throne as Queen Elizabeth, while Elizabeth Debicki will play a very tall Princess Diana. Lesley Manville will take the role of Princess Margaret, taking over the role from Helena Bonham Carter. Jonathan Pryce will be the show's final Prince Philip.
The Crown season 4 premieres on Netflix on November 15, 2020.
Based on an award-winning play ("The Audience") by showrunner Peter Morgan, this lavish, Netflix-original drama chronicles the life of Queen Elizabeth II (Claire Foy) from the 1940s to modern times. The series begins with an inside look at the early reign of the queen, who ascended the throne at age 25 after the death of her father, King George VI. As the decades pass, personal intrigues, romances, and political rivalries are revealed that played a big role in events that shaped the later years of the 20th century.