Fantastic Fest 2020 Offering Free Virtual Screenings Of Films To Anyone In The United States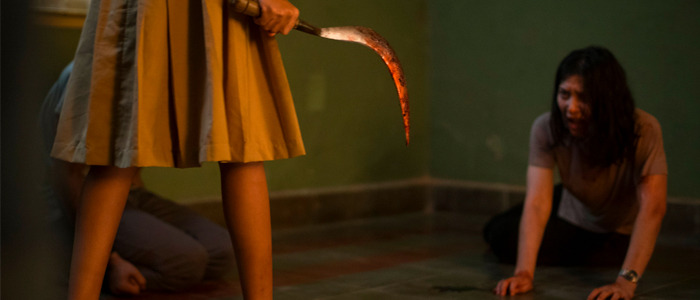 Fantastic Fest 2020 is going (mostly) virtual this year, and unlike many of the other film festivals of the pandemic era, this one is opening its digital doors to every person in the United States. While there will be a couple of in-person events in Austin, Texas, the annual home of the festival, most of the screenings will be free for anyone to watch in the U.S. Get the line-up below.
Before we go any further, it's important to note that Alamo Drafthouse, the theater chain associated with Fantastic Fest, is embroiled in a scandal that has dismantled the company's reputation as one of the coolest theater chains in the country. Allegations of
,
, and a boy's club culture have been lobbied at Drafthouse, and those reports paint a picture of a company in desperate need of systemic change. We'll continue to monitor this situation and decide whether to cover Drafthouse-related news stories on a case by case basis.
But the filmmakers whose work will be showcased at Fantastic Fest have nothing to do with Drafthouse theaters. We'd still like to give those directors, actors, and craftspeople the attention they deserve.
If you're in the United States from September 24 – October 1, 2020 and download the new Alamo On Demand app (which will go live in time for the festival), you can watch several of these screenings for free. Find complete information about the lineup 
, check out the schedule
, and take a look at what's playing below.
Secret Screening
World Premiere of the 4K Restoration
A special re-discovery of an explosive, death-defying, bullet-riddled, grenade-launching, flame-broiled, anti-human megattack.
Bloodthirsty
Canada, 2020
World Premiere, 82 min
Director: Amelia Moses
When indie singer Grey struggles to write her sophomore album, she teams up with a mysterious producer at his secluded cabin. Though their bond strengthens her music, it also starts to irreparably alter Grey's body and mind.
The Boy Behind the Door
USA, 2020
World Premiere, 88 min
Directors: David Charbonier & Justin Powell
After Bobby and his best friend Kevin are kidnapped and taken to a strange house in the middle of nowhere, Bobby manages to escape. But as he starts to make a break for it, he hears Kevin's screams for help and realizes he can't leave his friend behind.
Cyst
USA, 2020
World Premiere, 69 min
Director: Tyler Russell
George Hardy (TROLL 2) stars as an overly-ambitious and just-a-little-crazy doctor who accidentally unleashes a giant, man-eating cyst that terrorizes the office in this horrifically funny deluge of gooey special effects.
Daughters of Darkness
Belgium/France/West Germany, 1971
World Premiere of the 4K Restoration from Blue Underground, 87 min
Director: Harry Kümel
The classic lesbian vampire tale reignites the screen as the lives of a young newlywed couple take a dramatically sexy turn after their paths cross with Elizabeth Báthory in a deserted Belgian hotel.
Special Event: An interview with director Harry Kümel, moderated by Kat Ellinger.
Girl
USA, 2020
US Premiere, 92 min
Director: Chad Faust
When Girl (Bella Thorne) sets out to a no-name small town to track down her deadbeat father, she finds herself wrapped up in a situation far more dangerous and twisted than she expected.
How To Deter A Robber
USA, 2020
World Premiere, 81 min
Director: Maria Bissell
Two teens playing amateur detectives get more than they bargained for when they investigate the wrong cabin in this darkly comedic romp.
Laughter
Canada, 2020
International Premiere, 124 min
Director: Martin Laroche
Léane Labrèche-Dor gives an unforgettable performance as a woman who struggles with survivor guilt following a civil war in Quebec.
The Old Man Movie
Estonia, 2019
US Premiere, 87 min
Directors: Mikk Mägi & Oskar Lehemaa
Three children must aid their deranged grandfather in recovering his prized cow to prevent a rural cataclysm in this surreal and hysterically scatalogical stop-motion comedy.
The Queen of Black Magic
Indonesia, 2019
North American Premiere, 99 min
Director: Kimo Stamboel
Childhood friends Hanif, Jefri, and Anton take their families on a trip to the orphanage where they grew up to pay their final respects to the man who raised them. But they'll soon discover that the secrets from their past refuse to stay buried.
The Stylist
USA, 2020
World Premiere, 105 min
Director: Jill Gevargizian
Few things in life hold more promise than a new hairstyle. But the women who visit stylist Claire's chair get more than they bargained for, bringing a whole new meaning to the phrase "extreme makeover" in Jill Gevargizian's first feature film, based on her acclaimed 2016 short.
Teddy
France, 2020
International Premiere, 88 min
Directors: Ludovic Boukherma & Zoran Boukherma
In a rural French town, twenty-something Teddy is scratched by an unknown beast and slowly undergoes frightening changes.
AGFA presents Triple Fisher: The Lethal Lolitas of Long Island
USA, 2012
Austin Premiere of HD Restoration
Director: Dan Kapelovitz
Drew Barrymore, Alyssa Milano, and Noelle Parker are Amy Fisher in this meta-melodramatic mashup of three TV movies that would make Brian De Palma proud.