Sorry, 'Tenet' Is Not Skipping Theaters And Going Straight To Streaming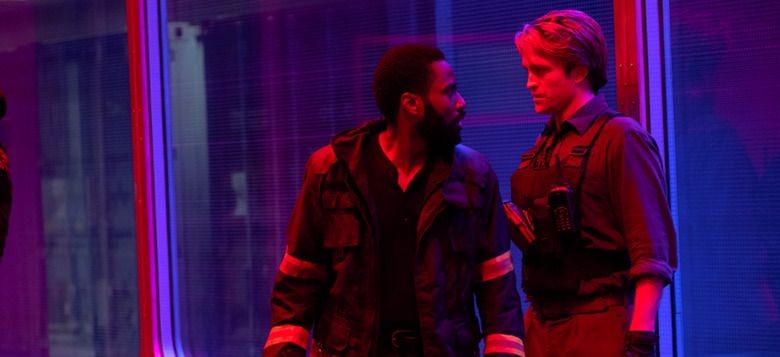 In an ongoing global pandemic, some have wondered if Warner Bros. would stop messing around with shifting its theatrical release date for Christopher Nolan's Tenet and instead bite the bullet and drop the film directly onto the newly-launched HBO Max streaming service. But on a conference call today, John Stankey, the CEO of Warner Bros.' parent company AT&T, reiterated that giving Tenet a direct-to-streaming release is not a possibility.
Deadline reports that on a conference call with analysts today, Stankey was asked about the possibility of Tenet streaming first instead of debuting in theaters, following in the footsteps of relatively big budget movies like Trolls World Tour, Artemis Fowl, and Warner Bros.' own Scoob! Perhaps unsurprisingly, Stankey shot down the idea.
"Is it going to happen with a movie like Tenet or something like Wonder Woman [1984]?" Stankey said. "I'd be very surprised if that would be the case. In fact, I can assure you with Tenet, that's not going to be the case."
Tenet, the new mysterious spy thriller from one of the biggest filmmakers on the planet, has a reported budget of $205 million, before factoring in advertising costs. That's a lot of cash, and the studio is still banking on the idea that it can make more money theatrically than it can through adding new HBO Max subscribers if they put the film on the streaming service. The movie's theatrical release date has come and gone several times, and now the studio is apparently considering releasing it internationally before it comes to the United States – and even when it does eventually bow in the U.S., it might first land in areas that are not as heavily affected by the coronavirus.
The international espionage thriller stars John David Washington, Robert Pattinson, Elizabeth Debicki, Aaron Taylor-Johnson, Clémence Poésy, Himesh Patel, Dimple Kapadia, Kenneth Branagh, Martin Donovan, and Michael Caine.