Samuel L. Jackson And Ryan Reynolds Are In Love With Each Other In Quibi's 'Futha Mucka' Animated Series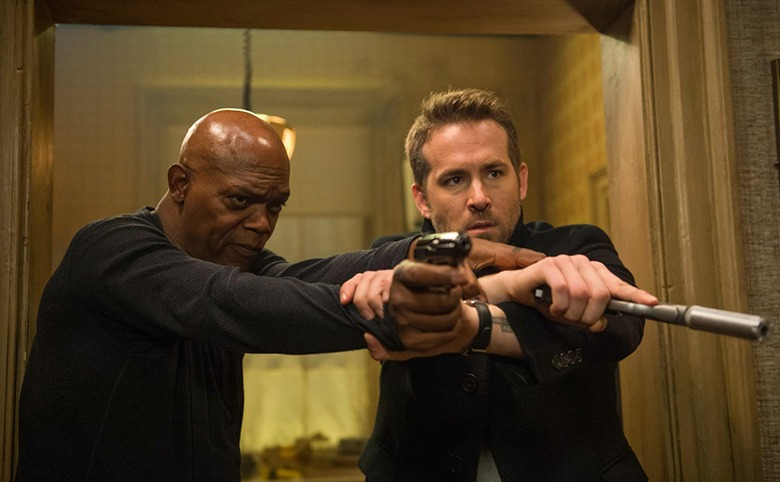 Loved the foul-mouthed banter between Samuel L. Jackson and Ryan Reynolds in The Hitman's Bodyguard? You'll soon get more of it in animated form with a new Quibi animated series Futha Mucka. The Hitman's Bodyguard co-stars are reuniting for the (probably just as expletive-laden) animated series for Quibi, in which they star as fictionalized versions of themselves who are...in love with each other?
Variety reports that Samuel L. Jackson and Ryan Reynolds are starring in Futha Mucka, an animated series in which the two of them act out a piece of celebrity fan fiction. At least, that's what the very odd logline for Quibi implies:
Samuel L. Jackson and Ryan Reynolds love each other. More accurately, Ryan loves Sam. When asked for comment on his feelings for Ryan, Sam said "tell them I couldn't be reached for comment." When a minor mishap causes Sam to become Ryan's primary caregiver, sh*t gets weird. Ryan is delighted to spend all of his time with Sam. Sam couldn't be reached for comment.
Have Jackson and Reynolds discovered an untapped well of celebrity fanfiction spawned by The Hitman's Bodyguard? Are there enough fans of The Hitman's Bodyguard to inspire a whole community of fanfic writers who ship Jackson and Reynolds together? That's what I can only assume, as only someone who really loves both The Hitman's Bodyguard and press tour interviews with Jackson and Reynolds would create something as bizarre as this. Futha Mucka was created by Blockers writers Jim and Brian Kehoe, who will serve as showrunners and executive producers alongside Reynolds and Jackson. The two of them did pleasantly surprise us all with Blockers, a disarmingly good raunchy teen comedy. Perhaps they're onto something with Futha Mucka, which is produced by Anonymous Content and Maximum Effort with Titmouse serving as the animation studio.
The funny thing is, this kind of strange, dank content may just be what Quibi needs: something that has the star power that the mobile streaming platform seeks, as well as a silly premise that could only work in seven to 10 minute episodes. If Futha Mucka doesn't become a major hit because of it's bizarre premise, it will at least work as good viral marketing for The Hitman's Wife's Bodyguard, the clunkily titled sequel to The Hitman's Bodyguard that was recently delayed to 2021 due to the coronavirus (COVID-19) pandemic.
Other executive producers on the series include Nina Soriano for Anonymous Content, Patrick Gooing for Maximum Effort, Chris Prynoski, Shannon Prynoksi and Ben Kalina for Titmouse, and Charlie Scully and George Dewey.