Charlize Theron Says Not Returning For The 'Furiosa' Movie Is "A Little Heartbreaking"; Confirms 'Atomic Blonde 2' Development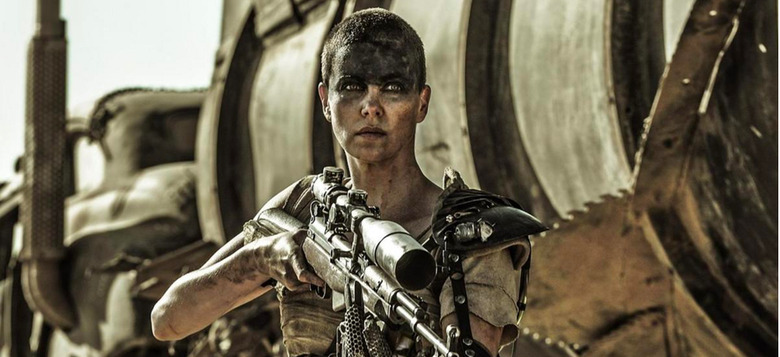 In the midst of promoting her upcoming Netflix movie The Old Guard, Charlize Theron opened up about potential sequels for some of her previous films. First: Theron expresses some understandable disappointment at not being involved with the Mad Max: Fury Road spin-off devoted to Furiosa, a character she made famous. Then, on the good news front: Theron confirms that Atomic Blonde 2 is being actively developed.
Ever since George Miller blew our damn minds with Mad Max: Fury Road, fans have wanted more. And by "more" I don't mean they wanted more of Tom Hardy's Max. Instead, people have been jonesing for more of Charlize Theron's Imperator Furiosa, a character that already seems iconic even though Fury Road only came out five years ago.
The good news is that Miller does indeed have a plan for a standalone Furiosa movie. The bad news: Theron isn't returning. Since Furiosa's story was more or less wrapped up by the end of Fury Road, Miller plans on making the Furiosia film a prequel – which means he also plans on casting a younger actress in the lead. There's no official casting yet, but rumored names include Anya Taylor-Joy and Jodie Comer.
And what does Charlize Theron think about that? Well...she doesn't sound very thrilled. Speaking with THR, Theron said:
"It's a tough one to swallow. Listen, I fully respect George, if not more so in the aftermath of making Fury Road with him. He's a master, and I wish him nothing but the best. Yeah, it's a little heartbreaking, for sure. I really love that character [Furiosa], and I'm so grateful that I had a small part in creating her. She will forever be someone I think of and reflect on fondly. Obviously, I would love to see that story continue, and if he feels like he has to go about it this way, then I trust him in that manner."
Like Theron, I, too, respect Mr. George Miller, and I'm going to assume he knows what he's doing. Still, I can't say I'm thrilled with the idea of a Furiosa movie without Theron. She's the reason that character became so memorable in the first place.
Meanwhile, here's some good news. In the same interview, Theron confirms that Atomic Blonde 2 is in the works. "Yes, we're in the development stages right now, and that's the one thing that lockdown has been good for — being able to develop with writers over Zoom," Theron said. "So, we're actively developing [an Atomic Blonde sequel] right now." Atomic Blonde was stylish and highly entertaining, so I'm all-in on a sequel, and hope we get to see it sooner rather than later.