Eddie Murphy Joining Adam Sander, Billy Crystal & More For Feeding America Comedy Festival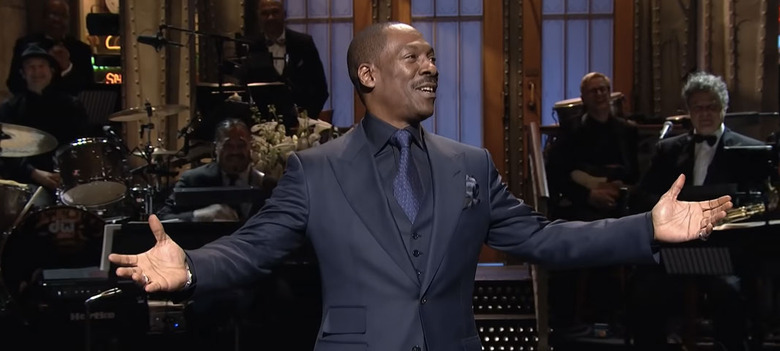 Eddie Murphy is slated to make his triumphant return to stand-up comedy at Netflix sometime in the future, but before that, we'll see him try his hand at stand-up again for a big charity comedy festival being put together to benefit Feeding America food banks during the coronavirus pandemic.
The Feeding America Comedy Festival is being put together by comedian-turned-media-magnate Byron Allen and his Entertainment Studios banner along with the folks at Funny or Die. The three-hour event will be taking donations while audiences enjoy stand-up sets from some of the biggest names in comedy. Along with Eddie Murphy, the show will include Chris Rock, Kevin Hart, Billy Crystal, Tiffany Haddish, Kenan Thompson, Howie Mandel, Marc Maron, and many more.
The Hollywood Reporter has news on the Feeding America Comedy Festival, which can be viewed through Allen Media Group's TV networks Comedy.TV and The Weather Channel, as well as the free streaming app Local Now. The event is slated to take place on May 9 from 8:00 P.M. to 11:00 P.M. EST, and viewers will be encouraged to donate throughout the extensive line-up of stand-up comedians, each contributing a pre-recorded stand-up segment
Here's the full roster of comedians performing in the Feeding America Comedy Festival: Eddie Murphy, Billy Crystal, Adam Sandler, Chris Rock, Kevin Hart, Tiffany Haddish, Marc Maron, Jon Lovitz, Brad Garrett, Marlon Wayans, Howie Mandel, Taraji P. Henson, Louie Anderson, Margaret Cho, Kenan Thompson, Caroline Rhea, Billy Gardell, Tim Meadows, Jamie Kennedy, Bill Engvall, Sheryl Underwood, and Byron Allen.
In a statement announcing the comedy festival, Barry Allen said:
"In partnership with Feeding America, my comedian friends and all of us at Allen Media Group are pleased to announce this global live-streaming comedy event on May 9th. Laughter is often the best medicine, and we are extremely motivated to bring attention to issues of food insecurity, and to assist in providing meals to families across the country who are financially impacted by the COVID-19 pandemic."
Feeding America couldn't be more grateful to receive donations from this big comedy event. CEO Claire Babineaux-Fontenot added:
"The coronavirus pandemic and the economic downturn it has created is shining a light on the fragile nature of people's household budgets. Millions more of our neighbors are turning to food banks for help and we cannot thank Byron Allen and Allen Media Group enough for their support to raise funds and awareness of our work."
The line-up of comedians is epic, and the only thing that would make it better is if we could see them all in-person. But since that's not possible right now, we'll take what we can get.