LOL: Simon Pegg And Nick Frost Update The 'Shaun Of The Dead' Survival Plan For Coronavirus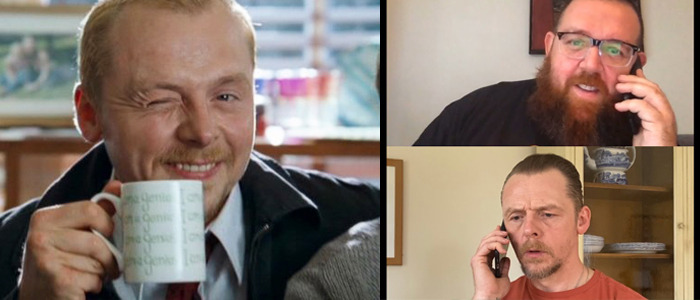 A scene from Edgar Wright's 2004 zombie horror comedy Shaun of the Dead has become something of a rallying cry for people when times get tough: when pals Shaun (Simon Pegg) and Ed (Nick Frost) realize they're in the middle of a zombie outbreak, they cycle through several possible plans before settling on one which ends with them going to their favorite pub, where they'll "have a nice cold pint and wait for all this to blow over." Now Pegg and Frost have updated that scene for the coronavirus era in a new YouTube video, which you can watch below.
Shaun of the Dead Coronavirus Video
In case it's been a while since you've seen the movie, here's the scene in question:
The final seconds of that video are used so often that Wright says someone sends him that meme every day. Five days ago (which seems like a lifetime ago considering how quickly information is flowing), the director shared this Instagram message, which didn't exactly provide any super helpful advice since we're all supposed to be isolating in our homes and specifically not going out to bars and pubs:
But here's today's updated version from Pegg and Frost, which includes some much more helpful tips for how to handle our current scenario:
Love it.
Meanwhile, Wright himself – who, in case you didn't know, is a huge film buff – wrote an editorial in Empire Magazine about what you can do to help your local independent cinemas during their time of need. You can read the whole piece here, but I'll leave you with this excerpt:
One way of showing your unwavering support is to become a member of your favourite cinema. After you've read this, why not buy a membership for yourself, or for someone close to you. Buy some gift cards. Donate where you can. Consider, if you can afford to, not asking for your unlimited subscription to be refunded. Yes, you may not be able to go back in the coming months, but you'll feel better for having helped now than if you later found your local church of cinema had been forced to close for good. I myself have been buying memberships to cinemas I frequent that I hadn't already joined. This is not a luxury that everyone can afford, but for those who can, think of the many hard-working staff at your favourite cinemas who may have just lost their jobs. This might help ensure they have a place of work to return to.
When this is all over, I can't wait to get back in there and support my favourite cinemas in any way I can, even if it means watching way too many commercials, sitting through trailers that I've already seen several thousand times, and watching a franchise film that could easily lose 15 to 20 minutes (whispers: "They all can").