'Nailed It!' Season 4 Trailer: Distract Yourself From The Scary Real World With Some Terrible Baking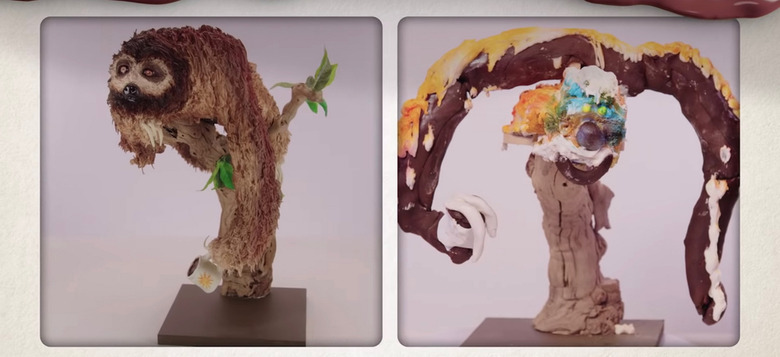 In case you hadn't noticed, everything is very...intense right now. Even people who aren't traditionally prone to stress are likely feeling the pressure as our daily lives become a constant stream of news about quarantines, shut-downs, and viruses. We could all use a light-hearted distraction, and thankfully, a new season of Nailed It! is coming to give us just that. The hilarious Netflix baking competition highlights amateur bakers, with a heavy emphasis on the amateur part. It's a light, fluffy, silly show – and it's just what we need right now. Watch the Nailed It! season 4 trailer below.
Nailed It Season 4 Trailer
If you've yet to check out Nailed It! on Netflix, I can't recommend it enough. Hosted by Nicole Byer and Jacques Torres, with a rotating panel of guest judges, Nailed It! brings in amateur bakers and tasks them with recreating Instagram-worthy baked goods. Since these bakers are unskilled – to say the least – everything they create ends up being an absolute disaster.
That may sound mean-spirited, but Nailed It! is surprisingly good-natured. The show is laughing with the contestants, not at them, and the results are charming. Plus: the "winner" takes home a $10,000 prize. Best of all, the show is so light-hearted and the stakes are so low that Nailed It! really is the perfect show right now. There are also several spin-offs, including Nailed It! Holiday, Nailed It! Spain, Nailed It! France, and more. The original is the best of the bunch though, and I'm very excited that an all-new season is arriving at this particular time, when everything is going to hell in a handbasket.
Nailed It! season 4 premieres on Netflix April 1. And hey, maybe everything will be back to normal by then! Probably not though.
Nailed It! is an American Netflix original series which premiered on March 9, 2018. The series is a bake-off competition in the style of reality television, where three amateur bakers compete to replicate complicated cakes and confectionery in order to win a $10,000 cash prize and a "nailed it" trophy.