SXSW Midnighter 'The Toll' Is Holding Screenings In Austin And Los Angeles This Weekend – Here's How You Can Get Tickets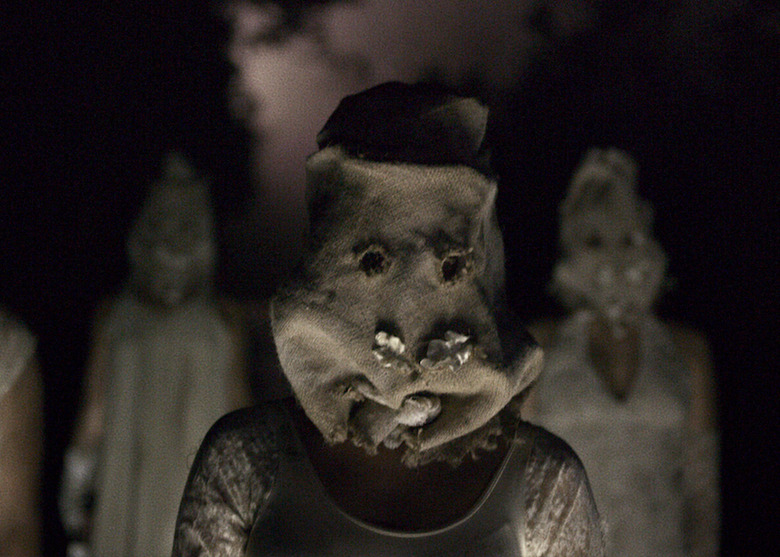 SXSW may be canceled, but midnight always come back around. At least, this SXSW Midnighter does. Michael Nader's horror movie The Toll, which was set to have its world premiere at the Austin-based film festival before it was canceled due to coronavirus concerns, is still planning to debut this weekend. The Toll is holding screenings in Austin and Los Angeles, with Q&As in both locations.
Before concerns over the coronavirus pandemic were changing everything, the South by Southwest music and film festival was supposed to be held this weekend in Austin. But last week, SXSW 2020 was officially canceled by the city of Austin, leaving artists and filmmakers at a loss as to how to share their work with the public. But not to be deterred by the cancelation, The Toll will still hold a screening this weekend, business as usual.
The Toll is proceeding with a private screening at Alamo Drafthouse locations in Austin and Los Angeles this Sunday, March 15 at 10:30 p.m. CT and 10:30 p.m. PT, respectively. Both locations will feature a filmmaker intro from Nader as well as an audience Q&A. But tickets are limited and first come, first serve.
The Austin, Texas screening will take place at the Alamo Drafthouse South Lamar at 10:30 p.m. CT, while the Los Angeles, California screening will be held at the Alamo Drafthouse LA at 10:30 p.m. PT. Audiences can RSVP to TheTollRSVP@gmail.com to receive tickets.
Here is the synopsis for The Toll via SXSW:
It's 1am. An exhausted Cami orders a rideshare at the airport. Her driver: Spencer, awkward and unsettling. Her destination: Her dad's place in the middle of nowhere. Cami grows increasingly suspicious of Spencer's odd behavior. This fear gives way to full-blown terror when their car breaks down on a secluded road. And they both realize they're not alone...
Suddenly the car comes under attack – a rock smashes through the window. Attached to a message that warns visitors must "pay the toll."
Cami and Spencer realize it's a supernatural force haunting them: the Toll Man, pitting these two strangers against each other. Until they discover that for either to survive, one of them has to die.