'Harley Quinn' Season 2 First Look: The Penguin Has The Clown Princess Of Crime In A Tough Spot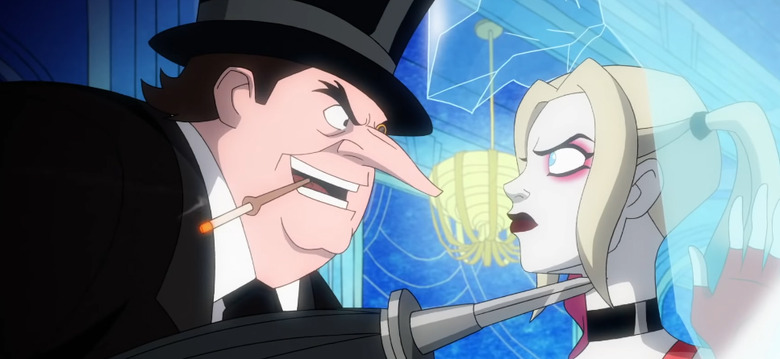 DC Universe is giving a second season to the Harley Quinn animated series starring the voice of Kaley Cuoco as the Clown Princess of Crime. The first season just concluded in February, but the series is returning with new episodes rather quickly starting in April. Following a sneak peek at the season premiere at C2E2 earlier this month, a new clip has arrived online showing Harley Quinn and The Penguin having a little confrontation. Watch the Harley Quinn season 2 clip below.
Harley Quinn Season 2 Clip
The Penguin (voiced by Wayne Knight) is upset with Harley Quinn for some reason, and he's partially frozen her in a block of ice. As he tries to cut her throat with his umbrella blade, Harley pulls off an attack reminiscent of one that The Penguin initiated in Tim Burton's Batman Returns. She bits off the end of his pointy nose and makes a quick getaway. From there, she plays around with Penguin by hiding among the smoke and destruction that overtakes the casino after Penguin blasts some grenades around.
In case it wasn't clear by this clip, this series is not intended for kids. It's extremely violent, has some raunchy language, and is intended for mature audiences. But that's part of what makes it so fun. As our own Chris Evangelista wrote in his review of the first season:
"After decades of Batman fans insisting the only way to handle the character and his world correctly was to be as dark and serious as possible, it's ironic that one of the best recent pieces of Bat-entertainment is as silly and unserious as humanly possible."
As for what's in store for the second season, the season premiere finds Gotham City removed from the United States of America. That has things looking pretty post-apocalyptic, and Harley decides to start a revolution among the henchmen of the world. That paves the way for the arrival of the Injustice League, and unfortunately, Batman is missing.
Harley Quinn has finally broken things off once and for all with the Joker and attempts to make it on her own as the criminal Queenpin of Gotham City in this half-hour adult animated action-comedy series. The series features Harley Quinn, Poison Ivy and a whole cast of heroes and villains, old and new, from the DC Universe.
The second season of Harley Quinn returns to DC Universe weekly starting on April 3, 2020.