'Avatar' Franchise Villain Colonel Quaritch Is Still Being Discovered And Evolving, Stephen Lang Says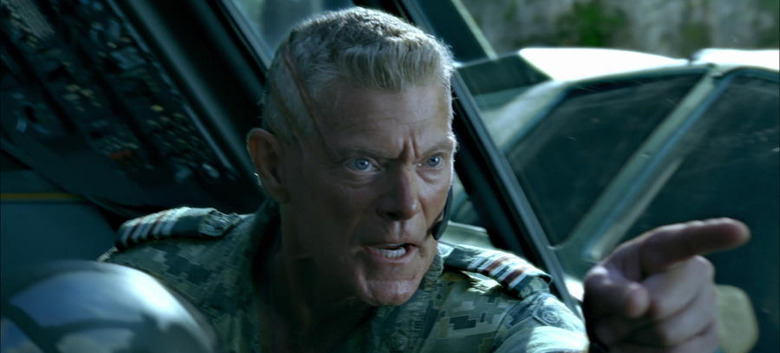 At the end of James Cameron's sci-fi blockbuster Avatar, which was released all the way back in 2009, villain Colonel Miles Quaritch was apparently killed during the assault on the Tree of Souls. That's why we were surprised when James Cameron announced that Stephen Lang would be returning in the same role for the forthcoming Avatar sequels. Weirdly enough, there were only three sequels planned when Stephen Lang's return, but the actor has confirmed that he's on board for all four, and that means there's a lot more to learn about the character that seemed rather one-dimensional in the first movie.
Stephen Lang recently spoke to The National (via CinemaBlend) about the return of Colonel Miles Quaritch. Obviously the actor couldn't reveal any significant details about the story or how his character is involved with it, but he spoke in general about how the character is being approached as the Avatar sequels villain. Lang said:
"I'm working now with a much broader canvas than I was with the first Avatar, and it keeps me in concert with James Cameron to really go to town and examine the character in detail. That, to me, is totally tremendously satisfying and challenging."
That makes is sound like Quaritch may not be simply classified as a villain throughout the Avatar sequels. That would line up with what Lang vaguely told /Film back at the end of 2018 when he said this:
"Quaritch, his place in this particular universe has gotten more complicated. And that's kind of the extent of his involvement in the world. The world begins to – the world of Pandora – begins to affect him quite deeply in ways that he either refused or it did not affect him. And it gets under his skin."
Lang somewhat echoed that sentiment in his conversation with The National when he added this:
"He has evolved, definitely. We're making four more films, so if he doesn't evolve, we're in some kind of trouble. And it's not always a question of evolution, it's about becoming more deeply entrenched. I'm still discovering it. That's something I'll be discovering as we continue to work because we're by no means near finished with this process."
To me, that means Quaritch could end up working with the people he previously fought against. After all, what would make the situation more complicated for Quaritch than if he was forced to change sides. It would also be a challenge for the Na'vi and their allies if they were forced to trust Quaritch in order to help them survive.
We still have almost zero idea what to expect from the Avatar sequels, but they're still coming. Avatar 2 is slated to arrive in theaters on December 17, 2021, and Avatar 3 will follow on December 22, 2023. If those two movies are successful at the box office, then James Cameron will continue with Avatar 4 on December 19, 2025, and Avatar 5 will finish the franchise on December 17, 2027.