'The Dark Tower' TV Series Is Not Moving Forward At Amazon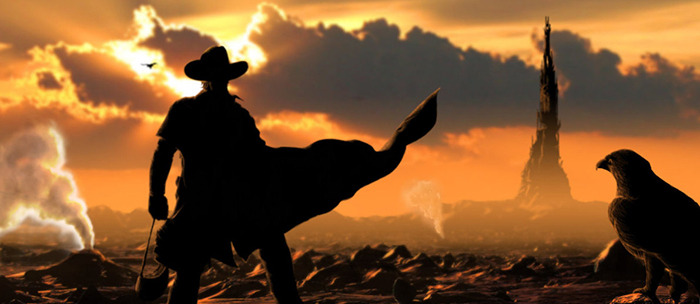 Fans of The Dark Tower have had it pretty rough over the past few years. First, they had to deal with the abysmal, lazy big screen adaptation of the Stephen King book series in 2017. And now they have to deal with the fact that Amazon just passed on the pilot for The Dark Tower TV series from executive producer Glen Mazzara.
Deadline has word on Amazon being disappointed enough in the Dark Tower TV series pilot that they decided not to move forward with a series order. Considering the fact that this was such a large scale series, it was already on uncertain ground when Amazon merely ordered a pilot instead of an entire series. But their caution has paid off since the streaming service felt like The Dark Tower just wasn't on par with their other forthcoming epic fantasy shows, The Lord of the Rings and Wheel of Time.
Unlike the movie, which attempted to tell a new story that continued out of the mythology of the books (which were mostly glossed over in the adaptation), this new series would have been much more faithful to the books by telling the origin story of Roland Deschain the Gunslinger and his first conflict with a villain known as The Man in Black. Sam Strike played the protagonist and Jasper Pääkkönen was his foil.
We hadn't heard much about The Dark Tower pilot until now. Though casting reports of Michael Rooker, Jerome Flynn and Joana Ribeiro came to light, and some set photos once surfaced online last summer, there weren't many details revealed about the hopeful series. Perhaps those who worked on the pilot can provide more insight now that Amazon has passed on the project.
The Dark Tower has been known to be a challenging book series to adapt for either film and television. Before the terrible film adaptation arrived in 2017, there had been several varying attempts to adapt the books. The most ambitious attempt was a combination of interconnected movies and TV shows that Ron Howard and his Imagine Entertainment banner wanted to make. That plan unfortunately never came together.
But if you're a fan of The Dark Tower still hoping for a series adaptation to do the books justice, not all hope is lost. MRC (or Media Rights Capital) will be shopping the two original scripts they used for the pilot around to other buyers. So there's a chance this could end up being made elsewhere instead. Hopefully whoever tries to adapt The Dark Tower next heeds the advice our own Chris Evangelista provided back in 2018.