How 'Logan' Inspired Patrick Stewart To Come Back For 'Star Trek: Picard'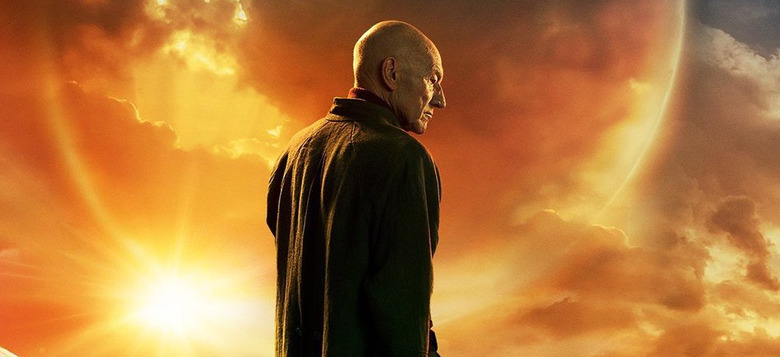 It all came as a surprise when Patrick Stewart announced last year that he would be reprising his role as the beloved Captain Jean-Luc Picard, a role he began playing three decades ago in Star Trek: The Next Generation. The last time Star Trek fans saw the noble captain was in the 2002 feature film Star Trek: Nemesis, and that seemed like it would be the last time. J.J. Abrams rebooted the Star Trek franchise with his 2009 feature film and launched a whole different timeline.
But this is the era of reboots and revivals after all, so why not bring back everyone's favorite Starfleet captain? But it would take more than nostalgia (or a big paycheck) to tempt back an accomplished thespian like Stewart. So how did Star Trek: Picard series creator Alex Kurtzman do it? Well, it was a little superhero movie that Stewart was starring in at the time that convinced him, actually: Logan.
In a lengthy interview with Variety, Stewart revealed that he had no interest in returning to the character of Jean-Luc Picard after he had found himself typecast following The Next Generation. Stewart wanted to go back to the theater, to smaller projects, and he was already juggling another franchise on his hands with the X-Men series. But it was his last X-Men outing, the 2017 James Mangold pseudo-Western Logan, that made him reconsider.
"Hugh [Jackman] and I were so thrilled when the last thing we did for 'X-Men' was 'Logan.' It was the best 'X-Men' experience we both had, because we were the same characters but their world had been blown apart. 'Next Generation' didn't end like that. In fact, our last movie, 'Nemesis,' was pretty weak."
Though he regretted the way that the Next Generation cast ended their story with Nemesis, which lost money for Paramount, Stewart still didn't have a strong desire to reprise the role of Picard. But he wound up taking a meeting with Kurtzman and writers Michael Chabon and Akiva Goldsman in 2017 out of courtesy, and was intrigued by the angle that they pitched, of a retired Picard living on a wine vineyard in the middle of nowhere who is suddenly, reluctantly pulled back into the action. Variety writes:
"I explained to them all those elements of 'Next Generation' which belong in 'Next Generation,' and why I didn't want to go near them again. But they talked about it in such an interesting way. And they talked for a long time." Stewart told the producers no, thank you, and sent them on their way. Then he had an immediate change of heart. He told his agent to ask Kurtzman to put his ideas in writing. Forty-eight hours later, Kurtzman sent over a more-than-30-page packet outlining a possible Picard series.
It's no surprise that Logan, a film that takes familiar characters out of their element and burdens them with years of pain and regret, would have an influence on Picard. Whether the influence will also shape the CBS All Access show's tone and themes is yet to be seen, but it certainly is promising.
Star Trek: Picard will arrive on CBS All Access starting on January 23, 2020.