Eddie Murphy Rings In The Holidays With The Best 'Saturday Night Live' In Recent Memory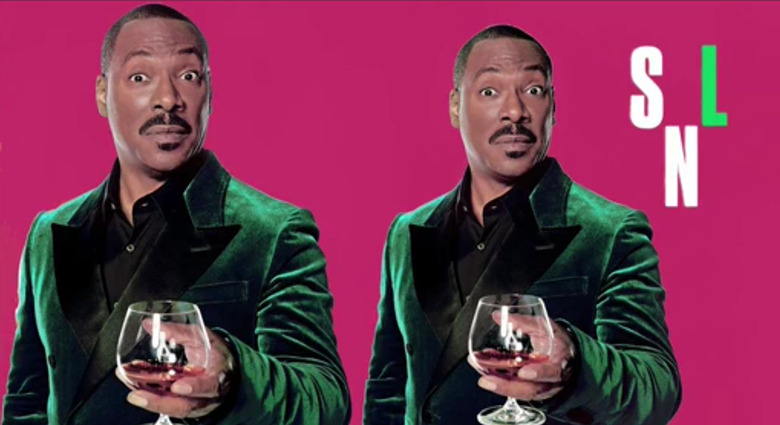 For the first time in 35 years, Eddie Murphy returned to host Saturday Night Live. Since this was also the Christmas episode, the pressure was on for this to truly be a television event. Thankfully, Eddie Murphy didn't disappoint, and he brought a bunch of his friends with him, not to mention the cavalcade of guest stars that's been popping up for the Democratic debate spoofing. The result was not only the best episode of the season, but one of the best episodes in recent memory.
Let's run through the best and worst sketches of the Eddie Murphy hosted Saturday Night Live.
The Best
Gumby Returns – Even when the Weekend Update guest segments are among the best bits of the night, I relegate them to the standard Weekend Update section. But when Eddie Murphy returns as Gumby and shows why he was one of the best cast members to ever grace Studio 8H with his presence, I can't help but break from tradition. Not only does he slip right back into this character, even though it's without make-up this time, but he even improvises a bit and gets Colin Jost and Michael Che cracking up. This was pure comedy magic.
North Pole News Report – Kenan Thompson has made a name for himself on SNL, and one of the best things he does on the show is yell in a very specific and hilarious way. But no one yells frantically and funnily quite like Eddie Murphy, and this sketch is evidence of that to the max. It's a simple premise that makes fun of the sensationalist man on the street interviews that local news always manages to get after some kind of big accident, but Murphy plays it so well that you can't help but crack up. It gets bigger and funnier as it goes on, and that recurring "It don't matter what my name is!" was gold every time.
Mr. Robinson's Neighborhood – Eddie Murphy said he wanted to revisit his most popular classic characters, and it was so good to see Mr. Robinson's Neighborhood back again. Even though I wish we got something that parodied the recent A Beautiful Day in the Neighborhood or even the documentary Won't You Be My Neighbor?, it was nice to get back to the classic format of the show, especially since it allowed the character to age a bit and deal with the modern growth of gentrification.
The Average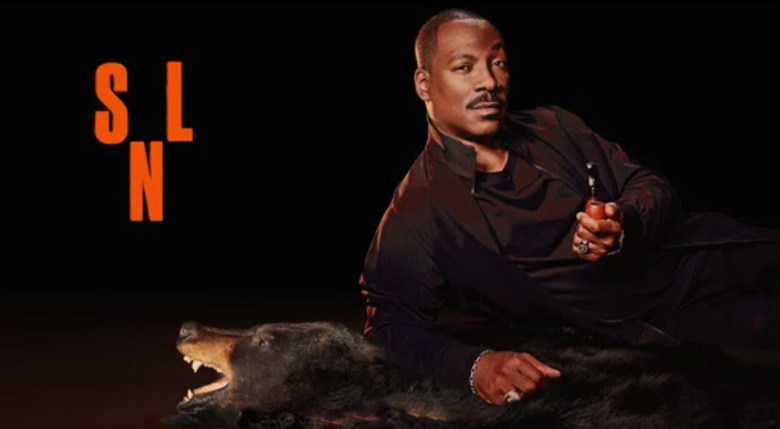 Masking Singer -Part of me wondered how SNL would resurrect so many of Eddie Murphy's classic characters without it feeling forced. And while the return of Buckwheat doesn't quite feel as seamless as the return of Mr. Robinson or Gumby, using The Masked Singer as the vessel for the character's comeback is a stroke of genius. The sketch turns into a retread of the Buckwheat Sings infomercial, but hearing him tackle even more songs is really all I wanted.
PBS Democratic Debate – When it comes to making a mockery of the Democratic debates, there's no shortage of material to make it work. And it's actually funny when compared to the near impossible task of making fun of the Republican hellscape side of things. If you need anymore evidence of that, just see how the sketch slows down once Alec Baldwin comes back as Donald Trump. It's like when your drunk uncle shows up to Christmas dinner when everyone though he wasn't coming. Even so, the rest of the Democratic stuff with all the guest stars (including Jason Sudeikis coming back in place of Woody Harrelson for Joe Biden) was really funny.
Home for the Holidays – This sketch borders on being a little lazy since it walks the same territory we've seen done with Mother's Day and a couple other holidays where the nice, sentimental moments are interrupted by the more accurate flashbacks to how exhausting and stressful time with the family can be. It hits a little too many familiar beats, but the fact that we get to see this through a black family allows for some more unique moments that still allow it to be pretty funny.
Black Jeopardy: Velvet Jones – Well, not al of the character revivals from Eddie Murphy's past can be home runs. That's not to say that this one is bad, because it's still pretty funny. But Murphy flubs his lines a little too much in this one, and at times the pacing is rather awkward. I feel like there's something more that could have been done with Velvet Jones, like a home makeover show or a Queer Eye kind of thing, but even that would have been a little uninspired in some ways. But combining his return with Black Jeopardy still elicits some solid laughs.
The Worst
Holiday Baking Championship – If you want to know how good this episode was, look no further than the worst sketch of the night. Honestly, it's better than almost all of the sketches that usually end up in this category, and maybe even some of the average sketches from other episodes too. But since it doesn't bring much new to the table than the previous versions of this sketch, and the deformed hedgehog isn't quite as funny as it should have been, this is where it ends up. Again, this sketch is still pretty funny, and pay attention at the end where censors has to cut out Eddie Murphy saying "shit," even though it aired during the live broadcast.
Weekend Update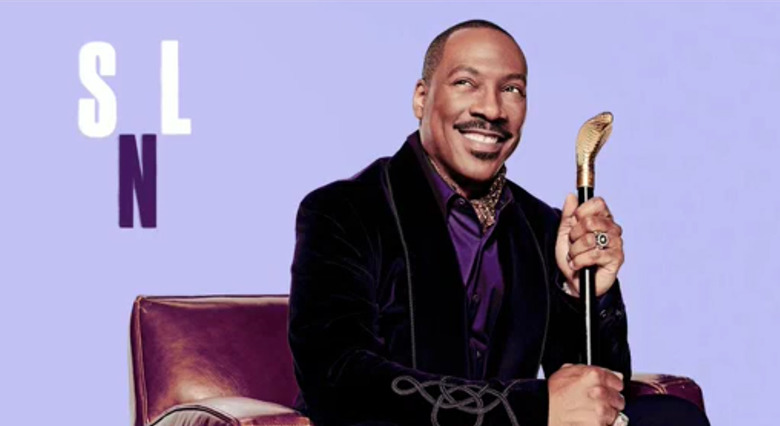 The regular part of Weekend Update lasted just three minutes, and it was all spent on Donald Trump and the impeachment process. Thankfully, it didn't last long, especially since Jost and Che's usual tackling of the headlines hasn't been all that great lately. But instead of doing the headlines, they did one of my favorite parts of the SNL Christmas episodes.
Christmas Joke Swap 2019 – This bit is always hilarious. At the end of the year, Colin and Michael like to give each other jokes to read sight unseen. Colin Jost always gets the worst in this segment, but Michael Che takes some solid blows too, and this segment is no exception. It's absolutely hilarious and it makes me wish they could do things like this with each other more often.
Pete Davidson on Trump's Impeachment – Well, it's certainly surprising to see Pete Davidson showing up during this sketch. Maybe they didn't want him missing out on the Eddie Murphy episode even though Larry David was in attendance. Personally, I'd love to hear how they kept them from seeing each other. But these kind of bits seem to be all that Davidson is doing on the show lately. And on some level that's fine, but it's also starting to became a little too self-aware, almost in a cocky way. This one especially just feels like they let Pete do whatever he wanted to. It's fast and loose, and it's kinda fun, but it's also somewhat lazy too.
Jeanine Pirro on Fox News Handling Trump's Impeachment – Did anyone else feel like Cecily Strong was starting to become the insane conservative female version of Harry Caray? There are some drunken slurs here that sound an awful like like Will Ferrell's goofy take on the late Chicago Cubs broadcasting legend that he satirized for years on SNL. That's not necessarily a bad thing since Jeanine Pirro is a raving lunatic in real life, but I just wanted to point it out. The wine vomiting was a great physical gag that only got better the longer it went on and the more exaggerated it became.
The Host
What more can be said about Eddie Murphy that you didn't already know? Yes, there was a long stretch of time where he was making some of the worst comedies ever. But he's enjoying a resurgence that has brought back the Eddie Murphy we love in the 1980s and some of the 1990s. That includes this epic return to SNL as host for the first time in 35 years. This monologue shows how smooth, confident and funny Eddie Murphy can be, and I love that he brought some of his best comedian friends with him. Chris Rock, Tracy Morgan and Dave Chappelle have some fun with Eddie here, and that last gag with Beck Bennett and Kenan Thompson was excellent. It set the stage for what would be an incredible episode.
The MVP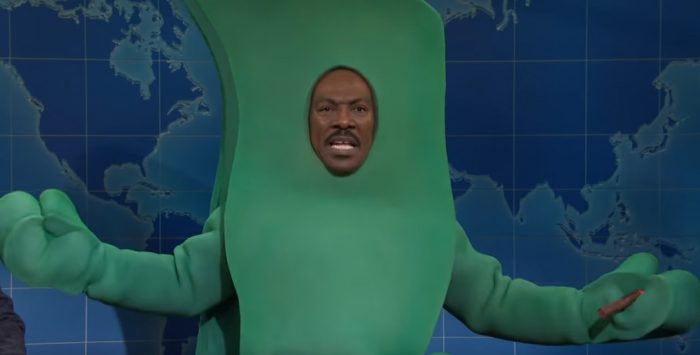 Eddie Murphy – What can I say? Eddie Murphy still has it after all these years. This show was exactly what I wanted it to be, and it might have even exceeded my expectations. It's all thanks to the writers stepping up their game to work with an SNL legend who thankfully wasn't too cool for school to dig back into his past and have a blast with everyone for the Christmas episode. Murphy poured his heart into it, and it makes me think this will be the last time Murphy does this. It almost felt like a more fond farewell sort of send-off for him, and I can't imagine he'd want to try to top this in the future. But who knows? Like Eddie said in his monologue, money don't crack.
The Final Word
Well, the first half of this season of SNL has been hit or miss (and sometimes it really missed), but this episode was a phenomenal way to close out 2019 and continue the path of Eddie Murphy's return to form. We hope to see SNL back and ready to kick it up a notch when they return with Adam Driver as host on January 25, 2020.