Martin Scorsese's 'Killers Of The Flower Moon' Will Start Filming In March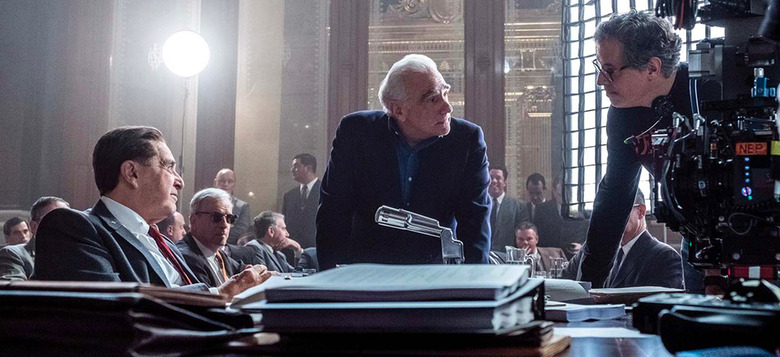 Martin Scorsese's The Irishman is now on Netflix and will probably be a contender come Oscar season. But Scorsese is already moving on to other things. Not only is he set to make a documentary about the music scene in the 1970s, he's also about to film his next feature: Killers of the Flower Moon. While the casting hasn't been officially announced yet, Leonardo DiCaprio and Robert De Niro are both expected to star in the film, which chronicles the investigation into The Osage Murders of the 1920s. According to cinematographer Rodrigo Prieto, Scorsese's next movie will start filming in March 2020.
As long as Martin Scorsese keeps making movies, I will keep getting excited about them. I'm still reeling from The Irishman, a movie I saw at the NYFF earlier this year, and then rewatched twice over the recent Thanksgiving holiday weekend, and I can't even imagine how the director will top his latest work. But I'm sure he'll find a way. Frequently Scorsese cinematographer Rodrigo Prieto shot The Irishman, and he's already gearing up to film Scorsese's next movie as well.
Speaking with Collider, Prieto confirmed that Killers of the Flower Moon will start shooting in March 2020. Prieto added: "Right now I'm in the process of researching different ways of shooting it so we still have to actually meet, and I'll show him images, propose ideas. He'll probably have his thoughts too, but we still haven't figured [out the tone of the film]. So, on the way."
Based on the non-fiction book by David Grann, Killers of the Flower Moon focuses on a series of murders targeting members Osage Nation in Oklahoma in the 1920s:
After oil was discovered beneath their land, the Osage rode in chauffeured automobiles, built mansions, and sent their children to study in Europe.
Then, one by one, the Osage began to be killed off. The family of an Osage woman, Mollie Burkhart, became a prime target. One of her relatives was shot. Another was poisoned. And it was just the beginning, as more and more Osage were dying under mysterious circumstances, and many of those who dared to investigate the killings were themselves murdered.
As the death toll rose, the newly created FBI took up the case, and the young director, J. Edgar Hoover, turned to a former Texas Ranger named Tom White to try to unravel the mystery. White put together an undercover team, including a Native American agent who infiltrated the region, and together with the Osage began to expose one of the most chilling conspiracies in American history.