Daily Podcast: Spoiler Discussion Of 'Watchmen' Episode 7, "An Almost Religious Awe"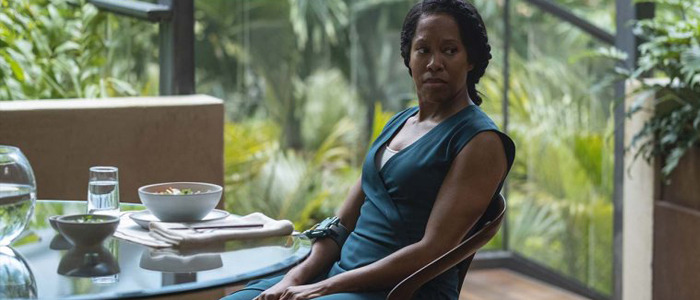 On the December 2, 2019 episode of /Film Daily, /Film senior writer Ben Pearson is joined by /Film writer Chris Evangelista to have a spoiler-filled discussion about Watchmen episode 7, titled "An Almost Religious Awe."
Opening Banter: In Our Feature Presentation: 
We Need to Talk About Calvin
Doctor Manhattan reveal – hammer time
Does the 7th Kavalry know his identity? How? 
What happened on the White Night? Cal has been Doctor Manhattan since at least 2009, but didn't know it – he presumably didn't use any powers to protect Angela that night
Episode structure sort of mirrors the Doctor Manhattan issue of the Watchmen comics, rapidly flashing back and forward in time
Lady Trieu, the Millennium Clock, and Bian
Bian is Lady Trieu's mother...who is her father?
Early jump into crackpot corner for a theory
Does Bian know Cal's secret identity? Maybe why she doesn't let him in?
Lady Trieu has a "secret plan to save humanity" – do you believe her?
Angela learns that the natural host feeding her memories is an elephant
The Trial of Adrian Veidt
This is a legal drama now!
Fart joke: yay or nay?
What's up with that Crookshanks wink and Veidt's single tear?
Additional topics
Angela's flashbacks to childhood, Sister Night origins, June's death
Agent Blake's trapdoor scenario: Keene lays out his big plan
Looking Glass survived; now has a Rorschach mask
Theory: could he become the new Doctor Manhattan? Lube Man's gotta be coming back to try to save Laurie next week, right?
Other Articles Mentioned:
All the other stuff you need to know:
You can find more about all the stories we mentioned on today's show at slashfilm.com, and linked inside the show notes.
/Film Daily is published every weekday, bringing you the most exciting news from the world of movies and television as well as deeper dives into the great features from slashfilm.com. 
You can subscribe to /Film Daily on
iTunes
,
Google Podcasts
,
Overcast
,
Spotify
and all the popular podcast apps (
RSS
). 
Send your feedback, questions, comments and concerns to us at
peter@slashfilm.com
. Please leave your name and general geographic location in case we mention the e-mail on the air.
Please rate and review the podcast on iTunes, tell your friends and spread the word! 
Thanks to Sam Hume for our logo.