'Once Upon A Time In Hollywood' Extended Preview Provides A Look At The Opening Minutes Of Quentin Tarantino's Latest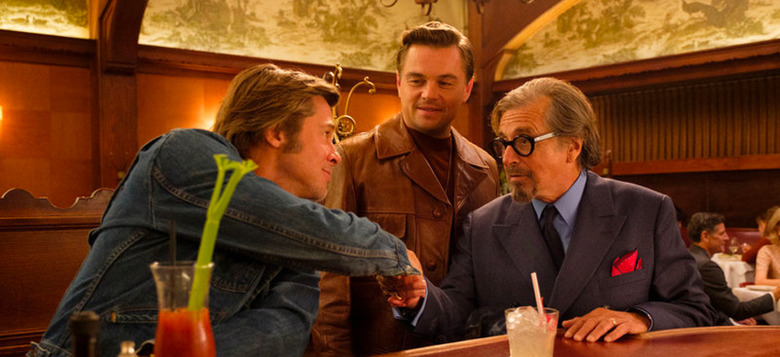 The first seven(ish) minutes of Quentin Tarantino's Once Upon a Time in Hollywood are now online via an extended preview, so why not kick-back and revisit the opening of one of the best films of the year? In the clip, you get Leonardo DiCaprio feeling insecure, Brad Pitt knocking back a Bloody Mary, Margot Robbie getting off a plane, and Al Pacino absolutely killing it in a brief but memorable role. Watch the Once Upon a Time in Hollywood extended preview below.
Once Upon a Time in Hollywood Extended Preview
I've never quite understood the trend of releasing the first few minutes of a movie online, but who am I to argue with the practices of showbiz? The opening sequence, including credits, of Once Upon a Time in Hollywood is now available for all to see, and I'll say this much: watching this made me want to rewatch the movie immediately. Which I can technically do right this minute since it's available on digital. But I'm holding out for the physical release, because I'm a traditionalist.
Another thing I realized while watching this opening: Brad Pitt's character Cliff Booth says a line here that he repeats at the very end of the film – something I didn't catch the first time I saw the movie. Also: Al Pacino's delivery of saying his character's wife's name – "Mary Alice Schwarzs!" – is hilarious.
The home media release of Once Upon a Time in Hollywood comes packed with the following special features:
4K ULTRA HD, BLU-RAY AND DIGITAL BONUS MATERIALS
Over Twenty Minutes of Additional Scenes
Five exclusive behind the scenes pieces including:
Quentin Tarantino's Love Letter to Hollywood
Bob Richardson – For the Love of Film
Shop Talk – The Cars of 1969
Restoring Hollywood – The Production Design of Once Upon a Time...in Hollywood
Once Upon a Time in Hollywood arrives on Blu-ray December 10.
Quentin Tarantino's ONCE UPON A TIME IN HOLLYWOOD visits 1969 Los Angeles, where everything is changing, as TV star Rick Dalton (Leonardo DiCaprio) and his longtime stunt double Cliff Booth (Brad Pitt) make their way around an industry they hardly recognize anymore. The ninth film from the writer-director features a large ensemble cast and multiple storylines in a tribute to the final moments of Hollywood's golden age.