Disney's 'Mulan' Was Another Attempt To Tell A Story About A Culture Of Color, And It Landed With Mixed Results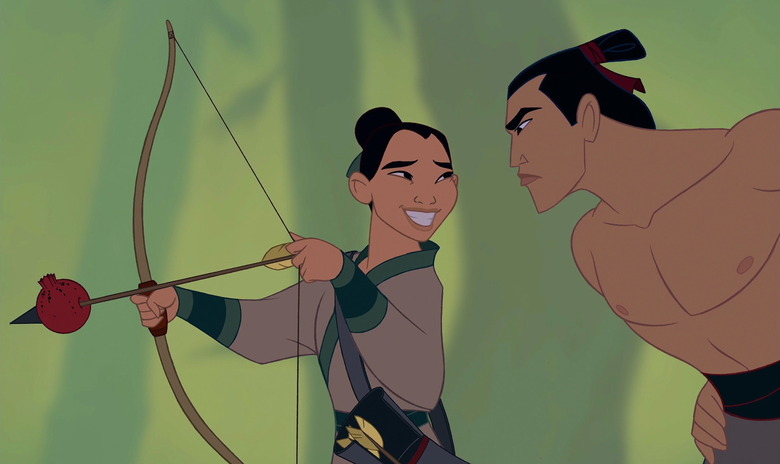 (Revisiting the Renaissance is a bi-weekly series in which Josh Spiegel looks back at the history and making of the 13 films of the Disney Renaissance, released between 1986 and 1999. In today's column, he discusses the 1998 film Mulan.)Walt Disney Animation Studios had come a long way in just over a decade. In the middle of the 1980s, they were on death's door, with all their hopes pinned on a low-budget adaptation of a Sherlock Holmes-style mystery for children. By 1998, the studio was approaching the tail end of the Disney Renaissance and a coming downswing. Financially, the studio's last two films had been mild successes, which would have been all well and good had The Hunchback of Notre Dame and Hercules not arrived in theaters after the game-changing hits Beauty and The Beast, Aladdin, and The Lion King. As the decade wound to a close, Disney tried once again, for the third time in six years, to depict a culture of color in the hopes of turning it into a hit. And for the third consecutive summer, their event-level animated release was met with just mild success — though some ardent Mulan fans online might tell you differently about the 1998 action-adventure.
Let's Get Down to Business
Mulan represented the fullest extent of Disney's expansive powers in animation in the 1990s. Though Disney Animation was beginning to be beset upon by competition from DreamWorks SKG, 20th Century Fox, and others, their dominance in the industry was easy to spot considering the number of satellite studios they'd created outside of Burbank, California. There were studios in Canada, Japan, Australia, and France, the latter of which began life as Brizzi Studios, founded by animator brothers Paul and Gaetan Brizzi (who we'll discuss in a later essay in this series). But in the States, there were just two Disney animation studios: the home base in Burbank, and Walt Disney Feature Animation Florida.The Florida studio was opened in 1989 along with the third park in the Walt Disney World Resort, Disney-MGM Studios. (That park, which celebrated its 30th anniversary earlier this year, is now called Disney's Hollywood Studios.) These days, Walt Disney Feature Animation Florida no longer exists, having been shut down soon after the release of the last film it primarily animated, 2003's Brother Bear. But WDFA Florida was responsible for a good chunk of the Renaissance; its animators were the chief artists for the "Be Our Guest" sequence in Beauty and the Beast, and also animated nearly a quarter of The Lion King. The first feature that the Florida-based crew handled entirely was Mulan.The genesis for Mulan, like the lifespan of the animation studio that brought it to life, extended to the earlier part of the 1990s. At the time, with Disney's far-reaching ambitions expanding beyond even one film a year (they would achieve that goal for the first time in 1999), they were also looking to expand the scope, location, and style of their stories. Though a few projects with an Asian influence were in development at the time, fate made it so two different projects could become the one we know as Mulan.
Who I Am Inside
In the early 1990s, Disney was working with the late children's author Robert D. San Souci on potential feature ideas at the same time that there was a short in development called China Doll. In China Doll, a Chinese girl fights against her oppressors until a British man sweeps her off her feet and takes her away from Imperialist China. San Souci pointed Disney towards the Chinese poem "The Song of Fa Mu Lan," submitting a manuscript inspired by its tale. That, in effect, convinced executives that they had a feature to make from this story of a young Chinese woman who goes undercover as a man in the army to protect the rest of the men in her family from having to fight.As the article linked above from Newsweek noted, what made Mulan manage to fly somewhat under the radar at the start was the fact that its filmmakers were lower on the totem pole among Disney's animating elite. Barry Cook became one of the film's co-directors, off the success of the 1992 short Off His Rockers, eventually being joined by fellow animator Tony Bancroft. (Neither Cook nor Bancroft had directed or co-directed a feature for Disney before, and — for whatever reasons — Mulan is the only Disney film either of them helmed.) Bancroft, at least, had worked on a number of other Disney animated features as a supervising animator — he was a supervising animator for Cogsworth, Iago, and Pumbaa in their respective films. Another key player in Mulan is an artist with a long history at Disney, as remembered for having legitimate frustrations with the studio as for his work there: Chris Sanders. Sanders is best known as the director of the 2002 Disney animated film Lilo & Stitch and the co-director of the first How to Train Your Dragon from DreamWorks. Sanders joined Mulan as a co-writer and story supervisor, at a point long after he had already made his own view on the current state of Disney animation well known. In 1989, as was eventually unearthed by Cartoon Brew, Sanders created a story for an animators' retreat criticizing the management style at Disney, implying that the studio was hopelessly mired in a vicious cycle and unable to create truly distinctive work. (Keep in mind: this was published the same year as The Little Mermaid was released.)Sanders had been a story artist on a few of the early Renaissance pictures, including Aladdin and The Lion King. For Mulan, he was, as the authorized behind-the-scenes book The Art of Mulan dubbed him, "an unwilling recruit" to the project, perceiving that a film about a teenage girl who leaves home out of frustration based on her relationship with her father was the kind of thing the studio had done countless times before. (And again, please note: this anecdote was provided in an official Disney text.) Sanders was able to convince the rest of the writing team to shift away from a more comic take on Mulan dressing up as a man, taking the change more seriously and grappling with her choice as one of bravery and sacrifice.
Time is Racing Toward Us
It wasn't just Sanders who pushed Disney towards pursuing a less inherently comic route with the overall film. Executives were equally swayed by an early version of what was dubbed Sequence Six: the scene in which Mulan cuts her own hair short and runs off to join the army in place of her elderly father, thus beginning a case of switched-identity that persists through the rest of the film. In the telling, as captured in Jeff Kurtti's The Art of Mulan, the sequence originally called for something a critic might call a crutch by this point: a musical number.Instead, with Sanders' guidance to make Mulan's choice more serious, the sequence eschewed dialogue and went for silence instead. That choice impressed executives enough that, as co-head of story Dean DeBlois (who would go on to join Sanders at DreamWorks, and has co-directed or directed all three How to Train Your Dragon films) stated, "It helped to establish our 'silent' approach."But the entire film had, or needed, a slightly different approach from its very conception. The decision to shift away from European fairy tales with Mulan was a notable one, and arguably just as fraught as the decision to make a film about Native American culture in 1995 with Pocahontas. There was a simple, painful reason: Asian culture wasn't often represented in previous Disney animated films, and when it was, it was done in a very poor light. Consider for a second the "Ev'rybody Wants to be a Cat" sequence in The Aristocats, wherein a Siamese cat with deliberately slanted eyes plays piano with chopsticks in both paws, and utters the lyric, "Shanghai, Hong Kong, egg foo yung/fortune cookie always wrong." And speaking of Siamese cats, perhaps the most familiar and aggressively stereotypical is the "Siamese Cat Song" from Lady and the Tramp, in which a duo of malicious Siamese cats with similarly slanted eyes speak in pidgin English and act cruelly towards our heroine. (One does not imagine they're making the cut in the upcoming Disney+ remake.)The majority of the filmmakers involved in Mulan are white men, as was the case for many of the other films discussed in this essay series. (Rita Hsiao, one of the film's five credited writers, is the first woman of color to have a writing credit on any of the Renaissance-era pictures. She's one of only four women to have co-written or written any of the films covered in this essay series.) Though Mulan, even more so than Pocahontas, is clearly intending to be respectful in honoring the culture of its story, even that had limits. As Bancroft said in an interview years later, "We did a lot of research to be culturally accurate and being a Christian, we made a pact that we wouldn't go too deep into Buddhism but would stay true to our own beliefs." Whether or not such a decision — to avoid going "too deep" into the dominant religion in the culture being portrayed — makes the film more or less "culturally accurate" is...well, up for debate, at least.
Boys Will Gladly Go to War For You
Cultural accuracy is somewhat present in Mulan, down to its casting. When the remake, arriving in theaters next spring, was first announced, there was an uproar because of the implication that the greenlit script would not just be radically different from the 1998 film. No, it would also be framed as a story in which a white man essentially saves China in part to consummate his romance with Mulan. (That's a story which sounded, from the logline, a good deal like the nixed short China Doll.)That initial concept was met with scorn online, in part because the 1998 version of Mulan feels so stridently opposed to the traditional romance elements of previous Disney films. Notably, though, there's still a wide mix of actors in the cast, many of whom were neither Chinese nor even Asian American. The biggest name in the film — Eddie Murphy as the wisecracking miniature dragon Mushu — is, of course, not Chinese by heritage (though since he's voicing a tiny, anachronistic dragon, Disney had a little leeway). But many other members of the cast weren't Asian American.Just three of the animated film's cast members are Chinese American, and three others are Caucasian. That mix of casting doesn't damn the film, of course, but it's still a little odd to watch Mulan in 2019 and wonder why it is that Disney cast Harvey Fierstein to voice one of the soldiers Mulan encounters during her adventures. It's equally distracting to listen to one of the musical sequences, "I'll Make a Man Out of You", and wonder why B.D. Wong, an accomplished stage and film actor, only provided the speaking voice for Li Shang. No, instead, Li Shang's singing voice is provided by perhaps the whitest person in popular culture, Donny Osmond.Thankfully, at least the two leads — the reserved but headstrong Mulan and the young but hard-nosed military leader Li Shang — are voiced by Chinese American actors. Wong, at the time known as much for his role in Jurassic Park as for his stage work, used his firmly confident voice to help Li Shang cut a fierce figure. As Mulan, Ming-Na Wen delivers what feels like one of the more challenging performances of the Renaissance period. Mulan, as a character, is determined and dedicated, but when she's pretending to be a male soldier named Ping, she could easily sound like a goof. Wen's deft and careful voice work goes a long way to making Mulan a truly strong lead character in ways that couldn't be applicable to many of the previous Renaissance heroines. Wen won the role based on her work as one of the leads of the 1993 adaptation of The Joy Luck Club, where she provided a good deal of voiceover narration. Producer Pam Coats said, back in 1998, "When we heard Ming-Na doing that voice-over, we knew we had our Mulan." The actress who provided her singing voice, Lea Salonga, came close to winning the whole role. (She also provided the singing voice for Jasmine in Aladdin.) She failed because, according to Disney Voice Actors: A Biographical Dictionary, her attempts to sound like a man simply didn't sound believable.
Your Serpentine Salvation
But the memorable role went to someone whose presence was bigger than even Disney animation in the late 1990s. It's somewhat ironic now to consider that Eddie Murphy's most well-known voice role came a few years after Mulan, and in a film that was targeted to skewer storytelling conventions originated by Walt Disney Animation Studios. But a few years before Murphy voiced the loquacious Donkey in DreamWorks' Shrek movies, he voiced a loquacious dragon named Mushu in Mulan, his first-ever voice role on the big screen.Disney was deliberate in casting as huge a star as Murphy, wanting to replicate the success the studio found with Robin Williams in Aladdin. This desire was clear, as they were willing to change things up to please Murphy. An article at the time from the Chicago Sun-Times opens by describing how Murphy recorded his dialogue in a recording studio...in the basement of his house in New Jersey. It's obviously not unheard of for an animation studio to make some changes in deference to talent, but this may be the most extreme case of the kind of perception of how easy voice acting can be. Yes, you can roll into the studio wearing sweat pants if you want, but it's awfully rare to be able to roll into the studio in your house.Mulan was the beginning of a gradual shift for Murphy, as someone who could easily appear in more family-friendly fare as opposed to just his more adult, often raucous and scatological comedies. (In a coincidence of timing, the weekend after Mulan was released in the United States, another family film starring Eddie Murphy opened, the remake of Dr. Dolittle.) Though Murphy's voice is undeniably recognizable, the thorny reason why his performance doesn't have the same exciting energy as that of Williams in Aladdin ties back to cultural accuracy and authenticity. Mushu may not be voiced by a Chinese American actor, but the presence of the character is meant to more appropriately represent Chinese culture.The whole setup with Mushu is admittedly a bit sweaty: Mulan, after making her decision to leave her family and take her father's place in the war against the Huns in the Han Dynasty, is unknowingly given the gift of protection. Her grandmother prays to their ancestors, who choose the Great Stone Dragon to protect the heroine, only for the lowly Mushu to inadvertently destroy the Great Stone Dragon instead of completing his task of waking the dragon up. Thus, Mushu takes the place of the protector in spite of being the size of a small lizard. Murphy's voice performance is, as you'd expect, irrepressible and outrageous. Yet the problem is simple: Mulan is not intended to be an irrepressible and outrageous film.
A Girl Worth Fighting For
Instead, Mulan is a film that — relative to Disney animation — doesn't flinch from the notion that our title character is fighting in a war. One of the film's songs, "A Girl Worth Fighting For," is meant to be a largely bouncy, funny number in which the faux-masculine men fighting alongside Mulan (known to them as Ping) rhapsodize about the women back home who they're fighting for, or who they hope to meet after the fighting with the Huns is over. Instead of coming to a big, climactic crescendo, the song — the last one before the end credits roll — is cut short as the soldiers come upon the sight of a destroyed encampment of soldiers, led by Li Shang's now-dead father.Shan Yu, leader of the Huns, is a fearsome villain without being terribly memorable. As voiced by the silky-toned Miguel Ferrer, Shan Yu is unquestionably terrifying, but because of the cultural respectfulness (on display at certain times more than others), there's nothing funny about Shan Yu. The film around Mushu isn't humorless — Mulan herself has an insect friend named Cri-Kee — but it's more serious than even The Hunchback of Notre Dame was. Mushu isn't as distracting, for example, as the three gargoyles in that 1996 adaptation, but he does exist, almost literally, as comic relief.One of the ways in which Mulan feels like a step forward is in its depiction of the battles and of Chinese culture. The film's animation more clearly weaves together hand-drawn and computer-based animation at key moments, such as a battle scene in which Mulan/Ping risks her life by setting off a cannon to start an avalanche and drown the Huns in snow. In this scene, the balance between the two styles is both visually apparent and, unexpectedly, not at all distracting. The blend seems perfectly apt. And Disney's animators pushed even further with a climactic emotional moment, as the people of China bow to Mulan after her ruse is revealed and she's helped rescue the Emperor. As detailed on the DVD commentary, those people were real, part of a panoramic shot of Chinese people bowing that was woven into the animated foreground.
True To Your Heart
Mulan isn't just the closest the Disney Renaissance had come to creating an action film of some kind. It's the first time in a while that the studio tried to inch away from its musical template. There are, of course, songs in the film; four within the story, and one during the end credits featuring boy band 98 Degrees and, just as inexplicably, Stevie Wonder. But Mulan herself only really gets one song, the stirring ballad "Reflection" that eventually leads to the character cutting her hair and dressing up as a soldier. Mushu has no songs to belt out (in spite of Murphy's previous forays into music), and neither does Shan Yu. Frankly, that makes sense; as the story gets more serious, the presence of songs feels almost distracting.The film's music has largely stood out over time thanks to two songs: a pop version of "Reflection" as performed by the not-yet-massively-famous Christina Aguilera, and "I'll Make a Man Out of You." (Aguilera had appeared as one of the Mouseketeers on a 90s-era edition of The Mickey Mouse Club, but her debut, self-named album with songs like "Genie in a Bottle" would not be released until the summer of 1999.) "I'll Make a Man Out of You" is as close as Mulan comes to threading the needle between its intense story and the struggle Mulan feels in trying not to reveal her true gender. Osmond's performance, coupled with the distinctive lyrics and score, make "I'll Make a Man Out of You" one of the best scenes in the film.Yet none of the film's songs were nominated for that most prestigious of awards, the Oscar. Mulan wasn't the first to miss out on the category, as The Hunchback of Notre Dame had also been left hanging for a nod. Yet there might have been a bigger sting at the Oscars for Mulan. Not only was it not nominated for Best Original Song, but two of the five nominees were from animated films from Disney's competition. One of the nominees was from the Warner Bros. animated film Quest for Camelot. The winner that year, "When You Believe," was from The Prince of Egypt, a rival DreamWorks Animation film that was very much intended to be a DWA version of the kind of Disney storytelling Jeffrey Katzenberg had helped push forward at the studio.There was better news at the box office for Disney. Mulan wound up making roughly $120 million domestically, a good deal more than either Hunchback or Hercules. Though it wasn't quite as big a success as earlier Renaissance films, Mulan made a more solid showing...in the United States, that is. Though China is now as dominant a market for American films as in this country, with Mulan, the Chinese people were indifferent. In the Hunan province, where Mulan is set, the film made just $30,000. One moviegoer said, "Americans just don't know enough about Chinese culture."Now, of course, we're awaiting the arrival of a new Mulan, directed by Niki Caro and featuring a cast including Donnie Yen, Gong Li, Jet Li, and, as the title character, Liu Yifei. At first glance, this Mulan is likely going to be different: there's (at least as of the publication of this essay) no one listed among the cast playing Mushu, and apparently no songs. But some things never change: a few weeks ago, the film garnered controversy after Liu Yifei posted on social media in support of the Hong Kong police as opposed to local protesters, inspiring others to call for a boycott on the film. Mulan will still be released in the spring of 2020, of course. But it's worth wondering how much more Disney understands Chinese culture now as opposed to 1998.
***
Next Time: Take to the trees to swing around with one of the most legendary heroes of all time.