Contest: Win A 'Rocketman' Prize Pack That Includes The 4K Blu-Ray Release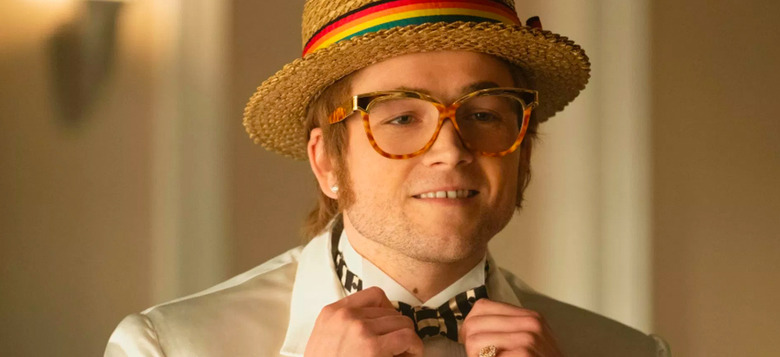 Rocketman, the fantasy musical biopic inspired by the life of Elton John, arrives on Blu-ray this week. And it's pretty damn good! Rather than take a conventional biopic approach, Rocketman tackles Elton John's life and career through the style of a traditional musical, complete with fantastical music numbers. In honor of the Rocketman Blu-ray release, we're giving away a prize pack that includes the 4K Blu-ray release, and more. Details below.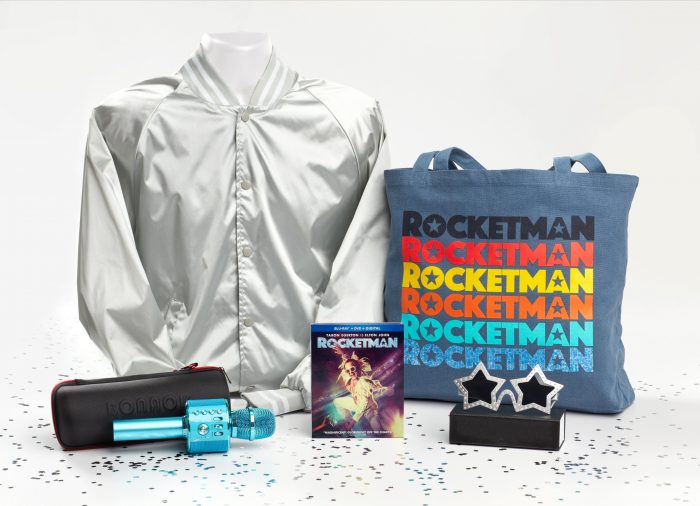 See all the stuff in that pic above? That can all be yours, except for the confetti – we're not shipping that, sorry. Since Rocketman comes to Blu-ray this week, we're giving away the above prize pack that includes a karaoke mic, a jacket, a tote bag, some stylish shades, and of course, the movie itself – on 4K Blu-ray, no less. How can you win? Simple. To enter to win, fire off an email HERE with the subject line ROCKETMAN CONTEST. A winner will be picked at random. U.S. residents only (sorry)! That's it!
Rocketman, starring Taron Egerton, Jamie Bell, Richard Madden, and Bryce Dallas Howard, is described as "An epic musical fantasy about the uncensored human story of Sir Elton John's breakthrough years." The Blu-ray release, which arrives on August 27, comes packed with the following features.
Extended Musical Numbers:
Introduction by Dexter Fletcher
The Bitch Is Back
Saturday Night's Alright (For Fighting)
Breaking Down the Walls of Heartache
Honky Cat
Deleted and Extended Scenes:
Introduction by Dexter Fletcher
I Love Rock And Roll
You've Got to Kill the Person You Were Born To Be
Arabella
Elton in the Gas Oven
Stylish Boots
You're Not the First Closet Queer with a Mummy Complex
The Blood Test
The Heart Attack
The Launderette
Do You Want Anything?
It's Going to Be a Wild Ride: Creative Vision
Becoming Elton John: Taron's Transformation
Larger Than Life: Production Design & Costuming
Full Tilt: Staging the Musical Numbers
Music Reimagined: The Studio Sessions – Behind the scenes in the recording studio with Taron & Elton?
ROCKETMAN Lyric Companion: Sing-Along with Select Songs (English only):
The Bitch Is Back
I Want Love
Saturday Night's Alright (For Fighting)
Your Song
Crocodile Rock
Tiny Dancer
Honky Cat
Rocket Man
Bennie and the Jets
Don't Let the Sun Go Down on Me
Sorry Seems to Be the Hardest Word
Goodbye Yellow Brick Road
I'm Still Standing
ROCKETMAN Jukebox: Jump Straight to the Music