'Spirited Away' Special Collector's Edition Will Be Available For A Limited Time This November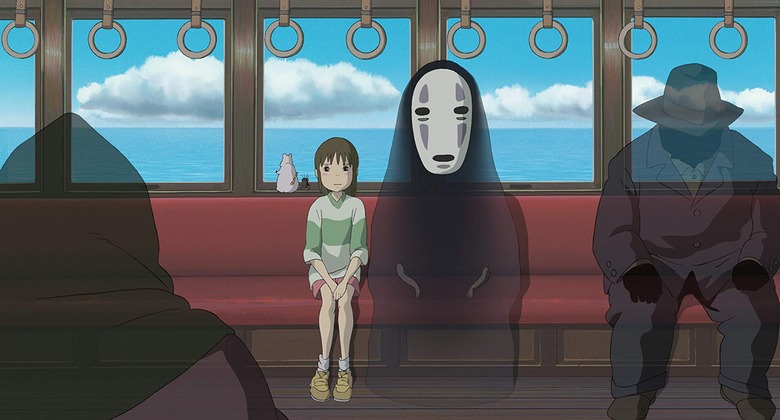 If, like me, you have watched your DVD copy of Spirited Away so much that the disc is scratched to the point of being unwatchable, you're in luck. Hayao Miyazaki's Oscar-winning animated classis is getting a long-deserved collector's edition that will be available in limited supply this November. Studio Ghibli is teaming up with GKIDS and distributor Shout! Factory to issue this Spirited Away collector's edition, which includes a new 40-page book filled with beautiful art and essays, in addition to hours of special features and the film's soaring soundtrack composed by longtime Miyazaki collaborator Joe Hisaishi.
Studio Ghibli and GKIDS are teaming up with Shout! Factory to issue a Spirited Away collector's edition release on November 12, 2019. Housed in an elegant hard slipcase, the special collector's edition includes a 40-page book with essays by film critic Kenneth Turan (The Los Angeles Times) and famed critic and film historian Leonard Maltin, and statements by Toshio Suzuki and Miyazaki. The special collector's edition will be available exclusively on disc in North America.
The special features include:
Feature-Length Storyboards
Original Theatrical Trailers
TV Spots
Behind the Microphone
There don't seem to be any new special features beyond the ones already included on previous DVD and Blu-ray releases (and I know, I've watched them all multiple times including that one of Miyazaki making ramen), which is a bit of a shame. Though it's likely because the nature of the anime industry in Japan is one of rapid output and few behind-the-scenes glimpses, aside from the occasional Miyazaki documentary conducted by NHK. Still, it would be wonderful to see more special features befitting a collector's edition release — perhaps with the inclusion of those aforementioned documentaries.
Despite the lack of new bonus content, I will still be first in line for one of these special collector's editions of Spirited Away — a profoundly affecting, indisputably dazzling film that is widely considered to be one of the best animated films of all time (if not simple one of the best films of all time). I only wish that the special features could reflect the great impact that Spirited Away had on animation and the film industry at large; more than simply 18-year-old behind-the-scenes clips.
The Spirited Away collector's edition release is available for pre-order now on ghiblicollection.com. Look forward to the release on November 12, 2019.
Chihiro's family is moving to a new house, but when they stop on the way to explore an abandoned village, her parents undergo a mysterious transformation and Chihiro is whisked into a world of fantastic spirits ruled over by the sorceress, Yubaba. Put to work in a magical bathhouse for spirits and demons, Chihiro must use all her wits to survive in this strange new place, find a way to free her parents and return to the normal world.