How The 'Once Upon A Time In Hollywood' Soundtrack Helps Quentin Tarantino Shape His Version Of 1969 Los Angeles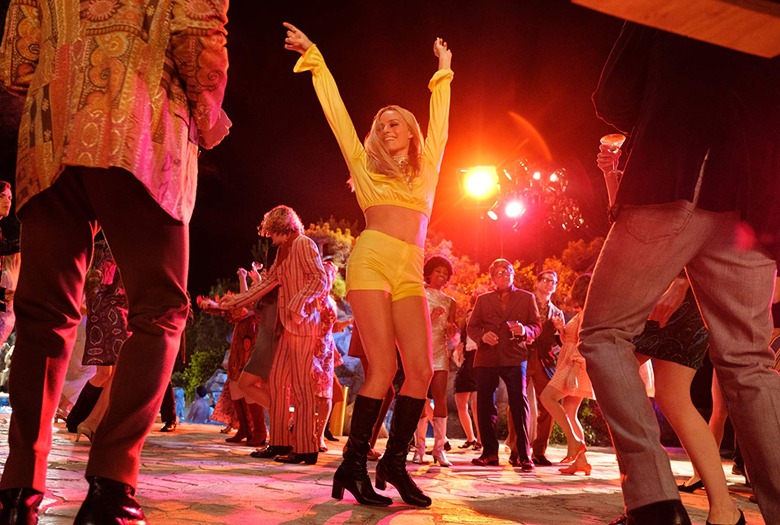 Whether it worked for you or not, Quentin Tarantino's ninth film, Once Upon a Time In...Hollywood, has a lot to unpack. Unsurprisingly for a Tarantino film, one of the most impressive elements is the use of source music, a soundtrack littered with tunes from in and around the 1969 Los Angeles milieu.
Tarantino's playlists have always held sway — Reservoir Dogs was the first film I ever saw that immediately had me go seek out the soundtrack at a local store, only to have to special it order it from the U.S. and wait months. Soon that would of course change, and Pulp Fiction became known by many more through the CD than through the film itself, with the mix of esoteric pop hits and wacky dialogue that formed a kind of radio play version of the film, evocative of what took place on screen.
As his career has progressed a large number of his song have tracked directly from films he's visually referencing – look at Kill Bill for a prime example of that, though Django and Hateful Eight are equally touchstones. Supposedly the needle drops in Tarantino's films are from his own collection, or at least sourced from original records rather than master recordings – the clicks and pops from the vinyl evocative as he hears them when writing. It's an affectation to be sure, just as is his 70mm presentation, but it's certainly some analogue on-brandness for the mercurial director.
In many ways the closest film to Once Upon a Time In...Hollywood both thematically and musically is Jackie Brown. In it, Jackie is listening to songs from back in the day, her healthy obsession with the vintage and forgotten Delfonics perfectly encapsulating a woman whose time may be passing her by. Within the 1969 of Hollywood these songs were still fresh, often promoting a sense of optimism that was indicative of an era that still held onto hope the world was going to be a better place, that the good guys would win, and that hitchhikers could be picked up with impunity.
Yet what sets Hollywood apart is how the music is being used. Sometimes full tracks play, but often they're smatterings of tunes, fragments one hears during the commute back and forth from Cielo Drive. Where previously the tunes were often the stuff of "crate diggers" – songs that may have lapsed from popular consciousness and ripe for rediscovery – here Tarantino and his music supervisor Mary Ramos are unafraid to play the hits. If the previous tracks were prime for alternative or college stations, with Hollywood we're finally treated to 100,000 watt blasts of Californian commercial radio, playing songs that sound good not because of their obscurity nor dismissed because of their popularity.
Take the scene where Sharon teases Jay about dancing to a record, where she'll tell his friend Jim Morrison that he's digging on something so positively pop. Here is the central divide – the teenage symphonies playing on the radio versus the more stately, confrontational, or minimalist tunes that would soon characterize the California sound. This is a land of Stones and Diamonds that's not digging on the Zappas and Beefhearts, hanging out at the Playboy Mansion rather than trolling the Whiskey for whatever the latest fad is. It's this anti-hipster thread, with Sharon unafraid to embrace the popular and throwing up her arms to dance with abandon that provides the film its most infectious radiance, and gives the film a warmth and sense of happiness that further emphasizes the contrast between historical fact and diegetic timeline. In this Hollywood timeline, minor key songs are few and far between, and there's always opportunity to bask in the warm sun or wear headphones while floating in the pool, digging on the tunes with nary a care in the world.
Here are some of the key songs from the film, a mix of obscure and mega popular that form the soundtrack and narrative bedrock for life Once Upon a Time In...Hollywood. We've also included a full list of the songs listed in the credits for you to explore further the musical landscape of Tarantino's film. There are so many tracks to explore, from scores to spaghetti Westerns, brief clips of pop songs, even an advertisement for TV's Batman, but here are a few of the key songs that help elevate the narrative and set the stage for what takes place in Quentin's version of late-'60s California.
Bernard Hermann – Torn Curtain (Unused Score)
Forming a loose trilogy with Django Unchained and Inglorious Bastards, Hollywood plays fast and loose with history, creating a different timeline that constantly plays with what happened outside the movie and what transpires for the lives of the characters within the film. In one of the more subtle nods to that alternative timeline are the several pieces from Bernard Hermann's score to Torn Curtain. A long-time collaborator with Alfred Hitchcock, the two had had massive success with the likes of Psycho and Vertigo. Hitchcock wanted a pop score, Hermann instead provided this moody, orchestral take, resulting in a rift that would never heal between the two creative giants. John Addison fulfilled Hitchcock's desires and provided a score as forgettable as that film, indicative of the creative descent of that titanically talented filmmaker. Now with Hollywood, the creepy, rejected score by Hermann has a new and welcome revival.
Rick Dalton (aka, Leonardo DiCaprio) - "Green Door" (link to version by Jim Lowe)
Written by Bob Davie and Marvin Moore, this schmaltzy, tack piano hit performed by Jim Lowe made No. 1 in November 1956, knocking Elvis' "Love Me Tender" off the top spot. As sung by Rick as part of the "Hullabaloo" sequence, it's the kind of out-of-step nonsense that seemed more innocuous than sinister. A Manson-like, late-'60s cult leader David Berg would eventually cite the song in letters regarding his own crew, one he'd also rename "The Family". In the same way that Manson's hermeneutical hysteria took "Helter Skelter" to mean a racial uprising, Berg thought The Green Door referred to a portal to hell. In 1972, the pornographic film Behind The Green Door starring Marilyn Chambers became a smash hit, eliciting the kind of hoopla that Sharon notices from the premiere as they enter the Mexican restaurant on the night of August 8, 1969.
Robert Goulet – "MacArthur Park"
Upping the schmaltz factor even more, this song about the tragic loss of pastry during a downpour, this was exactly the kind of mass-culture hit that was a far cry from the hippie idiom. Originally written by Jimmy Webb as part of a cantata for The Association (whose jangly 1968 gem Time For Livin' appears in the film), it would be recorded in an over-the-top fashion by film star Richard Harris, and then milked for all its melancholic worth by the lounge lizard Goulet. Donna Summer would eventually revisit it in Moroder-ized Disco fashion, but for sheer excess one can't beat Goulet's garish version.
Charles Mason Family – "I'll Never Say Never To Always"
For those that skipped out on the credits they may have missed both a Red Apple cigarettes ad (a nod to the greater Tarantino-verse), as well as a credit to a certain cult leader's musical career. Manson was one of thousands who came to California to look to make his musical career flourish, and he was just the kind of long haired dude that fit in perfectly with the scene. It was through a friendship with Dennis Wilson that he connected with Terry Melcher, and the Beach Boy and his esteemed producer friend made initial steps to help this short, intense man and his career. When things turned south, and Manson retreated into his own sociopathy, the results would shake the entire community of Hollywood that had been looking for a kind of "authenticity" from those outside the glamour and glitz of the music making machine. This bouncy, infectious song is sung by the members of The Family as they dumpster dive, but was also sung in a choral-like fashion during the famous trial of their leader and lover.
Buchanan Brothers – "Son of a Lovin' Man"
A terrific bit of esoterica that homophonically evokes Hollywood's son/sun motif, this bravura bubblegum-like pop that was the work of three session maestros, Terry Cashman, Gene Pistilli, and Tommy West. This is the kind of crate-diggery that Tarantino and his team are known for, and its use as the backdrop for the party at the Playboy Mansion is one of the most warm and illuminating moments of the entire picture. To see Sharon, in yellow, taking over the scene and radiating warmth is the central focus of her entire character, making perfect the celestial call of this musical nugget.
Simon & Garfunkel - "Mrs. Robinson"
Tarantino's soundtracks often evoke other films, echoing through music his myriad references that have fueled his films since the beginning. Still, I don't think there's a more overt case of that for general audiences than the use of S&G's track from their album Bookends, written for Mike Nichols' 1967 smash hit The Graduate. The song plays when Cliff spots the (much younger) Pussycat and her retinue of hippie friends crossing his path, using the narrative of the previous film to infuse the current scene with a sense of an illicit connection soon to come. It's a clever use of both foreshadowing and undercutting expectation as the scene in the car plays out, and a perfect example of why even using "popular" tracks can fuel Tarantino's vision just as much as his love for the obscure.
Neil Diamond – "Brother Love's Traveling Salvation Show"
Another relatively well known song, this evangelically delicious track by the singer/songwriter was released in early 1969, and Cliff hears it as he's racing through the Hollywood streets back to his trailer. Critically, the song speaks of a "Hot August Night," a lyrical foreshadowing of what's to come in the latter half of the film, and the power of a smooth talking leader that through the power of his rhetoric can move a congregation to action. This may not be as definitive a recontextualization as "Stuck In The Middle With You" was to chopping off ears in Reservoir Dogs, but by tying the wild enthusiasm of Diamond's song to the Manson murders is a sly, and inspired, bit of musical magic. His catchy "Kentucky Woman," covered by Deep Purple, can also be heard in the film.
Vanilla Fudge – "You Keep Me Hangin' On"
The antithesis to the sunshine pop that's used throughout, this "sludgy" slice of psych pop is the other, darker side of the Hollywood story (Jim Morrison wouldn't have minded Jay and Sharon dancing to this Doors-like dirge). A twisted redux of the 1965 Supremes hit written by the powerhouse team of Holland-Dozier-Holland, Fudge's thick, slowed down version provides a perfect and surreal backdrop to the films closing confrontation, injecting the sense of acid-dipped danger and surrealism that's evoked throughout the final act.
Keith Mansfield - Funky Fanfare
This instrumental bit of awesomesauce plays as Cliff drives past the drive-in theatre that serves as the backdrop to his trailer. The use of it here is even more self-referential than usual, and it's not only period correct but has been used in the likes of Kill Bill and Death Proof as an introduction to the "feature presentation." Its inclusion in Hollywood is far more subtle but no less nostalgic, and thus all the more perfect for a film that features those exact same traits.
Paul Revere and the Raiders – Good Thing
Thematically no band is so centrally tied to Tarantino's soundtrack as Paul Revere and the Raiders. Musically, they're indicative of that same sunshine and fun that Sharon teases her friends about. 1967's "Good Thing" was co-written and produced by Terry Melcher, son of Hollywood legend Doris Day, friend to Charles Manson and former owner of the house at 10050 Cielo Drive. The band were both throwback to revolutionary times – they were festooned with archaic military costumes, not so strange during the Sgt. Pepper-era and Summer of Love excesses – and entirely in keeping with the brash excesses of late-60s pop. Paul Revere was the historical figure who let his countrymen know about the invading armies, so it's no small coincidence that this American band borrowed so heavily from the members of the (musical) British Invasion. Sharon's joy at the song is shared, her blaring of the music on a sunny day evocative of the freedom and promise that she represents, tying subtly to a former resident of that same house, and superficially free from anything but riff-fueled fun. Yet it's the dark, heavy undercurrent to this pop lightness that injects the entire film with a sense of doom and dread, regardless of narrative catharsis, and the use of these revered Revere tracks is a critical if subtle tool for this ambivalence to be articulated.
Mamas & The Papas - Straight Shooter
There are many apocryphal stories surrounding the Manson murders, and one suggests that the piano in the house had atop it some sheet music for this John Phillips tune there at the time of the attack. Sharon didn't play, but it's suggested that Abigail Folger may have been doing so, which is how Tarantino sets the scene. Terry Melcher often worked with the Mamas and the Papas, and Sharon is seen at the Playboy Mansion with Cass Elliot and Michelle Phillips, showing how tight-knit this community of millionaire outsiders were, feeding the general public with tales of California Dreams (the Jose Feliciano cover adds to that) while living an unfettered, unafraid life of luxury in the hills.
Buffy Sainte-Marie – The Circle Game
Sainte-Marie covered her fellow Canadian Joni Mitchell using a similar arrangement as the Judy Collins version, an upbeat song about being trapped on the "carousel of time". It's a poetic song with hints of melancholy that Michell would pull off for much of her career, and soon her insular retreat into Laurel Canyon would provide a calling card to innumerable singer-songwriters that would join her apart from the brash excesses of Hollywood pop life. Sainte-Marie continues her remarkable career to this day, providing a fierce and effective voice for indigenous peoples throughout the continent. Her performance here has that mark of her intensity and caution about complacency about letting things pass you by, making it all the more perfect its location in the film. The song is used when Sharon picks up a hitchhiker and has a perfectly warm and friendly encounter, hugging her passenger as they part. After Sharon's passing this innocence would be forever shattered by another group that would hitch in Hollywood, and the divide between those on the side of the road and those ensconced in positions of power and privilege would be divided even further in decades to come.
The Full Soundtrack
"The Rocks", "The Return"(from Have Gun Will Travel)
Written by Bernard Herrmann
"Against a Crooked Sky"Written by Alexis de Azevedo"Hell River"Courtesy of Multicom Entertainment Group."The Killing" (unused score from the motion picture Torn Curtain)Written by Bernard HermannKHJ Station IDWritten by Johnny Mann"Treat Her Right"Performed by Roy Head & The Traits"Green Door"Written by Robert Davie, Marvin Moore
Performed by Leonardo DiCaprio
"I'll Never Say Never To Always"Written by Charles Manson"Mrs. Robinson"Performed by Simon & Garfunkel"The Letter"Performed by Joe Cocker"Funky Fanfare"Written by Keith Mansfield"Ready for Action"Written by Syd Dale"Summertime"Written by George Gershwin, Ira Gershwin, Du Bose Heyward and Dorothy Heyward
Performed by Billy Stewart
"Ramblin' Gamblin' Man"Performed by The Bob Seger System"Hector"Performed by The Village Callers"The House That Jack Built"Performed by Aretha Franklin"Hush"Performed by Deep Purple"MacArthur Park"Written by Jimmy Webb
Performed by Robert Goulet
"Mannix"Written by Lalo Schifrin"Paxton Quigley's Had The Course"From the film 3 In The Attic
Performed by Chad & Jeremy
"Son of a Lovin' Man"Performed by Buchanan Brothers"Suddenly"Written by Harold F. Weed"Kentucky Woman"Written by Neil Diamond
Performed by Deep Purple
"Time For Livin'"Performed by The Association"Choo Choo Train"Performed by The Box Tops"Good Thing"Written by Terry Melcher * Mark A. Lindsay
Performed by Paul Revere and the Raiders
"Hungry"Performed by Paul Revere and the Raiders"The Bed"From the film Danger: DiabolikWritten by Ennio Morricone"Jenny Take A Ride"Performed by Mitch Ryder and the Detroit Wheels"Can't Turn You Loose"Written by Otis Redding
Performed by Wayne Cochran and C.C. Riders
"Ecce Homo"Performed by Francesca De Masl"The Circle Game"Written by Joni Mitchel
Performed by Buffy St. Marie
"Cooler"From the film The Great EscapeWritten & Performed by Elmer Bernstein"Freya Bangs", "Freya", "Karate Dance" and "TV Screen"From the film The Wrecking CrewWritten by Hugo Montenegro"Mexican Western"Written & Performed by Francesco De Masl"Soul Serenade"Performed by Willie Mitchell"Brother Love's Traveling Salvation Show"Written & Performed by Neil Diamond"Theme from 'It's Happening'"Performed by Paul Revere and the Raiders"Bring a Little Lovin'"Performed by Los Bravos"Hey Little Girl"Performed by Dee Clark"Victorville Blues"Performed by Harley Hatcher Combo"Dalton Gang Ride Entrance"From Cattle Annie & Little BritchesPerformed by Tom Slocum/John Bird and the Cattle Annie Band"The Radiogram"(unused score from Torn Curtain)
Written and performed by Bernard Herman
"Dalton Gang Ride Entrance"From Cattle Annie & Little BritchesWritten and Performed by Tom Slocum"Mr. Sun Mr. Moon"Performed by Paul Revere and the Raiders"Screen Gems Logo (1965 version)"Performed by Eric Siday"Don't Chase Me Around"From the film Gas-s-s-sWritten by Barry "The Fish" Melton
Performed by Robert Corff
"California Dreamin'"Written by John and Michelle Phillips
Performed by Jose Feliciano
"Un Uomo Chiamato Apocalisse Joe – Seq. 1"Written and Performed by Bruno Nicolai"Straight Shooter"Written by John Phillips
Performed by Samantha Robinson
"FBI Theme and Score Cues"From the TV series THE FBI"Dinamite Jim" (English Version)Performed by I Cantori Moderni di Alessandroni"Out Of Time"Performed by the Rolling Stones"Twelve Thirty (Young Girls Are Coming To The Canyon)"Performed by The Mammas & The Papas"Miss Lilly Langtry", "Judge Roy Bean's Theme"From The Life and Times of Judge Roy BeanComposed and Conducted by Maurice Jarre"Snoopy Vs The Red Baron"Performed by The Royal Guardsman"You Keep Me Hangin' On"Performed by Vanilla Fudge"Batman Theme"Written by Neal Hefti