'The Batman' Finds Cinematographer In 'Rogue One' And 'Zero Dark Thirty' Veteran Greig Fraser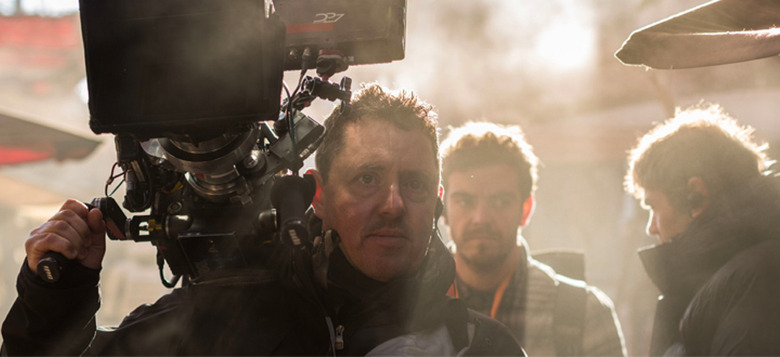 Much like the Dark Knight himself, so much of The Batman has been shrouded in mystery. We know Matt Reeves is directing. We know Robert Pattinson is the new Caped Crusader. But beyond that, we have mostly rumors to go on. So it's kind of a big deal when we get some concrete news! Like this: Greig Fraser, the DOP of Rogue One: A Star Wars Story and the upcoming Dune, has been hired as The Batman cinematographer.
THR broke the news about Greig Fraser landing the gig as The Batman cinematographer. Fraser has worked with Batman director Matt Reeves before, shooting his Reeves's 2010 Let The Right One In remake Let Me In. "It's great to be working with Matt again," said Fraser. "The Batman franchise is iconic and its a privilege to now be able to visualize it in my own way. Especially with the cumulative creative potential of all the talent and technicians, we have in front of and behind the camera."
Fraser's credits include Jane Campion's Bright Star,  Andrew Dominik's Killing Them Softly, Kathryn Bigelow's Zero Dark Thirty, Bennett Miller's Foxcatcher, Gareth Edwards's Rogue One, and Denis Villeneuve's upcoming adaptation of Dune. All of those films – except Dune, which no one has seen yet – look amazing, so at the very least we can take solace in knowing The Batman will look great.
When asked how he goes about creating a "visual idea" for the films he works on, Fraser said:
"You first and foremost need to be honest with the script because you don't want to do anything to screw up the basic fundamentals of the story. You don't want to create anything overly dramatic when you don't need to, and you don't want to create anything less dramatic than necessary, either. It's about walking a very fine line of being true to the subject and source material, and also having enough confidence in what you're doing to realize that if you don't do anything fancy with the camera right now, it's actually going to improve the story. Or, if there's a time when you feel like you can be more dramatic with the camera...When you're making a film, from every department, from the cinematography to the editing to the production design, you're just trying to bring out the underlying flavors of the original ingredients [the script], that's the fine line that we walk as technicians. If it becomes all about us, then suddenly we've got a very fancy looking peacock, when instead what you really want to have is a very solid film that basically make its techniques invisible."