Water Cooler: Cage In The Park, Half Dome, Crawl, The Farewell, Being Funny, A Matter Of Life And Death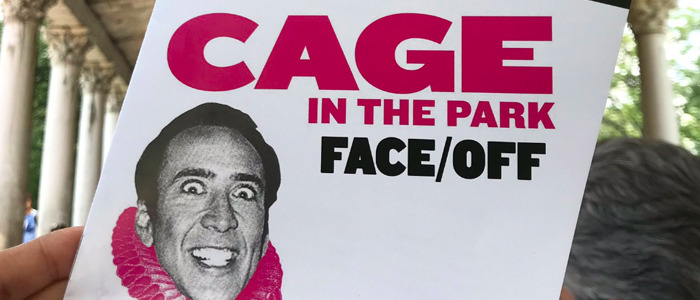 On the July 15, 2019 episode of /Film Daily, /Film senior writer Ben Pearson is joined by /Film managing editor Jacob Hall, weekend editor Brad Oman, and writers Hoai-Tran Bui and Chris Evangelista to talk about what they've been up to in the Water Cooler.
Opening Banter: At The Water Cooler:
What we've been
Doing
:
Hoai-Tran went to the Long Island Aquarium to see alligators eat rats for the
Crawl
junket, witnessed the "Cage in the Park" rendition of
Face/Off
in Prospect Park.
Ben hiked Half Dome in Yosemite National Park
Jacob is going to invite the crew to debate the purpose of a sign in a Chipotle parking lot.
Brad helped plan the game flow for his friend's Escape Room.
What we've been
Reading
:
Jacob has been enjoying
King-Size Kirby
and read the final issue of
The Walking Dead
.
What we've been
Watching
:
Jacob and HT watched
Stuber
.
Chris and HT watched
Crawl
.
Chris watched the new
Hellboy
, and
Shazam
.
Brad watched
Annabelle Comes Home
, the first episode of
Being Funny
, the first episode of
The Movies
on CNN
Hoai-Tran watched
Stranger Things 3, Woman at War, The Farewell,
and
The
Dark Crystal
.
Jacob watched
Halloween III: Season of the Witch
,
The Dark
, and fell into an endless
Bar Rescue
marathon.
Ben watched
A Matter of Life and Death
,
It's a Wonderful World, Tickled
and
The Tickle King
, and started watching
Brooklyn Nine-Nine
What we've been
Eating
:
Brad had a
Fried Pop-Tart
at the county fair, tried
Birthday Cake Froot Loops
, tried
Burger King
's new
Crispy Taco
What we've been
Playing
:
Jacob played
Chinatown
and
Black Hole Council
.
Other Articles Mentioned:All the other stuff you need to know:
You can find more about all the stories we mentioned on today's show at slashfilm.com, and linked inside the show notes.
/Film Daily is published every weekday, bringing you the most exciting news from the world of movies and television as well as deeper dives into the great features from slashfilm.com. 
You can subscribe to /Film Daily on
iTunes
,
Google Podcasts
,
Overcast
,
Spotify
and all the popular podcast apps (
RSS
). 
Send your feedback, questions, comments and concerns to us at
peter@slashfilm.com
. Please leave your name and general geographic location in case we mention the e-mail on the air. 
Please rate and review the podcast on iTunes, tell your friends and spread the word! 
Thanks to Sam Hume for our logo.