Adam Sandler's Return To 'Saturday Night Live' Starts Off Slow But Is Ultimately Satisfying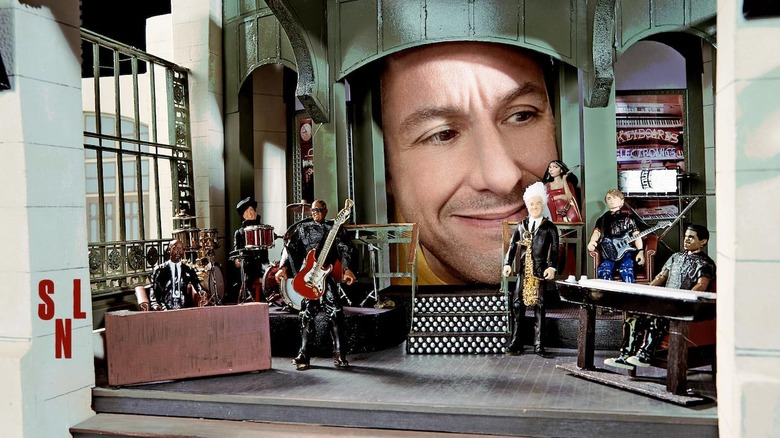 After 24 years, Adam Sandler returned to Saturday Night Live to host the late night sketch series for the first time ever. The expectations were high, and while the Sandman was back to his usual self, the overall show took some time to gain steam. Thankfully, it ended with a bang and even some tears. Plus, there were plenty of fun cameos by familiar faces of the past, as well as the perfect cameo from musical guest Shawn Mendes.
So let's break down the best and worst sketches from the Adam Sandler hosted Saturday Night Live.
The Best
Rectix – There are plenty of ways to fix erectile dysfunction, but if your husband needs that extra push, then Rectix might be for him. It's a pill, but you don't swallow it, and the way Beck Bennett realizes what Rectix really is, and the calm, happiness that Adam Sandler has when he explains it, makes this commercial parody an instant classic. However, it's a little depressing that Adam Sandler is old enough to play Beck Bennet's father now.
Sandler Family Reunion – Much like the Walken family reunion, Adam Sandler was given his own get-together with the Sandler family, including some of his relatives who may have inspired characters like Billy Madison, Happy Gilmore and The Waterboy. Everyone does their best Adam Sandler gibberish, but Pete Davidson opts for a Little Nicky impression, and Beck Bennett gets to be sad and angry as The Wedding Singer. Then Kristen Wiig pops up as his fictional mother, taking a cue from Carrie, which also inspired the title of one of Adam Sandler's comedy albums. Jimmy Fallon gets to bring back his Adam Sandler impression too, and Shawn Mendes gets in on the fun with a great Billy Madison reference at the end. It's a bit messy, but still hilarious.
Last Call with Adam Sandler – The kind of characters Adam Sandler likes to play when he's at his goofiest fit in perfectly with Sheila Sovage (Kate McKinnon) and her desperation for some love during last call. But this time, she gets double the company, because Adam Sandler's wife, played by a spray-tanned Kristen Wiig, is also looking for some action. You know how it all ends, but there's probably more spaghetti than you
The Average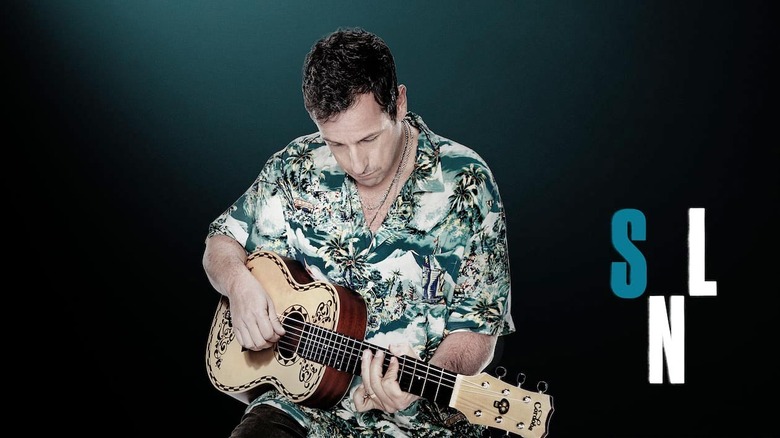 Romano Tours – At first, this sketch felt like Adam Sandler was just phoning it it. But then you realize he's exhausted from people who go on these tours thinking it's going to get rid of their sadness or fix their marriange. It's almost like he's on the border of freaking out about it, and you're kind of waiting for that Adam Sandler rage to come through, but he keeps it reserved and let's that come through in an exasperated kind of way.
War Zone Reporter – This sketch probably wouldn't have worked as well as it did (which was only mostly amusing) without Adam Sandler bringing in his silly voices, especially when it came to making a character out of the Snapchat filters. My favorite part of this sketch is how they try to justify why Snapchat is working while no one communication method will with a quick line addressing the nonsense of it all.
The Worst
Holes – Man, with Adam Sandler back on Saturday Night Live, I was hoping for some kind of outstanding musical sketch like this, but unfortunately this wasn't it. The concept lends itself more to the 10-to-1 window than where it fell earlier in the show. It's such a weird idea, but it's executed with such style and confidence in the fashion of a 1990s music video, like a cross between Guns N Roses and Rod Stewart, that it's almost funny.
Family Feud: Avengers vs Game of Thrones – This could have been something so fun, but most of the punchlines here fall flat, especially the poor execution of Groot. It's hard to tell whether this was intentional or just the result of not having enough time to get a proper Groot costume together. Either way, the joke was bad. It just felt like SNL trying to be culturally relevant without any real idea how to do it this time.
Weekend Update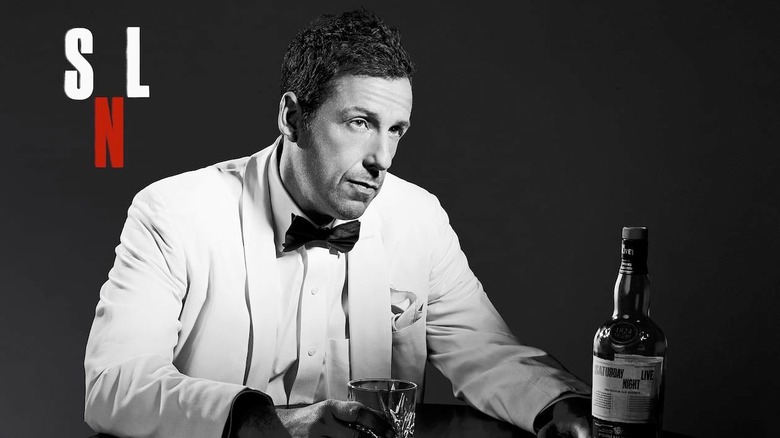 Weekend Update felt so weak this week. There were barely any standout jokes, and Colin Jost and Michael Che just felt like they weren't fully into it. It's one of those times when you understand why some fans think they're the worst Weekend Update anchors the show has ever seen, but there are still times when they nail it.
Elizabeth Warren on College Debt Forgiveness – I have a feeling we're going to be seeing a lot more of Kate McKinnon as Elizabeth Warren, and that's just fine by me. The only problem here is that the political spectrum is again such a joke at this point that there's not a lot to parody. But McKinnon does have this impression down, and this bit calling out the public's lack of awareness is right on the money.
Opera Man Returns – It's a shame that it's so hard to bring back any of Adam Sandler's signature characters in sketch form since a lot of them also relies on fellow cast members like Chris Farley and David Spade. But at least we got Opera Man back, and Adam Sandler was right back in the groove of this character. It's still so silly that it's a surprise that it works so well, but Sandler sells it.
The Host
At first, Adam Sandler felt extremely nervous to be back on the main stage at SNL. He was stammering, and not on purpose like one of this characters, and his timing felt a bit off. But finally he started to feel comfortable once the time came for him to do a little ditty about getting fired from Saturday Night Live, which also resulted in Chris Rock popping by. The rest of the show, he did about as well as he used to do when he was a cast member on SNL. He broke character here and there, though not as much as Jimmy Fallon, and he looked like he was truly having a blast.
Adam Sandler – Fans have been waiting so long for Adam Sandler to return to SNL, and it's nice that he was game enough to make it happen. It truly felt like he was having a heartfelt return home, and you can could tell he was enjoying it, and maybe also feeling a little sad that not all of his friends from his days at SNL were there with him. And then he brought out the Chris Farley song that he sang during his Netflix special, and it crushed even more than it did during his live tour. The audience loved it, and when the goodbyes happened at the end of the episode, you could see some puffy eyes and tears on the faces of cast members. That's enough to make Adam Sandler the standout of this episode.
The Final Word
We're in the home stretch now with two episodes left in the 44th season of SNL, and we're hoping that the cast and crew will go out with a bang. Part of me thinks the Emma Thompson episode might suffer from being sandwiched between Sandler and the season finale, but maybe they can pull it off by delivering a fine trio of closing episodes.