'Late Night' Trailer: Mindy Kaling Tries To Save Emma Thompson's Failing Talk Show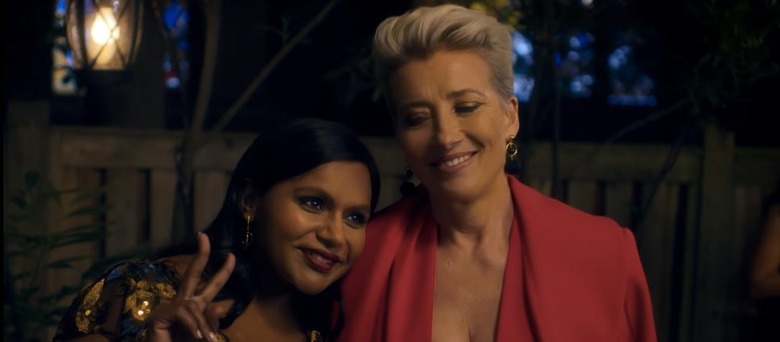 Emma Thompson is a late night talk show host looking for a career spark as she faces criticism for losing her edge and relying on an all-male writers room. Mindy Kaling is an aspiring comedy writer looking to break out of the chemical plant in which she spends her days cracking one-liners. Late Night is the movie that will bring them together in a sharp, hilarious comedy that you must see when it arrives in theaters this summer, and a new trailer will show you exactly why. Watch the new Late Night trailer below.
Late Night Trailer
Having caught Late Night at the Sundance Film Festival earlier this year, I can tell you that this is a breakthrough film role for Mindy Kaling, who also makes her feature writing debut. On top of that, Emma Thompson couldn't be more perfect as late night talk show host Katherine Newberry, and the way these two play off each other throughout the film is simply fantastic.
As I wrote in my review from Sundance:
"This is just as much Emma Thompson's movie as it is Mindy Kaling's, and that's because she's one of the most gifted actresses of her time. She brings a bite to Katherine Newbury that makes every sharp and witty jab land firmly when she slings insults and sarcasm at her writers (or anyone who rubs her the wrong way). And she does it looking like a trendy pantsuit goddess that would easily make her the best-dressed late night show host in history. Even though her character carries shades of Meryl Streep's memorable turn as fashion magazine editor Miranda Priestly in The Devil Wears Prada, Thompson brings more moments of levity to the table and a side that feels far less cold. She oozes confidence and has no problem creating a strong stage presence, so much that it made me wish Emma Thompson would really host a late night show."
However, the supporting cast that makes up the writing staff is nothing to scoff at either. Reid Scott (Veep), Paul Walter Hauser (I, Tonya), Hugh Dancy (Hannibal), Max Casella (Jackie), John Early (The Disaster Artist) and some other day players do a fine job of bringing the writers room to life. It makes me wish this were a TV series instead of a movie so we could spend more time with them working on the show.
The summer may be full of blockbusters, but don't let this comedy from Amazon Studios and director first-time feature director Nisha Ganatra get away from you. It's well worth the price of admission.
Legendary talk-show host Katherine Newberry (Emma Thompson) is a pioneer in her field. The only woman ever to have a long-running program on late night, she keeps her writers' room on a short leash ? and all male. But when her ratings plummet and she is accused of being a "woman who hates women," Katherine puts gender equality on her to-do list and impulsively hires Molly Patel (Mindy Kaling), a chemical plant efficiency expert from suburban Pennsylvania, as the first and only female on her writing staff. With rumors swirling that Katherine is being replaced by a younger, hipper male host, she demands that the writers make her funny and relevant again. A lifelong fan, Molly is determined to prove she's not just a diversity hire, but the one person who can turn her idol's career around. Going against everything Katherine has staked her reputation on, she urges her to make the show more contemporary, authentic and personal, a move that could make Molly's career ? or send her back to the chemical plant for good.
Late Night hits theaters on June 7, 2019.