'My Spy' Trailer: Dave Bautista Is A Super Spy Who's Met His Match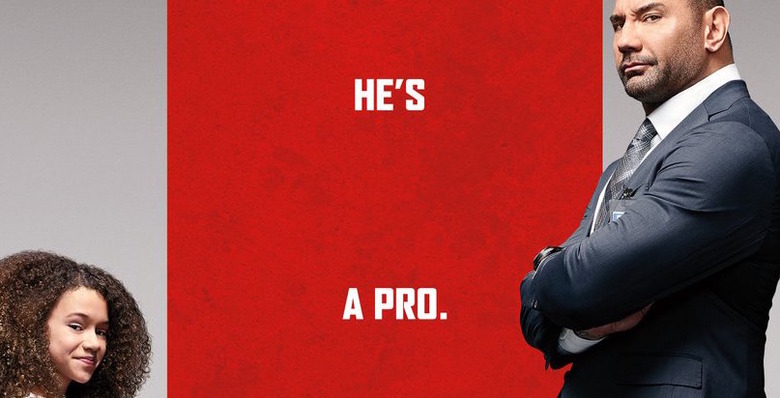 Dave Bautista is well enough into his transition from wrestling into acting that we can confidently call him a good actor. After making a splash in Guardians of the Galaxy, Bautista has bucked expectations for the typical wrestler-turned-actor, instead carving out a path as one of the most interesting character actors working today. But duty calls, and Bautista is doing what many a wrestler-turned-actor has done before him: a family comedy. Bautista is starring in the Peter Segal-directed comedy My Spy, as a hardened CIA agent who finally meets his match in a pint-sized girl (Chloe Coleman). Watch the My Spy trailer below.
My Spy Trailer
Though Bautista has been diligently making bold character actor choices in action films like Blade Runner 2049 and Spectre, the actor seems to be finally making his way to comedy. In addition to earning raves in the buddy-comedy Stuber with Kumail Nanjiani, a pairing which /Film reviewer Meredith Borders said in her review  "might feel unlikely on paper but registers as instantly legendary onscreen," Bautista is finally doing his first family comedy. It seems like the fate for every wrestler-turned-actor — or at least, every muscular dude — to star in a comedy in which they deal with unruly children because, hey, what's funnier than a huge gruff guy haplessly try to control kids! From Vin Diesel in The Pacifier to Dwayne Johnson in The Tooth Fairy before him, now comes Bautista in My Spy.
My Spy "follows a hardened CIA operative (Bautista) who finds himself at the mercy of a precocious 9-year-old girl (Coleman), having been sent undercover to surveil her family." The script is penned by Jon and Erich Hoeber, whose screenwriting credits include the Red action-franchise and Battleship, as well as last year's giant shark spectacle, The Meg, starring Jason Statham. Segal, who is best known for Get Smart and Fifty First Dates, directs.
My Spy is scheduled to hit theaters later this year.