'Jay And Silent Bob Reboot' Production Diaries: Cameos, Stunts And That's A Wrap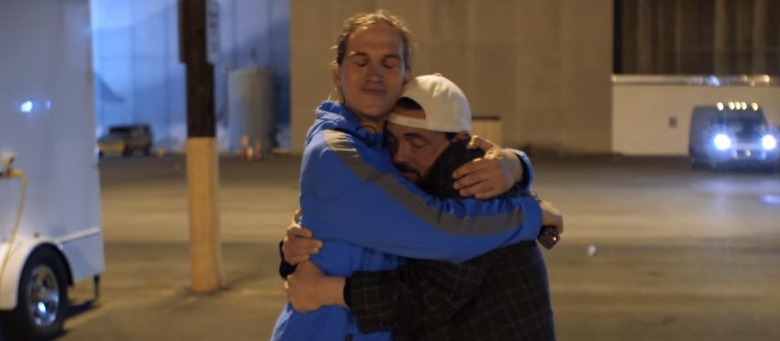 Remember when Peter Jackson gave fans an unprecedented look behind the scenes at the making of King Kong with his online production diaries? That was something that was a great influence on the creation of /Film, and we're very excited to see that director Kevin Smith is going to chronicle the making of his latest film, Jay and Silent Bob Reboot. Today, the filmmaker launched The Road to Reboot, a series of videos that will be released on YouTube to give fans an in-depth look at the making of a movie. Check out the Jay and Silent Bob Reboot production diaries below.
Jay and Silent Bob Reboot Production Diaries
Chapter 1
The Road to Reboot: Chapter 1 focuses on what Kevin Smith used to regard as the most boring part of the filmmaking process: tech scouting. This is when the director and various crew department heads go out to the locations they hope to shoot at in order to figure out the logistics of how they'll accomplish what needs to be done there. It also allows them to figure out whether or not the location their needs or if they need to find a new place to shoot. It's something Smith used to hate, but now as a more experienced filmmaker, he actually digs it.
This provides a little bit of insight into some of the locations we'll see in Jay and Silent Bob Reboot. For example, there's a courtroom scene, where I wouldn't be surprised if there's some kind of dispute about the rights to Bluntman and Chronic (or maybe just Jay and Silent Bob). Another scene will take place at the New Orleans airport involving Jay, Silent Bob and an immediately censored third party. And finally, another location teased is that of a mall, complete with an introduction from Jason Mewes that is both exciting and frustrating to longtime Kevin Smith fans who are still mad that we didn't get to see Mallrats 2.
Chapter 2
The tech scouting continues in the second chapter of The Road to Reboot. Jason Mewes hams it up, and Kevin Smith plays along with it. But then we get into the juicy stuff, which is scouting a fast food location to create a new Mooby's that can be used in the movie. It's not built yet, but you can see some concept art for what it will look like.
Then we get to sit in on the production meeting where the film's assistant director Dan Katzman (Happy Death Day) runs through the script one last time so all the department heads can talk about any further logistic questions or concerns. That sounds boring, but Kevin Smith livens things up by having everyone introduce themselves, and then celebrating them by yelling their name and applauding. It's clear he's already having a blast on this movie at this point.
Chapter 3
For all you View Askewniverse fans who are disappointed that Mallrats 2 isn't happening, this production diary should help ease the pain. Kevin Smith returns to the mall for this segment, because they're shooting a scene at the new location of Brodie's Secret Stash, which just so happens to be in a shopping mall.
The coolest part of this video production diary is seeing the new tribute to Stan Lee that Brodie will prominently feature. Brodie is known for wearing that white t-shirt with a blurry face on it, but this time that shirt will have the clearer face of Stan Lee on it in a very similar style. That's pretty damn cool if you ask me.
Chapter 4
Jay and Silent Bob Reboot is shooting in Louisiana, which is a long away from New Jersey where the original Quick Stop from Clerks is located. Sadly, shooting in the original location would have proved to be too expensive for the latest chapter in the View Askewniverse, but the recreated Quick Stop that the crew put together down South was so expertly recreated that it brought Kevin Smith to tears (though a lot seems to do that nowadays).
Chapter 5
Production on Jay and Silent Bob Reboot continues, and we get to find out about one of the crew members who isn't on every single movie set but is a necessity when you're shooting down South. In this video diary, Kevin Smith talks to the set's snake and gator wrangler. There aren't any snakes or gators in the movie (that we know of), but this guys job is to make sure that any snakes or gators that might be around the area of the on-location shoot in Louisiana are cleared away temporary so they don't bother the cast and crew (and vice versa).
Plus, Kevin Smith just takes the time to appreciate working on this movie, even when they're under a deadline due to the setting sun and rain is on the way. You gotta admire the guy for loving what he does so much.
A night shoot unfolds in Chapter 6, and it looks like there's a good moment for Jason Mewes to show off his acting skills in the middle of a construction yard. Plus, we get to find out about an old tradition that's been happening on the set of Kevin Smith's movies for years. Five Dollar Fridays is a raffle between the cast and crew where everyone writes their name on a five dollar bill and puts it in a bucket. Whoever has their name drawn wins all the money in the bucket.
This is perhaps the most significant revelation from the Jay and Silent Bob Reboot production diaries yet. In this edition, we get to meet the new girl gang who is being used in place of Sissy (Eliza Dushku), Chrissy (Ali Larter), Missy (Jennifer Schwalbach,  Kevin Smith's wife) and Justice (Shannon Elizabeth) from Jay and Silent Bob Strikes Back.
The new girl gang was originally revealed on Instagram, but even more about them here. There's Kevin Smith's daughter Harley Quinn Smith as Milly, who is said to be the Justice of the gang (without the romance with Jay, because that would be weird). And she's joined by Aparna Brielle as Jihad, Treshelle Edmond as a Silent Bob-esque girl named Soapy, and Alice Wen as a mysterious international podcaster, and she won't be that timid Asian girl cliche we often see in the movies. Find out more about them in the full video diary.
Chapter 8
After seeing concept art in one of the previous production diaries, the set is built, and we get to go inside the fast food location that debuted in Dogma back in 1999. In addition to celebrating the 20th anniversary of Mooby's, a couple cameos from Jay and Silent Bob Strike Back get revealed, including the return of Kevin Smith's wife Jennifer Schwalbach.
Chapter 9
Jason Mewes provides some insight into his process of not looking like they're shooting all night and day with a little beauty product that keeps the bags out from under his eyes. Plus, he zooms around an RC car with a camera on it while on set.
Meanwhile, Kevin Smith introduces a few more cameos, including the return of the young pot-smoking teens played by Jake Richardson and Nick Fehlinger (now full grown adults) and Hollywood Babble-On co-host Ralph Garmin.
Chapter 10
Kevin Smith introduces some students from the New Orleans Video Access Center (NOVAC), who are lucky enough to be on set as part of the deal that earns the production a tax break while shooting in Louisiana. NOVAC is a non-profit organization that provides filmmaking workshops, equipment rental, and more. The students talk about what has appealed them to the most on set while watching the master at work
Chapter 11
Jason Mewes has a chat with stunt coordinator Andy Dylan about what exactly a stunt coordinator does beyond the obvious assumption of coordinating the stunts on set. Dylan has had this job for 25 years, but this is apparently a career highlight for him. Plus, Mewes talks about how much more challenging certain stunt moments are, even if they look easy.
Chapter 12
Production on Jay and Silent Bob Reboot comes to an end. Kevin Smith gives a heartfelt tribute to Jason Mewes as the co-lead finishes his work on the movie and the overall shoot finishes up. Of course, Smith gets emotional when he looks back on where this all started, and we can't wait to see what he's gotten together.
We're not sure if there are any post-production diaries comes as Kevin Smith gets the movie together leading up to the eventual release, but we'll keep you posted.
***
We'll be updating this post with the latest Jay and Silent Bob Reboot production diary whenever a new one comes along. It may not be quite as fascinating as watching a huge studio blockbuster being made, but at least Kevin Smith will make it fun. So if you'd like to keep up with the latest videos, be sure to check back here for more soon. Otherwise Jay and Silent Bob Reboot doesn't have a release date yet, so stay tuned to find out when you'll be able to see the movie.