'Hanna' Trailer: The Saoirse Ronan Action Movie Is Now An Amazon Series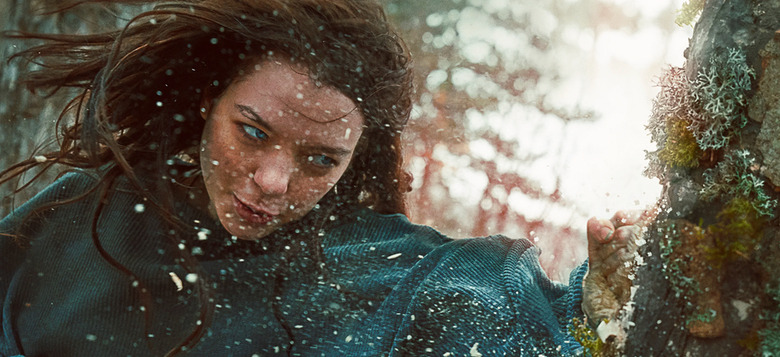 Time for yet another trailer for Hanna, the Amazon series adapted from the Joe Wright movie of the same name. We've already had several trailers for this show, but hey, one more won't hurt. And while Amazon is marketing the hell out of this thing, it hasn't actually premiered yet (although the first episode was dropped early). Watch the new Hanna trailer below, and see when the show will premiere.
Hanna Trailer
Based on this trailer, the Hanna TV series is sticking pretty damn close to the movie, at least for its set-up – there are scenes in this trailer that are almost complete recreations of scenes from the Joe Wright movie. For comparison, here's the movie trailer.
Here's the synopsis for the new Amazon series:
Raised in total seclusion in the remote woods of Eastern Europe, 15-year-old Hanna (Esmé Creed-Miles) has spent her entire young life training to fight those who hunt her and her mercenary father, Erik Heller (Joel Kinnaman). Her survivalist skills are finally tested when she and Erik are separated upon their discovery by a rogue CIA operative, Marissa Wiegler (Mireille Enos) and her team of agents.
Hanna has no choice but to embark on a perilous journey alone across Europe as she seeks to reunite with her father and evade – and ultimately take down – the dangerous agents who target them. Hanna's isolated upbringing leads her to face particularly daunting physical and emotional challenges along the way, as she navigates an ever-deepening conspiracy – one that could be the undoing of both her and her father.
I thought the Hanna film was enjoyable, but it also benefited from having both Saoirse Ronan and Cate Blanchett in it. Amazon premiered the first Hanna episode on Super Bowl Sunday, but then removed it after 24 hours. It was just a tease. Now, we can confirm the full first season will premiere on March 29 on Amazon Prime Video.
I suppose if you're a fan of the film, you might want to check this out. But I wish the footage here had a bit more style. For some reason, Amazon shows (like Jack Ryan) all have the same flat look – they're not very cinematic, in other words. I'm not sure if that's just a stylistic choice, or a decision for economical reasons. In either case, I'm not a fan. But Hanna might turn out to be worth watching if it manages to grow the story set-up by the film.