'Shazam' Filmmakers On How The Movie Connects To The DCEU, Dwayne Johnson's Black Adam, And More [Interview]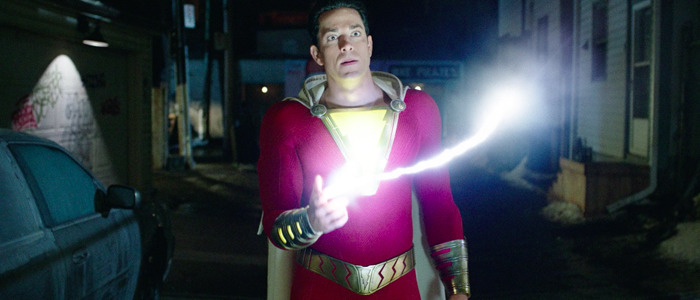 Last week, I joined a small group of journalists at a post production facility on the Warner Bros. studio lot to see a sneak peek of footage from the upcoming superhero film Shazam! After getting an early look at a few minutes of the movie, we spoke with director David F. Sandberg and producer Peter Safran about the film's connections to the DCEU, how the project evolved from the days when Dwayne Johnson's Black Adam was said to be involved, the film's post-credit sequence, and much more. 
During our conversation, Sandberg and Safran touched on casting Zachary Levi as Shazam, the superhero alter ego of 14-year-old Billy Batson (Asher Angel), praising the actor's enthusiastic approach to the role. You can see a bit of that easy-going, good-natured approach in this new featurette:
Shazam Footage Recap
Much of the footage we saw came from the first act of the film. Young Billy Batson is brought into a foster family, and while the trailer focused on Billy/Shazam's fun relationship with his foster brother Freddy Freeman (Jack Dylan Grazer), there's an uneasy tension between them early in the story. Freddy is obsessed with superheroes and even keeps a bullet that bounced off of Superman in his drawer at home (complete with a certificate of authenticity), but Billy swipes it for himself. At school, Freddy and Billy talk about the differences between invisibility and flight, how flight is associated with being a superhero and being invisible is often associated with being a pervert. (Invisibility is a joke that returns later in the film when Shazam is trying to figure out his powers.) "Most people don't feel like heroes on the inside, deep down," Freddy says.
But it seems like the rocky relationship doesn't last long, and the two quickly become friends. When Billy stands up for Freddy by fighting back against some local bullies, he escapes into a subway car – where the other passengers turn to dust, almost as if Thanos's snap from the Marvel universe made its way over to DC. The subway doors open to reveal the Rock of Eternity, a magical cave featured heavily in the trailer, where the Wizard (Djimon Hounsou) sits on a throne. DC really loves these big cavernous throne rooms – we saw one in Aquaman recently – and they also seem to love dropping flashbacks into their movies: this one explains the history of Shazam by using magical glowing particles as Billy stands there flabbergasted.
After he's endowed with superheroic powers, Shazam finds himself back on the subway, where a passenger praises his outfit: "My brother, I applaud your choices today. Gold shoes, gold belt, white cape: it shouldn't work, but hot damn, it does!" (The general tone of this footage is almost the same as what's in the first trailer: lots of goofy, lighthearted comedy.) When Shazam meets up with Freddy back home, we saw a different version of his "powers discovery" scene than the one that appears in the trailers – this one takes place at night when Shazam intervenes during a mugging (where it turns out his help may not have been needed after all). Freddy tries out several superhero nicknames for him ("Thundercrack!" "Mr. Philadelphia!" "Power Boy"), all of which fall flat.
After revealing the full version of the gas station robbery scene from the trailer, the footage transitioned into several action scenes, many of which are featured in this extended TV spot:
Read on for highlights from our interview with Shazam! director David F. Sandberg and producer Peter Safran.
How Shazam! Connects to the DCEU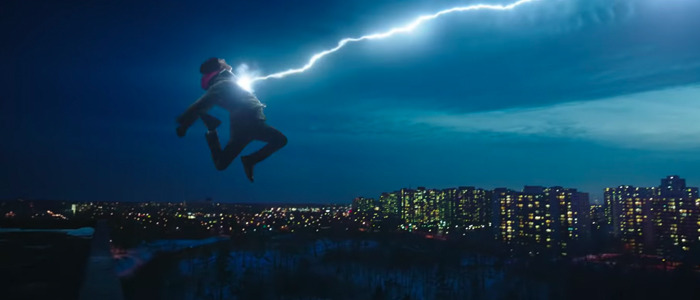 Over the course of Shazam!'s development, Warner Bros.' approach to its cinematic superhero movies changed from concentrating on a single shared universe to essentially treating each movie on a case by case basis and not being as concerned with how they may connect to other films. One of the journalists asked Sandberg and Safran if there were pressures to make their movie link to others, and if they felt liberated when the studio loosened its approach:
David F. Sandberg: "That never changed, because it was always like, this is Shazam's story, and it doesn't necessarily have to – it's not a puzzle piece."
Peter Safran: "The mandate for us for the film was always just, 'Make the best movie possible.' There was never any attempt whatsoever to shoehorn it into any existing storylines or universe, et cetera. There was tremendous freedom that they gave it in terms of how to make the movie, and I think that's one of the things that was appealing to him was to tell this great origin story, this fun, action-packed, wish fulfillment movie, and go make the best version of it that you can make. They were incredibly supportive, and I think it was certainly very helpful that – obviously it was developed at New Line, which is outside of the DC world, and then with [former New Line executive] Walter [Hamada] coming over to DC [he became President of DC Films in January 2018], he kind of brought everything full circle. They could not have been more supportive in terms of David's vision for the film."
That being said, the filmmakers did explicitly clarify that this movie does take place in the DCEU: in addition to things like Superman's bullet appearing in the film, there are newspaper clippings that reference events of some of the previous DC films. According to Sandberg:
David: "[The characters in Shazam!] live in a world where these things are real, which is also fun to explore because we don't really see that aspect of it. How would pop culture – would they still have the toys, the action figures that we have? They do, but it's just based on real things."
Dwayne Johnson's Black Adam and the Post-Credits Scene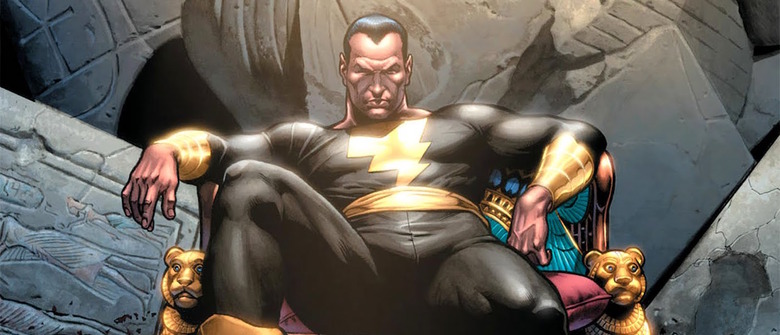 For years, Dwayne "The Rock" Johnson has been hyping his role as Black Adam in the DC universe – a role that hasn't come to fruition yet. But fans will have to continue to wait: he's not in this movie, either.
The Shazam! post-credits scene has been a topic of conversation in geek circles, with rumors that Johnson (or even a fellow DC hero) may pop up. Safran definitively shot down one of those rumors:
"There was never a conversation with [Dwayne Johnson] about a post-credits sequence. Truly, never."
But the producer did confirm that the film will have a post-credits scene, and he talked about what went into making that happen:
"I think it's the same decision making that they do on all of these movies. What's going to be fun, what's going to be satisfying for the audience, what's going to be a nice punctuation mark at the end of the movie?...That's the debate that you always have. We had a lot of options, and I think we ended up with something good."
Will Superman be involved in that post-credits scene, as a current rumor indicates? When one of the journalists asked if we'd see Superman, Safran quipped:
"Yeah, when DC makes that movie, I think it's going to be great. You'll definitely get to see it then! You guys will love it."
So if Dwayne Johnson's Black Adam isn't in this movie, do the filmmakers want to include him in a potential Shazam! sequel?
Sandberg: "I mean, you'd want to see it at some point. You know? Because he's a classic villain."
Safran: "He's a perfect adversary. One would hope that eventually you see those two on screen together at some point, but it's not going to be in this one."
Sandberg Will Get to Put His Horror Skills to Use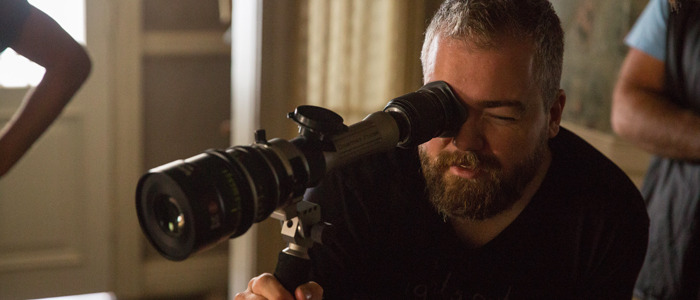 Mark Strong's Sivana won't be the only baddie Shazam faces in the film: he'll also encounter the Seven Deadly Sins, powerful demons which, in the comics, wreak havoc after breaking out of their statue prisons in the Rock of Eternity.
One of the journalists present offered a fascinating question, pointing out that Sandberg, like James Wan, has a background in horror. Wan got to do the trench scene in Aquaman, so is there any room in this goofy-looking, good natured comedy for Sandberg to flex his horror muscles at all? The answer surprised me:
Sandberg: "Yes. What can I reveal? There's not much I can say."
Safran: "These guys have read the comics, so they know that the Sins are going to be in some way involved in the story. Without revealing exactly how they're integrated into the storyline, I would say that that's probably as close as what James did with the trench, to really let David build those sequences that are scary and cool."
Sandberg: "Just getting to design the monsters – you see a little bit of it in the latest TV spot, those statues in the Rock of Eternity – that was really cool."
Shazam Doesn't Unlock All of His Powers By The End of the Movie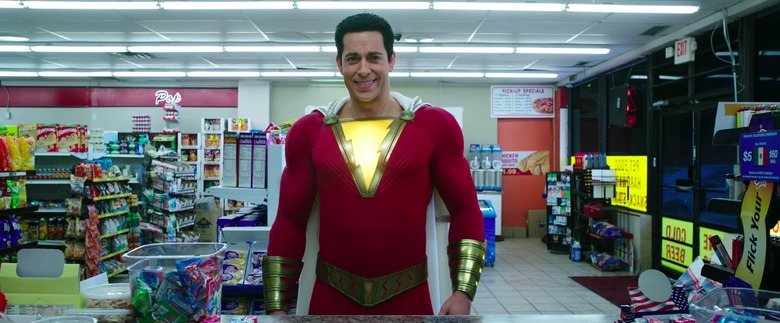 All of the footage that's been released so far and that we saw in the sneak peek centered on Shazam learning about his powers. I asked the filmmakers if, by the end of the movie, he has unlocked all of his powers or if there is still anything left for him to learn.
Sandberg: "There's always stuff to learn, but I think he comes pretty much full circle."
Safran: "He certainly has a degree of control and awareness, but there's still a lot for him to learn in terms of the ultimate potential of what Shazam is."
I asked if that means that Shazam has discovered all of his powers, and again I was surprised by the answer:
Safran: "No, not really. Because when the Wizard endows on him this ability to say 'Shazam' and become a superhero, there's no manual that comes with it. So it really is a process for him to learn what is real potential is. He comes to learn somewhat his areas of potential, but not the whole thing by any means."
We'll find out exactly how much the character unlocks when Shazam! arrives in theaters on April 5, 2019.