The 15 Best Movies We Saw At The 2019 Sundance Film Festival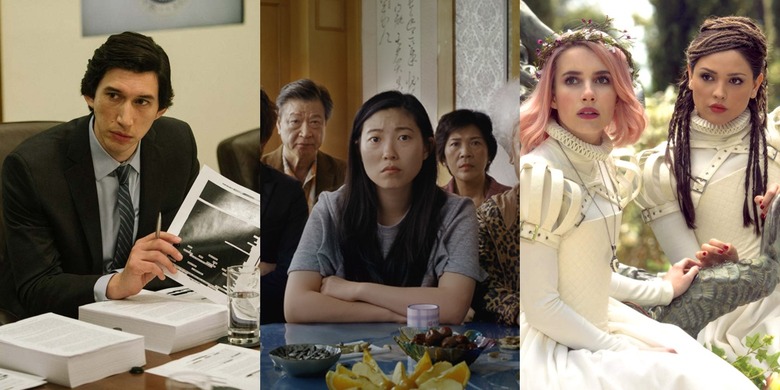 The Sundance Film Festival often sets the tone for the entire year in film – it arrives early and plants a flag to announce "these are the first great and most promising movies of the next 12 months." The /Film team was on the ground in Park City, Utah for the 2019 edition and we saw and reviewed a ton of movies. And we saw so many movies we loved that picking a select few to make a "best of" list turned out to be a bit of a challenge.
But make a "best of" list we did! These are the 15 best movies we saw at the 2019 Film Festival. Silly comedies, intense thrillers, incendiary dramas, horror flicks, feel-good tales...this list has something for everyone and you should put them all on your radar.
15. Late Night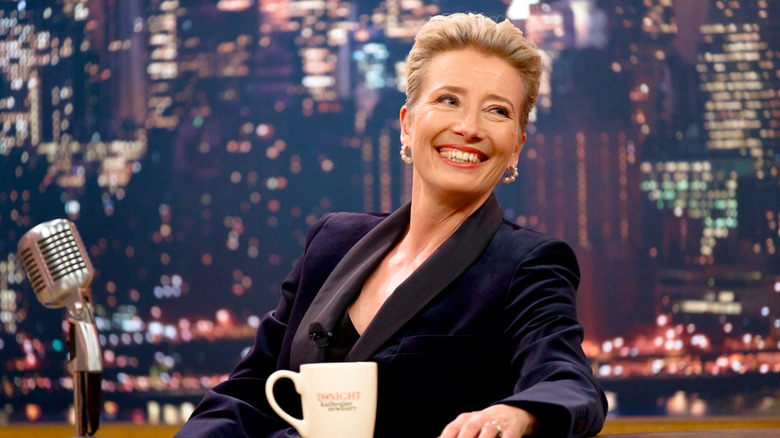 Mindy Kaling not only starred in The Office on NBC, but she also ended up writing and producing a good chunk of the series too. That's why it's great to see her taking both her acting and writing talents to the silver screen in a big way with Late Night. Kaling plays a chemical plant employee turned staff writer for Tonight with Katherine Newbury, a failing late night talk show hosted by an electrifying and smashingly-dressed Emma Thompson. The only problem is she's the only female writer on staff, and Katherine isn't exactly the easiest person to work with. That gives us an array of sharp insults, hilarious one-liners, and an endlessly entertaining story akin to The Devil Wears Prada in the world of late night TV. It's one of the biggest crowdpleasers of the festival, it's bound to be a hit when it hits theaters sometime this year. (Ethan Anderton)
14. The Last Black Man in San Francisco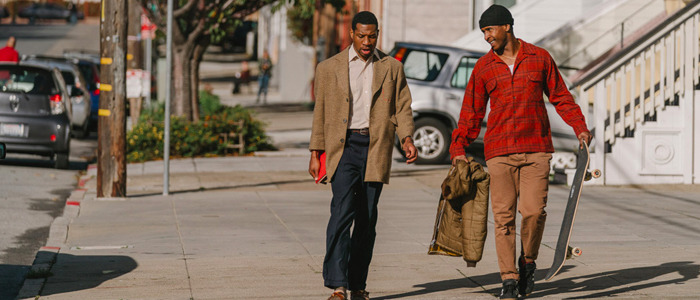 What's the difference between a house and a home? That's one of the key questions posed in The Last Black Man in San Francisco, director Joe Talbot's moving, expressive drama about two friends dealing with the effects of gentrification in one of America's most expensive cities. Jimmie (Jimmie Fails) spends his time cleaning up a beautiful Victorian home built by his grandfather, even though he can no longer afford to live there. But when the house goes on the market, Jimmie and his pal Mont (Jonathan Majors) move in and try to reclaim it, with Jimmie addressing his family history and Mont trying to put on a one-man play that summarizes their experience as black men living in the city. It's a great Sundance movie, emotionally ambitious and wholly unique, and the type of intimate, well-told drama that will touch viewers even if it never ultimately finds a huge audience. (Ben Pearson)
13. The Nightingale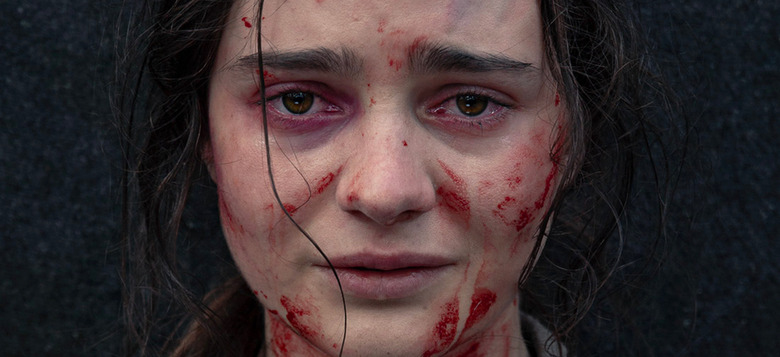 Jennifer Kent's follow-up to The Babadook is so relentlessly brutal that it's going to prove difficult for some to sit through. Set in 1820s Tasmanian, this revenge drama follows an Irish convict (Aisling Franciosi) chasing down a cruel British officer (Sam Claflin). Along the way, she's assisted by an Aboriginal tracker (Baykali Ganambarr). With The Nightingale, Kent seems to be pointing the finger at the audience, and daring them to derive some sort of pleasure out of the violence on display here. As movie audiences, we've become accustomed to enjoying revenge when it's enacted on the big screen. But there's no joy to be had in The Nightingale. Just cold, unrelenting nastiness. This is one of the most challenging films I saw at the festival, and while I don't know if I'll ever have the stomach to sit through it again, I can't shake it either. (Chris Evangelista)
12. Brittany Runs a Marathon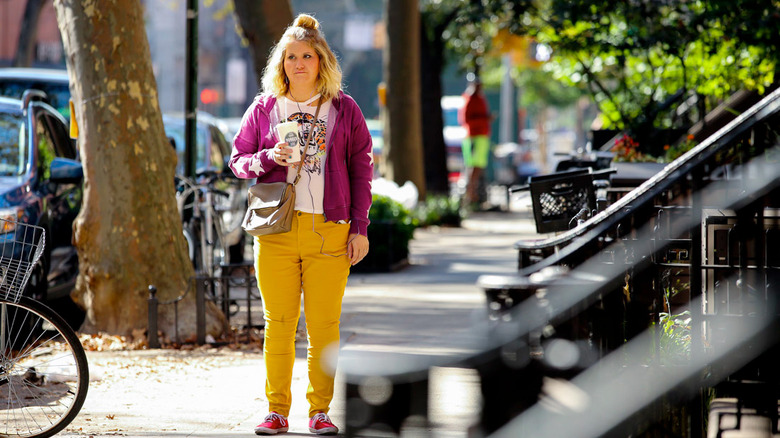 Sometimes you just feel like a real piece of shit. That's exactly what happens to twentysomething Brittany (Jillian Bell) when a doctor's visit tells her that she's overweight, has high blood pressure and a fatty liver. Normally Brittany just takes life's hardships in stride with a dose of sarcasm and self-deprication, but this one sticks with her. It's time to do something about this shitty life. This movie is both about being comfortable in our own skin, but not accepting mediocrity as satisfaction. Bell does a phenomenal job playing Brittany with a balanced level of confidence and insecurity, something each and every one of us feels at one time or another. And first-time writer/director Paul Downs Colaizzo brings the true story to life in a way that is consistently comical, surprisingly inspiring and simply fantastic. (Ethan Anderton)
11. The Death of Dick Long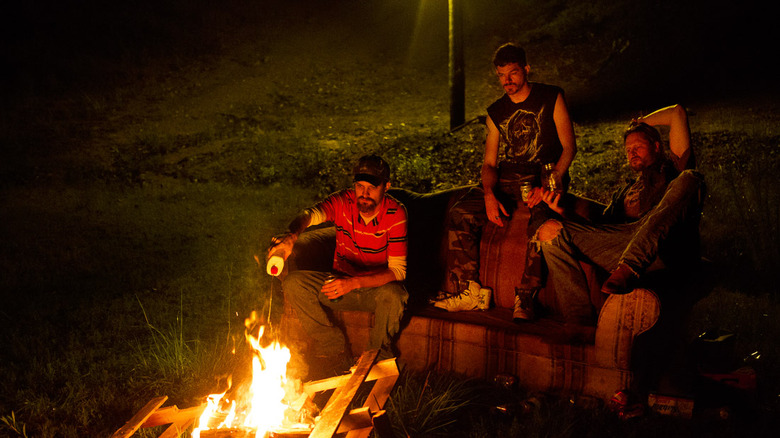 A twisted, laugh-out-loud Southern comedy, The Death of Dick Long is the story of two idiots (Michael Abbott Jr. and Andre Hyland) who try to cover up the true reason behind their friend's untimely death. These bumbling morons can't think more than one step ahead, so they're certainly not smart enough to implement a complicated cover-up. That doesn't stop them from trying, though, and their dim-witted attempts result in some of the funniest moments of the year. But fair warning: this movie gets downright disturbing, and once it takes its dark turn, it becomes a different type of film – one that's more interested in examining its protagonists as flawed, complicated men than just as a pair of goofy screw-ups. It's a tricky tightrope walk, but director Daniel Scheinert never judges his characters and delivers a movie that's going to be almost impossible to forget. (Ben Pearson)
10. Velvet Buzzsaw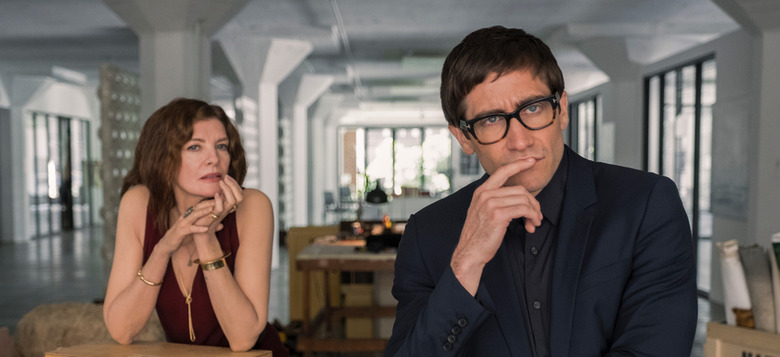 Some audiences will resist Dan Gilroy's gloriously goofy Velvet Buzzsaw, but I was all in. On one level, this is a satire of the art world. But really, the movie is just an excuse for Gilroy to load a film up with silly characters, and then brutally murder them. Jake Gyllenhaal is hilarious as a snobby art critic who teams up with some others to make a fortune off of some recently discovered paintings. Unfortunately, the paintings are haunted, and violently murder anyone who dares to choose the almighty dollar over the sanctity of art. Consistently funny and overloaded with blood-drenched kills, Velvet Buzzsaw is unique and unapologetically wacky. The over-the-top tone isn't for everyone, but this pushed all my buttons. (Chris Evangelista)
9. Native Son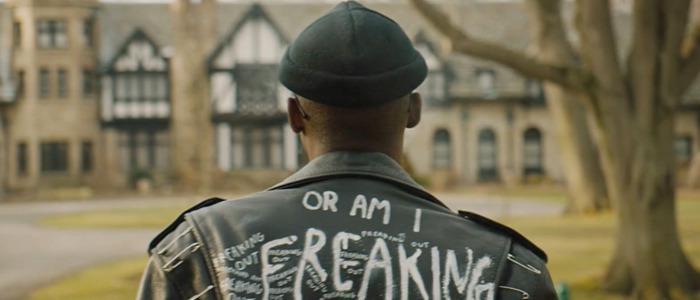 Bigger "Big" Thomas (Moonlight's Ashton Sanders) defies stereotypes at every turn: he's a black man living in Chicago who has green hair and loves punk music and Beethoven. Big is a quiet, curious character, the type who feels like he has a good grasp of 90% of his identity but is still working to figure out that final 10%. Rookie director Rashid Johnson's adaptation of Richard Wright's 1940 novel follows Big as he takes a job working for a wealthy white family, exploring issues of race and class and eventually taking a surprising turn that nearly catapults the film into the horror category. Matthew Libatique's cinematography is top notch, bouncing between crisp brightness and sinister foreboding. Skillful performances from Sanders, Kiki Layne, Bill Camp, and Margaret Qualley and a modernized script from Pulitzer Prize winner Suzan-Lori Parks make this a memorable cinematic debut that's worth seeking out. (Ben Pearson)
8. Big Time Adolescence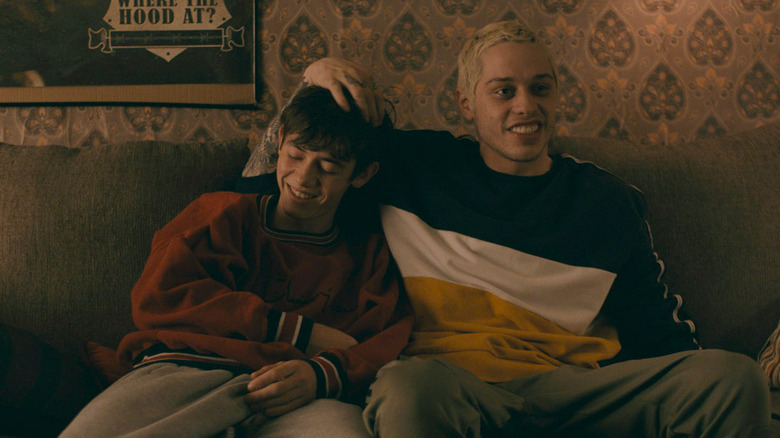 Coming of age comedies are a dime a dozen at Sundance, and it usually takes something special to make one stand out. In this case, it's Pete Davidson as a loveable, witty loser named Zeke, and Griffin Gluck as his ex-girlfriend's teenage brother ,who looks up to the directionless stoner. Each gives two performances that are charming for different reasons. Davidson reminds you of that townie who everyone thought was cool in high school but hasn't done anything with his life. That might not sound appealing, but Davidson brings such a cool, laid back persona to Zeke that you can't help but love his presence. Meanwhile, Gluck plays the awkward kid still trying to figure out how to talk to girls, and you're rooting for him to be cool, even if it's based on some not so sound advice and guidance by Zeke. This movie from first-time writer/director Jason Orley is exactly the kind of indie you'll love discovering for yourself. (Ethan Anderton)
7. Wounds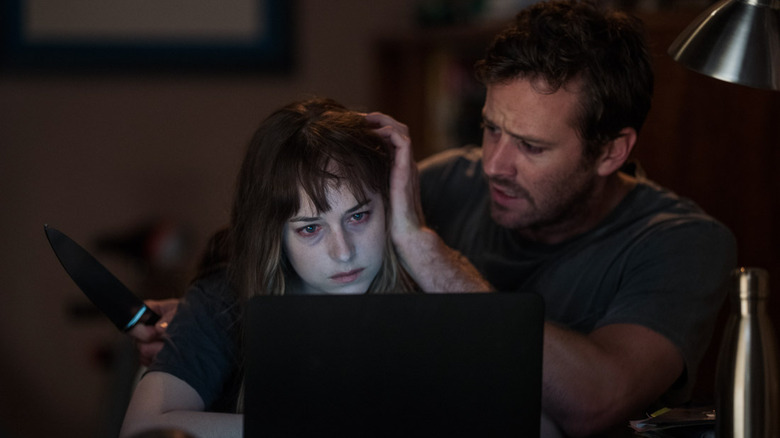 Armie Hammer leads this sweaty horror story that's occasionally uneven but always mesmerizing. He plays a New Orleans bartender who has a rocky relationship with his girlfriend (Dakota Johnson) and still harbors feelings for his ex (an excellent Zazie Beetz), and everything gets way worse when he picks up a lost cell phone after a bar fight. The phone has some pretty gruesome stuff on it, but its supernatural effects are far more disturbing than anything in its camera roll. Director Babak Anvari vacillates between tones, but strong performances from the cast and the movie's ballsy, go-for-broke sensibility make Wounds a compelling watch. (Ben Pearson)
6. Honey Boy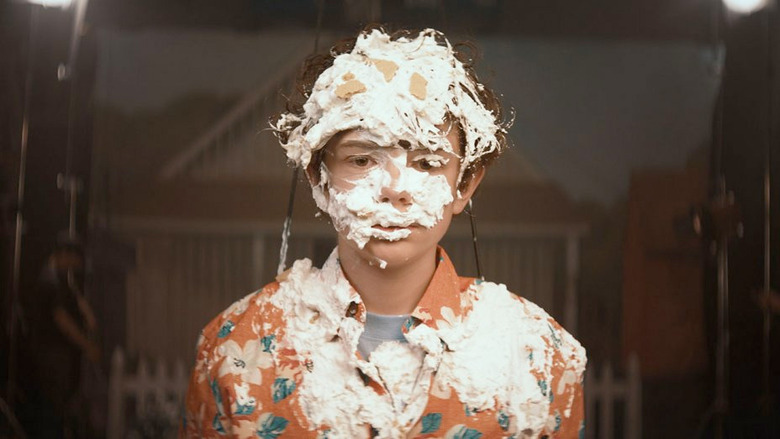 Most of the talk about Shia LaBeouf in recent years comes from his wild performance art and tabloid worthy behavior. But with Honey Boy, LaBeouf shows that he's still one of the best actors of his generation. Impressively and tragically, he shines again with a story inspired by his own troubled past. Noah Jupe plays a childhood version of Shia LaBeouf named Otis, a child star living in a rundown motel with his abusive, substance-addicted father. Lucas Hedges plays the kid 10 years later, still troubled by those traumatic formative years, and now working through it in mandatory rehab. But it's Shia LaBeouf who astounds by playing Otis' fast-talking, trashy father. Since LaBeouf also wrote the script, Honey Boy is all the more agonizing thanks to an authentic recreation of his most distressing memories. Director Alma Har'el brings a contemplative lens to the proceedings, lingering on the pain and struggle of a son trying to be more of an adult than his father. It's truly heartbreaking. (Ethan Anderton)
5. The Lodge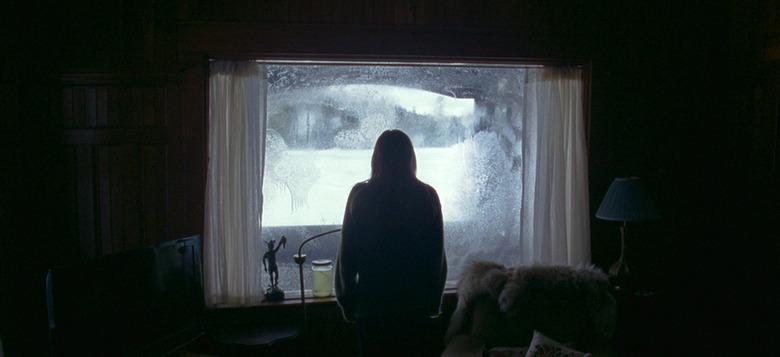 Yes, The Lodge – the latest from Goodnight Mommy directing team Veronika Franz and Severin Fiala – really is as scary as you've heard. Riley Keough plays a young woman who desperately wants to connect with her future step-children (Jaeden Lieberher and Lia McHugh), but the kids want nothing to do with her. The children's resistance backfires in a huge way when they end up trapped with Keough's character in a remote cabin during a heavy snowstorm. You see, Keough grew up within a religious doomsday cult, and the experience left her, well...a little unhinged. The Lodge never lets up, wrapping the audience in a blanket of dread and pulling us deeper and deeper into an inescapable darkness. Just when you think you know where things are going, The Lodge makes an abrupt left turn, and knocks you on your ass. (Chris Evangelista)
4. I Am Mother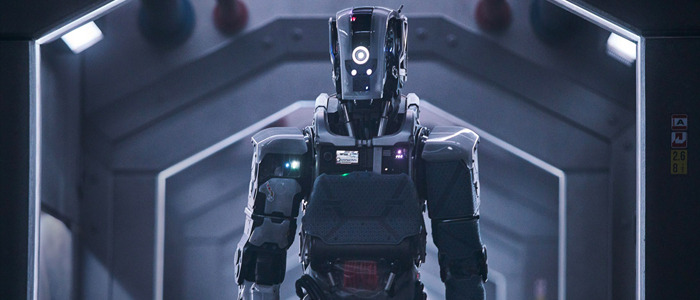 A young girl (Clara Rugaard, who should be a household name very soon if there's any justice in the world) has been raised in a bunker by a robot she calls "Mother" (voice of Rose Byrne), living with the knowledge that the outside world is contaminated and uninhabitable. But an injured woman (Hilary Swank) upends the girl's worldview when she shows up banging on the airlock door, leading to a confrontation about what's really going on. Grant Sputore's debut feature feels familiar on a story level, but it's the details that make it a standout entry in the science fiction genre: the tight script, the immaculate production design, and maybe most importantly, the absolutely jaw-dropping robot character. Mother belongs in the pantheon of all-time great cinematic robots, up there next to HAL 9000, Robby the Robot, the Terminator, and Gort. I can't wait for you all to meet her. (Ben Pearson)
3. The Farewell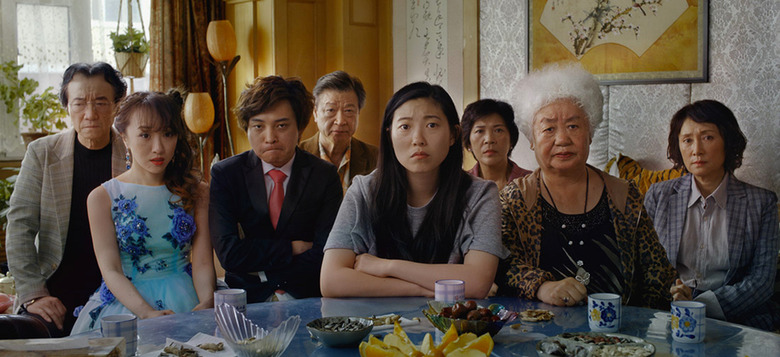 The Farewell, or perhaps My Big Fake Chinese Wedding, is a touching, tender, and hilarious portrait of love based on an actual lie. When Billi (Awkwafina) finds out that her grandmother (an adorable and feisty Shuzhen Zhou), or Nai Nai, has lung cancer, she also learns of her family's frustrating way of dealing with it. Instead of telling Nai Nai that she's going to die in a few months, they decide to have an impromptu wedding for one of their cousins back in China, all so they can all say their goodbyes under the guise of celebration. This movie inspires as much spirited laughter as it does crocodile tears. It's a celebration of family that is universal, with all the awkwardness, tension, and heartfelt love that comes with it. An outstanding ensemble cast feels like a genuine family, and Awkwafina proves that she can do more than just play quirky characters. She's the anchor of this career-sparking movie from filmmaker Lulu Wang, and we're bound to see many more great things from both of these budding Asian female talents. (Ethan Anderton)
2. Paradise Hills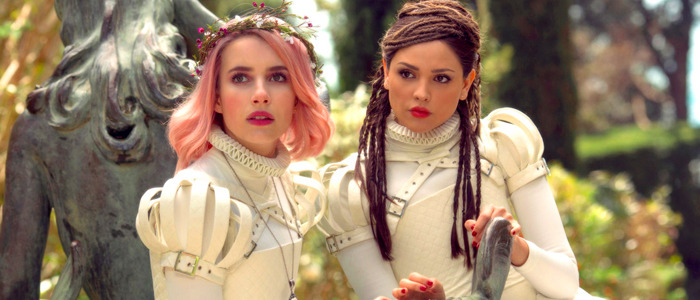 A candy-colored fairy tale from Spanish director Alice Waddington, Paradise Hills feels like a classic storybook with lustrous illustrations wrapped in a book jacket with sci-fi movie stickers all over it. Emma Roberts plays a character who's been captured and trapped on a magnificent island that serves as an "improvement" facility for young women (including Awkwafina and Baby Driver's Eiza Gonzalez), and it's all overseen by a matriarchal Duchess (Milla Jovovich). The film's mysteries are compelling on their own, but its messages – about how women are valued in society, about not accepting the status quo, about never conforming to sacrifice your individuality – all feel especially resonant right now. And those visuals...man, those visuals. The production design is next-level and the cinematography is sensuous and tactile, immersing the audience in a strange and other-worldly setting that hides a powerful secret. Paradise Hills is my favorite kind of Sundance movie: an unexpected discovery that's worth evangelizing about for the whole year. (Ben Pearson)
1. The Report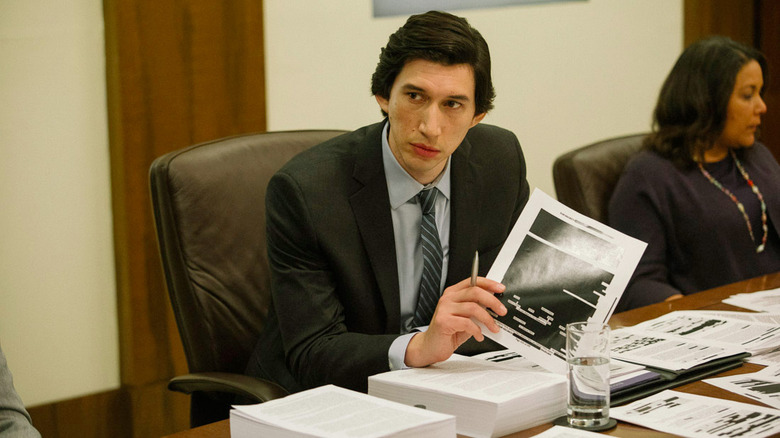 Scott Z. Burns makes his directorial debut with this intense, star-studded political drama based on true events. Part All the President's Men and part Spotlight, The Report features Adam Driver giving one of the best performances of his career as Daniel Jones, a Senate staffer tasked with looking into the CIA's "enhanced interrogation" methods used after 9/11. Of course, as well know now, "enhanced interrogation" is just a fancy way of saying "torture." As Jones tries to blow the lid off this thing, he's stymied at every turn. His only true ally is Senator Dianne Feinstein, played to perfection with subtle grace by Annette Bening. Burns' script dumps a lot of information on the audience, and yet it does so in an economical way – we'll spend about two minutes in one year before whipping five years ahead. There's not an ounce of fat on this thing. Driver proves he's one of our most fascinating actors, because very few people can make the constant stream of dialogue he has here sound so compelling. The Star Wars actor spits out mountains of words at rapid speed, and sounds entirely convincing in the process. The Report is the type of movie where people barge into rooms, throw file folders onto desks, and begin shouting. It's very hard to make that exciting and cinematic, but Burns and his cast are more than up for the task. This isn't just one of the best films of Sundance – it's bound to be one of the best films of the year. (Chris Evangelista)