Trent Reznor And Atticus Ross Release 13-Minute Track Cut From Their 'Bird Box' Score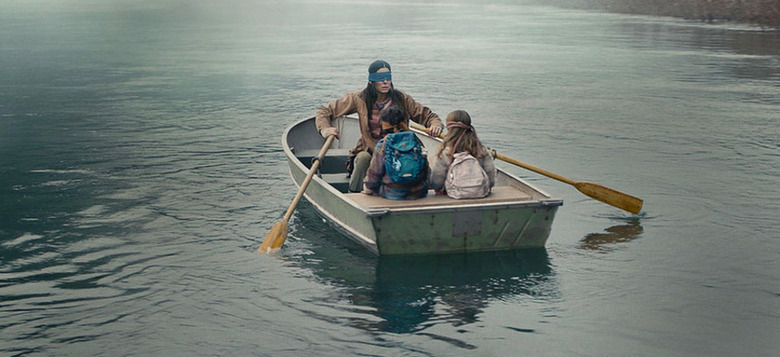 Time for yet another Bird Box story! The popular Netflix film features a musical score from the Nine Inch Nails team of Trent Reznor and Atticus Ross, who have become the go-to team for creating dark, moody music for movies. The Bird Box soundtrack album is currently available for purchase, and should be streaming soon. But if you want even more Bird Box tunes, Reznor and Ross have you covered. They've just released a 13-minute track that didn't make it into the final film. Put it in your ear-holes below.
Bird Box Score 
Yep, that definitely sounds like a Trent Reznor and Atticus Ross track. In the last few years, Reznor and Ross have become a pair of my favorite film score composers. They were already performing and creating music together as Nine Inch Nails, and they kicked-off their soundtrack career in 2010 with The Social Network. Since then, they've provided the scores for The Girl With the Dragon Tattoo, Gone Girl, Mid90s and more. Their most recent score is for Netflix's Bird Box.
In Bird Box, "a mysterious force decimates the population...if you see it, you die. The survivors must now avoid coming face to face with an entity that takes the form of their worst fears."
Regarding the above track, and the impending streaming version of the Bird Box soundtrack, Reznor released the following statement:
"OUR SCORE FOR THE FILM BIRD BOX IS NOW AVAILABLE FOR PURCHASE IN HIGH-RESOLUTION. THIS SAME VERSION WILL APPEAR ON STREAMING SERVICES BY JAN 25TH (OR SOONER). LIKE ALL SOUNDTRACK RECORDS WE RELEASE, WE AIM FOR THESE TO PLAY LIKE ALBUMS THAT TAKE YOU ON A JOURNEY AND CAN EXIST AS COMPANION PIECES TO THE FILMS AND AS THEIR OWN SEPARATE WORKS.
WE CREATED A SIGNIFICANT AMOUNT OF MUSIC AND CONCEPTUAL SOUND FOR BIRD BOX, A LOT OF WHICH NEVER MADE IT TO YOUR EARS IN THE FINAL VERSION OF THE FILM. WE'VE DECIDED TO PRESENT YOU WITH THIS VERSION OF THE SOUNDTRACK RECORD THAT REPRESENTS WHAT BIRD BOX IS TO US. WE HOPE YOU ENJOY.
FOR THOSE INTERESTED, WE WILL BE RELEASING A MORE EXPANSIVE (READ: MORE SELF-INDULGENT) PHYSICAL-ONLY OFFERING THIS SPRING THAT WILL CONTAIN AN ADDITIONAL HOUR OF MUSIC AND ARTWORK THAT COLORS FURTHER OUTSIDE THE LINES... ENTER AT YOUR OWN RISK!
LOTS COMING IN 2019,
TRENT"
If you're a fan of Reznor and Ross' work, that "lots coming in 2019" closing is exciting. One confirmed project from the duo this year is the soundtrack for HBO's upcoming Watchmen TV series.