'Ripley's Believe It Or Not' TV Series Revival Will Be Hosted By Bruce Campbell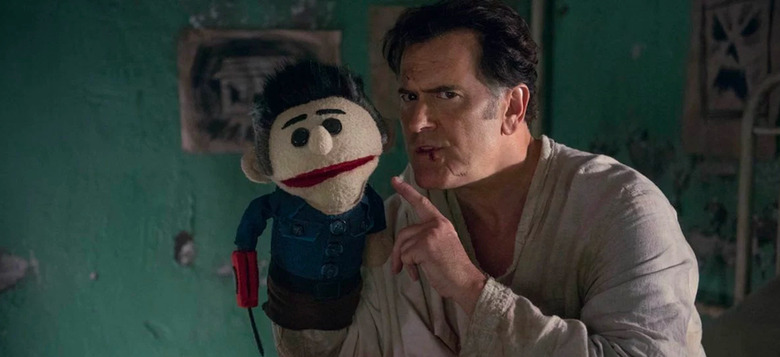 The Travel Channel is bringing back the Ripley's Believe It Or Not TV series, and they've found a great host. Legendary cult actor Bruce Campbell, and his prominent chin, will guide viewers through a series that shines a light on "the extraordinary, the death defying, the odd and the unusual." There have been several Believe It Or Not shows, all springing from the brand Robert Ripley created 100 years ago.
In 1918, Robert Ripley started a newspaper panel, first called Champs and Chumps, and later Believe It Or Not, that highlighted strange occurrences and unique individuals that often defied belief. The brand expanded to include radio, television, comic books, a chain of museums, and a book series, and remains well-known to this day. Now the Travel Channel is bringing a new Believe It or Not TV series to the airwaves, with Bruce Campbell as the host.
Campbell is something of a B-movie legend, having made a name for himself in the Evil Dead franchise, while also branching out into other genre pictures and TV shows as well. He tends to gravitate towards strange, even hokey movies, so landing him to host Believe It Or Not makes sense.
"As an actor, I've always been drawn toward material that is more 'fantastic' in nature, so I was eager and excited to partner with Travel Channel and Ripley's Believe It or Not! on this new show," Campbell said in a statement. "And because amazing things happen all around the world, we should have no shortage of unbelievable stories to share with a fresh new audience." The Believe It Or Not reboot will feature "10 all-new, one-hour episodes that will showcase the most astonishing, real and one-of-a-kind stories. Currently in production, the series will be shot on location at the famed Ripley Warehouse in Orlando, Fl, and will incorporate incredible stories from all parts of the globe — from Brazil to Baltimore." The new Believe It Or Not is one of several shows based around the premise. The very first began in 1949, with Ripley himself as host. Another series launched in the 1980s, with Jack Palance hosting. Dean Cain hosted yet another version in the early 2000s.Having Campbell host is a fun idea, and I'm curious to see what the Travel Channel does with the show – provided they strike the right tone. It would very easy for a show of this nature to slip into mockery, or even cruelty, towards its subjects. If the new Believe It Or Not can avoid that, we'd all be better off. For what it's worth, Travel Channel appears to be approaching the show in the right way. Regarding the new show, Jane Latman, general manager of Travel Channel, said: "This entirely new version of Ripley's is a fresh contemporary approach to the odd and unusual and will be jam-packed with larger-than-life characters, cool facts, history and science."
Ripley's Believe It Or Not will premiere summer 2019.
Ripley's Believe It Or Not