'The Predator Holiday Special' Has Stop-Motion Predators Fighting Santa And His Armed Reindeer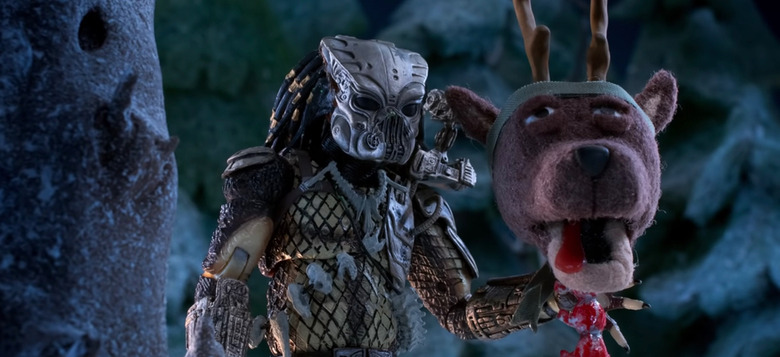 If Shane Black's Predator sequel/reboot The Predator didn't satisfy your blood lust, may I interest you in The Predator Holiday Special? This silly stop-motion short has a group of Predators invading the North Pole and engaging in violent battle with Santa Claus, his reindeer, and more. It's kind of stupid! But it's short enough that you might get a good laugh. Watch the Predator Holiday Special below.
The Predator Holiday Special
This Predator Holiday Special is mildly amusing! That's the most energy I can muster here. The concept is a riff on the old stop-motion Rankin/Bass holiday specials, but with a much higher body count. As the special starts, an elf is cheerfully chatting with a reindeer at the North Pole. And then all hell breaks loose when Predators start attacking! All of Santa's reindeer just happen to be armed, though, so a fight ensues.
Throughout the special, blunt references to the first Predator are peppered in: a recreation of the famous bicep-flexing handshake; a character saying "I ain't got time to bleed!", and so on. You get the idea. It's interesting that the reason this exists is to help advertise the latest Predator film from Shane Black, and yet there's no reference to it at all. I suppose they thought the brand was strong enough to stand on its own.
The Predator is now available on digital and Blu-ray, and while this holiday special isn't included in the special features, several other items are. Check them out below.
The Predator Digital, 4K Ultra HD™, Blu-ray™ & DVD SPECIAL FEATURES
Deleted Scenes
A Touch of Black
Predator Evolution
The Takedown Team
Predator Catch-Up
Gallery
From the outer reaches of space to the small-town streets of suburbia, the hunt comes home. The universe's most lethal hunters are stronger, smarter and deadlier than ever before, having genetically upgraded themselves with DNA from other species. When a boy accidentally triggers their return to Earth, only a ragtag crew of ex-soldiers and an evolutionary biologist can prevent the end of the human race.
The hunt for the perfect holiday gift is over. The universe's greatest hunter returns in The Predator on Digital and Movies Anywhere November 27 and 4K Ultra HD, Blu-ray™ and DVD December 18. Fans can bring home a special edition Predator 4-Movie Collection, which includes Predator, Predator 2, Predators and The Predator on 4K Ultra HD™ and Blu-ray.
The hunt has evolved – and so has the explosive action – in the next chapter of thePredator series, from director Shane Black (Iron Man 3). Now, the most lethal hunters in the universe are stronger, smarter and deadlier than ever before....and only a ragtag crew of ex-soldiers and an evolutionary biology professor can prevent the end of the human race.