Is Henry Cavill Really Finished Playing Superman? Jason Momoa Says "Absolutely Not"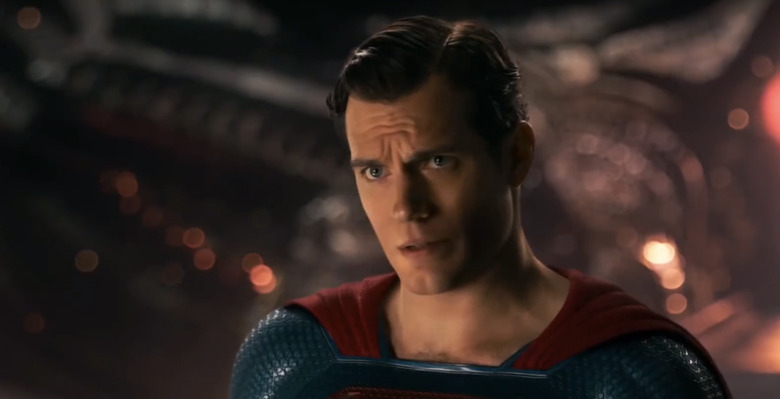 The "will he, won't he" saga of whether actor Henry Cavill will return to play Superman in another movie for Warner Bros. is beginning to approach "Ben Affleck Batman" territory, and the latest update indicates that fans may see Cavill suit up as the Man of Steel one more time after all. According to Jason Momoa, who co-starred with Cavill in last year's Justice League, Cavill is "absolutely not" giving up the role.
Will We See More Henry Cavill Superman?
The Wrap points us to this video from Entertainment Tonight, who caught up with Momoa on the red carpet before last night's Hollywood premiere of Aquaman. In it, Momoa says Cavill is "absolutely not" done with the part. "He loves the character and he's not. One hundred percent." The reporter even went back in for clarification, saying, "That's not going to happen?" and Momoa doubled down again: "No, it's absolutely not."
Henry Cavill is still our Man of Steel. Watch Jason Momoa shut down rumors about Henry moving on from Superman. pic.twitter.com/iDddD2jN34

— Entertainment Tonight (@etnow) December 13, 2018
This revelation comes in the wake of a deeply confusing saga about Cavill's involvement with the superhero franchise this past fall. Back in September, Hollywood trade publications reported that Cavill was out as Superman, saying that Warner Bros. wanted to move the focus off of the Man of Steel and instead put the spotlight on a Supergirl movie, which is currently being written by Oren Uziel. Negotiations between Cavill and WB reportedly broke down over a cameo appearance in Shazam!, and around that same time, there were whispers that Michael B. Jordan was being eyed to play a new version of Superman.
Cavill's agent quickly cautioned fans that "the cape is still in [Cavill's] closet, and Warner Bros. issued a statement saying "While no decisions have been made regarding any upcoming Superman films, we've always had great respect for and a great relationship with Henry Cavill, and that remains unchanged."
And then Cavill did the most baffling thing of all: released an Instagram video that still has us scratching our heads.
Now, months later, Momoa is "100%" convinced that Cavill is not done playing Superman. As The Wrap notes now, WB and DC have Shazam! and Wonder Woman 2 coming out next year, and Birds of Prey and The Flash lined up for 2020, so the earliest we would realistically see a Man of Steel sequel is 2021.
Cavill has always been a very good Superman who's trapped in not-so-great Superman movies. Weirdly, it was Justice League that gave his version of the character a shot at redemption, and they mostly nailed it. I'm no fan of the muddled, overly grim entries in the DCEU, but I'd love to see Cavill have the chance to continue on with his brighter, dorkier version of the Man of Steel. I hope Jason Momoa is right, but my bigger hope is that Superman ends up in a movie with a great script.
Regardless of his potential future wearing that big "S" on his chest, fans will soon see the actor in the lead role of Geralt of Rivia in Netflix's adaptation of The Witcher.