Amy Adams Is Pretty Sure She's Done Playing Lois Lane, Says DCEU Is Being "Revamped"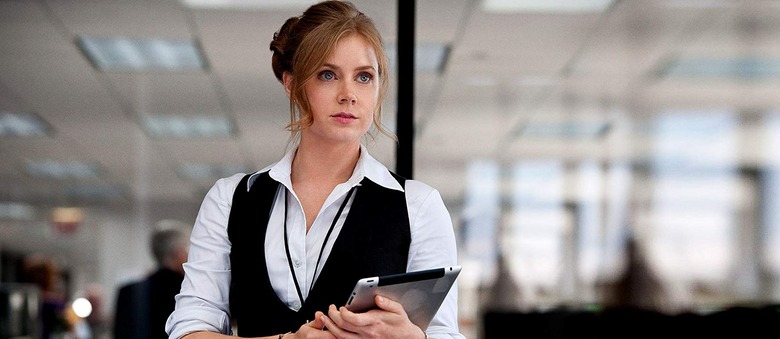 Here's your big scoop on the DC Extended Universe for the week: Amy Adams is out. The Vice actress has played Lois Lane, intrepid reporter and Superman's longtime girlfriend, in three movies now, but as Warner Bros. takes the DC films in another direction and as her onscreen love interest hangs up the cape himself, Adams says that she's done with the DC universe.
After Henry Cavill reportedly exited the role of Superman this September, it was only a matter of time before his onscreen girlfriend left the DCEU as well. Adams hasn't heard any official confirmation from Warner Bros. about the future of her role as Lois Lane, but while speaking to Nicole Kidman in an episode of Variety's Actors on Actors (via Vulture), Adams said:
"I think I'm out of the DC Universe now. I think they're revamping that. I don't know the details."
To be fair, we don't know the details either. And I'm not even sure Warner Bros. does. The DC universe continues to be in a state of flux, as Warner Bros. announces dramatic pivots to a more lighthearted tone before announcing a hundred Joker movies. The film slate remains uncertain past the upcoming Aquaman (out December 21) and Shazam! (April 5, 2019), both of which seem to adhere to the zanier tone that Warner Bros. is trying out. Then there Birds of Prey, which is currently scheduled for a February 7, 2020 release, and Wonder Woman 1984 (June 5, 2020), which seems to exist in a world of its own. Amidst all of this, there doesn't seem to be room for another Man of Steel sequel and the somber, brooding tone that director Zack Snyder established with it.
But this may be a blessing for Adams, who continues to put out Oscar-worthy work while being snubbed of that precious statuette. The DC films she starred in, Man of Steel, Batman v. Superman: Dawn of Justice, and Justice League, all egregiously underused her, and she seemed stuck in a role that was not suited to her talents. Though it does seem a shame that Adams wouldn't get to stretch her funny bone in this "revamped" DC universe — she's got a knack for comedy that we haven't seen since Enchanted and The Muppets.
But we can leave that to whoever stars in the recently announced Plastic Man, which has "kooky superhero movie" written all over it. And Parks and Recreation star Ben Schwartz has already volunteered for the gig:
I'll start stretching now just in case. https://t.co/F6GvPhmTxT

— Ben Schwartz (@rejectedjokes) December 7, 2018
So while we don't know where the DC universe is going, or whether this alleged "revamp" will happen, at least we can hope to see Adams in a role that suits her and Schwartz in bright red tights.