The Snake Eyes Spin-Off Won't Star Ray Park – Here's Why [Exclusive]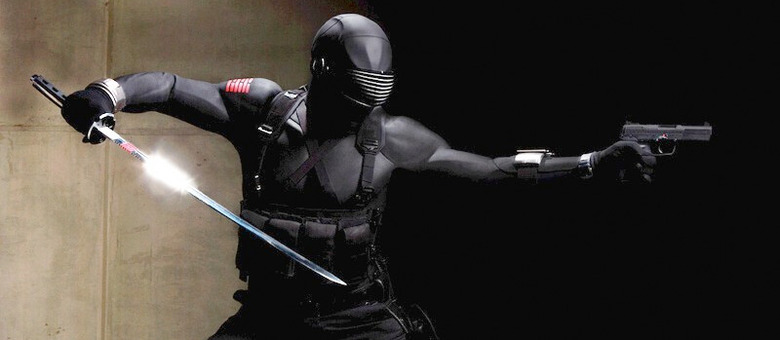 Over the weekend, producer Lorenzo DiBonaventura spoke to /Film about the Transformers spin-off Bumblebee. Since DiBonaventura is also the producer of Hasbro's G.I. Joe franchise, we asked him about the upcoming Snake Eyes spin-off film.
Announced in May, the Snake Eyes movie found its director in Robert Schwentke just last week. Still in question was whether Ray Park, who portrayed Snake Eyes in both live-action G.I. Joe films, would reprise the role.
"Probably not, because we are going to the origin story," Di Bonaventura said. "As you know in the comic book, you saw his face. And it is, I'll say, the formation of a hero. So you've got to see somebody and it can't be Ray's age, unfortunately."
So there you have it. They're going to cast a young Snake Eyes, and it will be someone who shows his face and may even talk. Park has specialized in silent, sometimes fully masked characters since he played Darth Maul in Star Wars: Episode I – The Phantom Menace. Even when he reprised the role in subsequent Star Wars movies, a different actor dubbed his lines.
It's not like the G.I. Joe movies have been attached to continuity. Although G.I. Joe: The Rise of Cobra was a hit, the sequel G.I. Joe: Retaliation quickly transitioned away from Duke (Channing Tatum) to introduce Roadblock (Dwayne Johnson), Jaye (Adrianne Palicki) and Joe Colton (Bruce Willis). Rise stars Marlon Wayans and Dennis Quaid didn't even return. So a prequel/spinoff where they recast the title character wouldn't be too big of a stretch.
G.I. Joe has also struggled more than Transformers to find solid footing with audiences. Retaliation came out four years after The Rise of Cobra, and if Snake Eyes is ready as early as 2020, it will arrive seven years after the previous movie. With Evan Spiliotopoulos currently writing, there's no start date or release date yet.
Bumblebee opens on December 21 and we'll bring you the full interview with Di Bonaventura in the week leading up to its release.