'Triple Frontier' Trailer: This Looks Like One Of The Best Netflix Original Movies Yet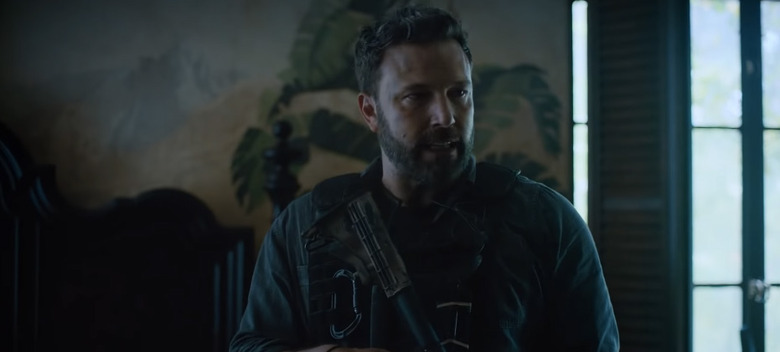 Do you remember Triple Frontier? The drug money heist thriller was in the works for years at Paramount Pictures with Zero Dark Thirty director Katherine Bigelow. Then it jumped to Netflix with Margin Call director J.C. Chandor at the helm, co-writing the script with Mark Boal, but it had a hard time holding onto a cast. Johnny Depp and Mark Wahlberg were both slated to lead the movie, and then Tom Hardy and Channing Tatum were part of the cast before they all fell away.
Odds be damned, Triple Frontier finally made it in front of cameras. It still has an impressive cast, with Ben Affleck leading a team of Special Forces operatives played by Oscar Isaac, Charlie Hunnam, Garrett Hedlund, and Pedro Pascal, and the first trailer makes it look like one of the best Netflix original movies yet. Watch the Triple Frontier trailer below.
Triple Frontier Trailer
This doesn't look like the most original movie out of Netflix's own offerings, but it still looks like one of their better productions so far. Not only is the cast great, but the production quality looks top-notch. Plus, it should make a nice pairing with Narcos, especially with the Pedro Pascal crossover.
Another interesting thing about this movie, as the bumper teases at the end of the trailer, is that Netflix will be releasing it into select theaters at the same time it ends up in the streaming library. That's somewhat surprising since that felt like something they would only do when they were trying to get a film to qualify for awards season.
Anyway, it's nice to see a project like Triple Frontier finally get released. It was in the works for so long, and it just goes to show you how tough this business can be – when an Oscar-winning director like Katherine Bigelow can't even get a movie with an all-star cast off the ground in the studio system, it says a lot.
Here's the official synopsis for Triple Frontier:
A group of former Special Forces operatives (Ben Affleck, Oscar Isaac, Charlie Hunnam, Garrett Hedlund, and Pedro Pascal) reunite to plan a heist in a sparsely populated multi-border zone of South America. For the first time in their prestigious careers these unsung heroes undertake this dangerous mission for self instead of country. But when events take an unexpected turn and threaten to spiral out of control, their skills, their loyalties and their morals are pushed to a breaking point in an epic battle for survival.
Triple Frontier hits Netflix and theaters sometime in March 2019.