Theme Park Bits: Animal Kingdom's Christmas Tasting, A Harry Potter Hype Video, And More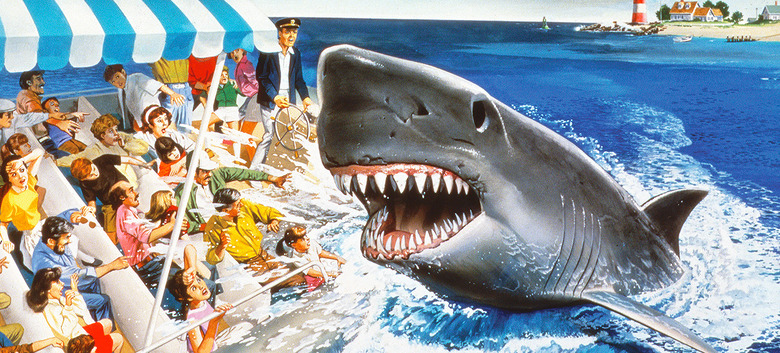 In this edition of Theme Park Bits:
Disney and Fox have been sued for backing away from a Malaysian theme park.
If you're looking for the shark from the old Jaws ride, you'll have to head to Staten Island.
If you're traveling to Animal Kingdom over the Christmas break, try out their limited-time tasting sampler.
When Star Wars: Galaxy's Edge opens at Disneyland, it's (no surprise) going to be massive.
Napolini has reopened in Disneyland's Downtown Disney district.
Universal Studios Orlando may have some innovative new ideas for boat rides.
And more!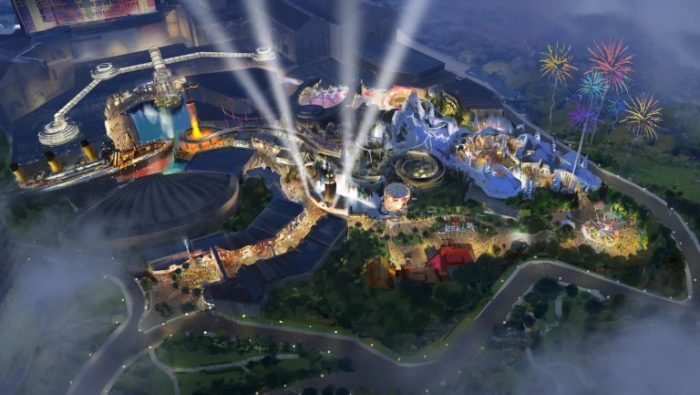 I'm sure you haven't forgotten that the Walt Disney Company basically owns a large chunk of Fox now. Leaving aside the monopolistic concerns that come with such a massive merger, there's plenty of that sweet IP for Disney to utilize for its theme parks. So it's no surprise that Disney and Fox were trying to bring characters from Ice Age and...the new Planet of the Apes films into a theme park, this one in Malaysia. Unfortunately, Disney and Fox have been served with a lawsuit alleging that they backed away with "seller's remorse" on what would have called "Fox World". The plaintiff, Genting Malaysia Berhad, says Disney was unwilling to work with a company that also has casinos to its name. We'll just have to wait to see those cuddly characters from Rise of the Planet of the Apes in another theme park. Because as we all know: kids love post-apocalyptic stories with humanoid apes!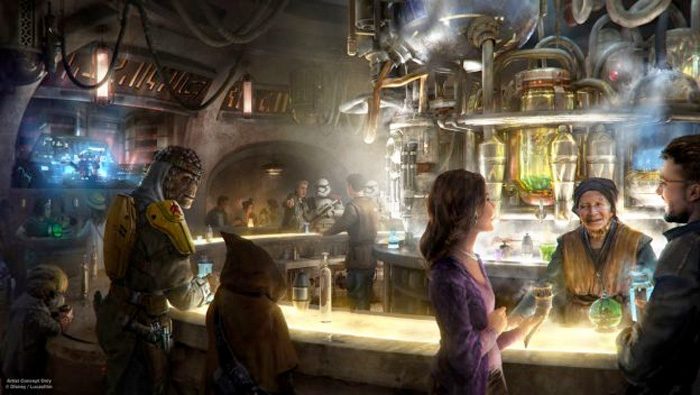 Would it surprise you to learn that Disneyland is expecting big crowds for the opening of its new land, Star Wars: Galaxy's Edge? Probably not. But theme park experts are predicting insanely big numbers for its opening, of more than 200,000 people. Two hundred thousand! And the genuinely excellent Touring Plans website–I say this with no affiliation to the website, but you need to try it if you're traveling to either continental Disney resort–predicts lines of 8-10 hours just to get in. (Emphasis mine, because oh my God.) I'm excited to see what the new land will be like, but...maybe I'll wait until 2020 to experience it.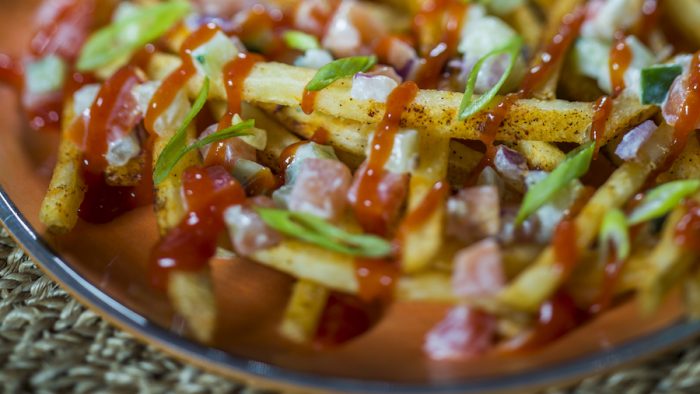 It's a fact that the food at the Walt Disney World Resort is vastly more adventurous than what's served at Disneyland. (I love Disneyland, but this is just true.) To wit: for a limited time during the holidays, Disney's Animal Kingdom is offering a Tasting Sampler for $30 (a savings of a whopping...$5). This Tasting Sampler is digital, and enables you to swipe the digital gift card at plenty of the park's outdoor carts and kiosks. You can use it for both food and beverages (alcoholic and non-alcoholic). The Seasoned Fries at Mister Kamal's, pictured above, look particularly appetizing. On one hand, experiencing Disney World on Christmas is a bit crazy, but this offer is only available from December 22 – January 2. So it's tempting!
Also tempting is a return visit to Universal Studios Orlando. I've only been the once, a few years back, and my wife and I just made a day trip of it so we could experience the Wizarding World of Harry Potter area of the park. No doubt, the way that this area was built out even a few years ago was truly remarkable. But now, there's a newer ride Universal is showing off with a "hype video" (which, to my non-lingo-friendly eyes, looks like a brief preview, but what do I know) of Harry Potter and the Escape From Gringotts. The ride looks plenty exciting, and features some cast members including Ralph Fiennes and Helena Bonham Carter. We can only imagine how much they got paid to appear briefly in a theme-park ride.
Ahhhh, shark! Oh, wait, it's just a picture. OK, phew. This is, of course, a photo of the one and only shark from the dearly departed Jaws ride at Universal Studios. You may well wonder what happens to the props from rides that close down, and in this case, there's an easy answer. The shark from Jaws can of course be found at the 494 Chicken Restaurant in Staten Island! Uh...sure! The 13-foot replica now rests above some tables in the restaurant, which has now become a location I'd very much like to visit.
Speaking of Universal Studios, the Orlando location is coming under some heavy speculation thanks to something very exciting — patents! Hey, don't leave. Patents can actually be a fascinating glimpse into what the new rides and areas at a theme park could look like. For example, some recent Universal patents suggest that the studio's engineers have figured out a low-cost way to move boats through watery tracks, as opposed to the more costly endeavors at Shanghai Disneyland. Universal is also exploring how to move ride vehicles mid-attraction, as well as a new restraint system to accommodate "guests of a wide spectrum of shapes and sizes".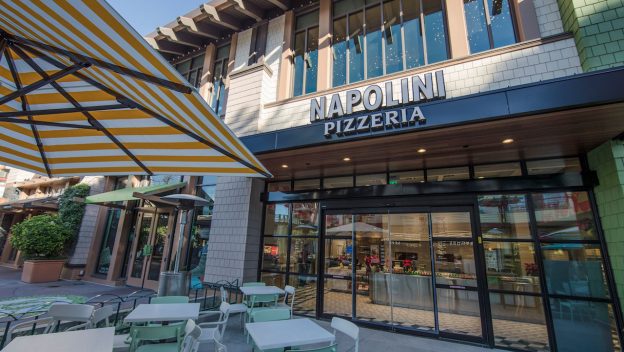 If you've visited the Disneyland Resort lately, you know that Downtown Disney has been full of construction from top to bottom. One place where construction has mercifully completed is the Napolini Pizzeria, right near the edge of the World of Disney store. At Napolini, you can now build your own pizzas, and try some sandwiches, salads, and Italian desserts. Holy cannoli! (Points if you get the reference.) The bottom floor of the connected Naples Ristorante e Bar is still under construction, but the various dishes at Napolini sound good enough to skip the fanicer digs next door.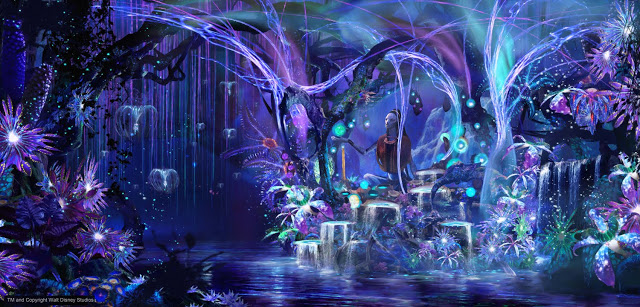 The above piece of concept art is courtesy of Stephan Martiniere, who's worked with Disney Imagineering a great deal over the last few years. This is, as you've no doubt already guessed, concept art for the Na'Vi River Journey attraction in Disney's Animal Kingdom's Pandora area. And it does look gorgeous, even to this writer who's still not experienced the Avatar-themed land. I still doubt the interest in James Cameron making four more of these movies, but the artwork for the land based on his 2009 film is kind of jaw-dropping.