'Kim Possible' Trailer: Nostalgia Calls (But Doesn't Beep) In The Live-Action Disney Channel Movie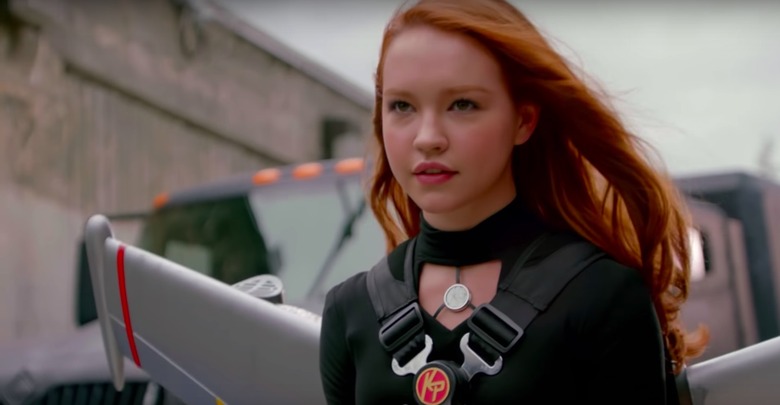 So what's the sitch on the Kim Possible live-action movie? It looks, well, like a Disney Channel movie: as cheesy and friendly-family as can be. And while it may only be the second-best superhero trailer that came out today, the Kim Possible trailer can't help but hit all the right nostalgia buttons for fans of the popular Disney Channel animated series. See the Kim Possible trailer below.
Kim Possible Trailer
At first glance, the new Kim Possible looks very little like the series that ran on Disney Channel from 2002 to 2007 — a time when the pager was still in wide use with teenagers. There's no pager, no naked molerat, and barely a glimpse of Kim's fan-favorite best friend Ron Stoppable. But it's got the spirit of Kim Possible down pat, following the crime-fighting teenager as she frequently saves the world from quirky villains who utter lines like, "She's got a spark. I will steal that spark...that makes Kim possible!"
But while it may be nowhere as awesome as the animated Kim Possible we remember (voiced in the animated series with impressive spunk by Christy Carlson Romano), the trailer does get right to business with the nostalgia, kicking off the action with Kim's iconic beeper. Just try not to start singing "Call me, beep me if you want to page me that's okay" from the show's iconic theme song when you hear that beep.
The nefarious Dr. Drakken (Todd Stashwick) and his right-hand woman, Shego (Taylor Ortego), make an appearance, as does Patton Oswalt as Professor Dementor, a mad scientist that the actor previously voiced in the animated series. It's all silly and campy, with some bad, bad fight scenes, but you know you're going to watch it.
Newcomers Sadie Stanley and Sean Giambrone (The Goldbergs) star as Kim and Ron, respectively, while the original voice of Kim Possible, Christy Carlson Romano, is playing an unspecified role.
Kim Possible premieres on the Disney Channel on February 15, 2019.