'Stranger Things 3: The Game' Trailer: Season 3 Of Netflix's Beloved Series Is Becoming A Video Game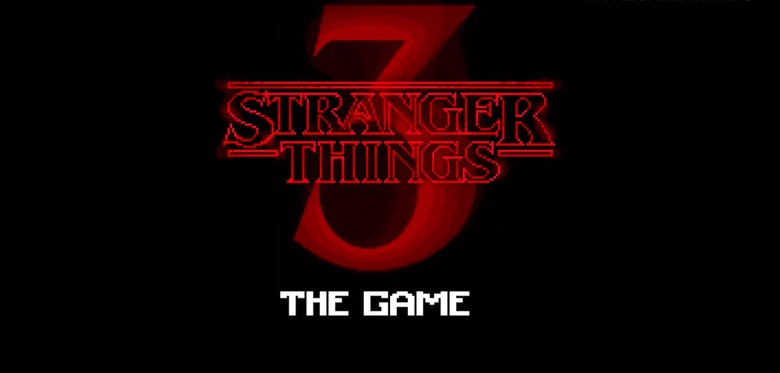 Stranger Things season 3 doesn't even have a premiere date yet, but there's already a video game on its way based on the upcoming season of the beloved Netflix show.Stranger Things 3: The Game is an official 16-bit game that will apparently be based on the third season of the sci-fi horror series, set to hit the streaming service sometime in 2019. Showrunners Matt and Ross Duffer may be denying us the Stranger Things season 3 trailer we deserve, but at least we can parse through the newly released Stranger Things 3: The Game trailer for clues about what we can expect.
Stranger Things 3 The Game Trailer
The Duffer Brothers stopped by the Game Awards on Thursday to announce the launch of Stranger Things 3: The Game, a 16-bit video game set to be released on all consoles. The charming 16-bit format and simple gameplay (shoot and/or hack Demadogs and random butch guards!) is a perfect nostalgic tie-in for the '80s-set Netflix series.
The video game allows you to play as the characters from Stranger Things, including pixelated versions of Chief Hopper (David Harbour), Joyce Byers (Winona Ryder), and Lucas (Caleb McLaughlin). It's a little shocking to see child characters in the trailer kill countless guards in cold blood, but it's all in service of that old school gameplay. The trailer gives a glimpse at some of the settings for Stranger Things season 3, including a government lab and the mall food court that we saw in the first teaser. Perhaps playing the entire game will give us even more clues for season 3.
Stranger Things 3: The Game is being developed by BonusXP, the same company that released the mobile game Stranger Things: The Game last year. The game will likely be released sometime next year, though no official release date has been announced yet.Stranger Things season 3 is expected to stream on Netflix in 2019 and Stranger Things 3: The Game will presumably hit all consoles around the same time.