'Men In Black International' Image Shows Off Cool Suits, Cooler Weaponry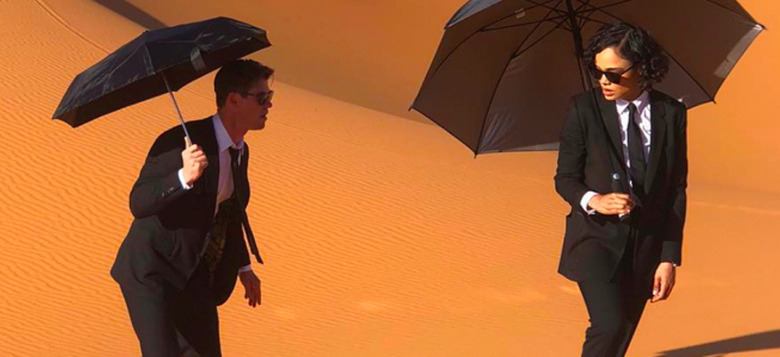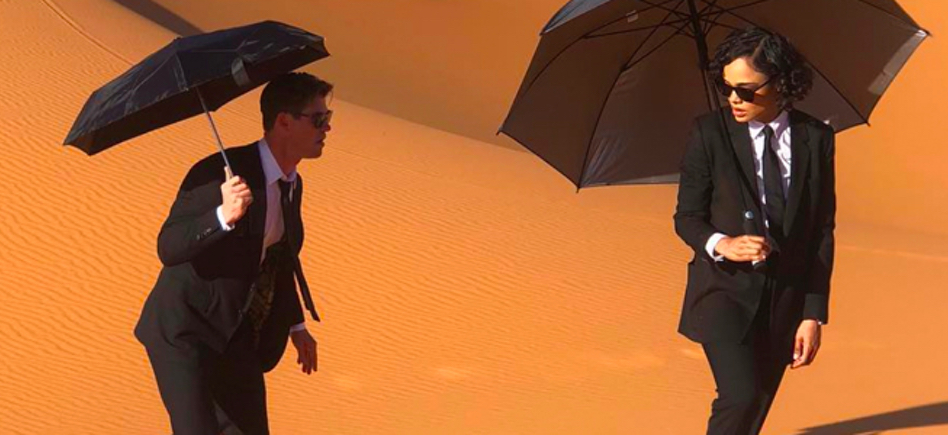 The new Men In Black movie, officially titled Men In Black International, is half a year away from release, but that doesn't mean we can't start getting hyped for it now. To help with that hype, handsome Aussie Chris Hemsworth took to Twitter to post a pic from the film. The image features Hemsworth and co-star Tessa Thompson dressed to the nines, brandishing some new alien-fighting weaponry. See the Men In Black International image below. And then look right into this neuralyzer to forget all about it.
#FBF shooting MIB with my partner in galaxy protection @TessaThompson_x when we were ripping aliens a new one. From memory, this shot was taken in between set ups when we noticed some criminal activity on the streets in London. #MIBInternational 🕶️ @MenInBlack pic.twitter.com/b89RQCcswl

— Chris Hemsworth (@chrishemsworth) December 7, 2018
Look at that image. They should re-title this movie Men In Black Attractive, because Chris Hemsworth and Tessa Thomspon running around wearing suits is going to awaken a thirst in audiences across the land. There's really not a whole lot to go on here – but we can see that the weaponry for this film will be vastly improved. No Noisy Cricket for these two, no sir. Hemsworth jokingly claims this is a a shot taken "between set ups", and adds in another tweet: "We immediately drew our laser guns and took down one of the largest crime syndicates in the city. Happy to say the streets of London are now safe again. You're welcome world."
Of course, that didn't really happen, so this is most likely a shot from the actual film. Which might make it our first official image – unless you want to count the previous image of Hemsworth and Thompson trekking over some sand dunes, which I still think is a behind-the-scenes pic. One thing I will say: despite the humorous nature of Hemsworth's tweet, the image looks very serious. I really hope they're not trying to make a dark-and-gritty Men In Black film. Lean into the comedy, please. Hemsworth and Thompson proved they have great chemistry together in Thor: Ragnarok, and Hemsworth has great comedic timing (I've yet to see Thompson in a full-blown comedic role, but she's a phenomenal actress, so I'm sure she can nail that).
Men In Black International will serve as both a reboot and a sequel. The new film will take the alien-policing agency around the world, and focus on a murder mystery. While most of the characters are new, Emma Thompson will return Agent O, a character introduced in Man In Black III. In addition to Chris Hemsworth, Tessa Thompson and Emma Thompson, Men In Black International features Liam Neeson, Kumail Nanjiani, Rafe Spall and Rebecca Ferguson. F. Gary Gray directs a script by Art Marcum and Matt Holloway.Men In Black International opens on June 14, 2019.