'Aladdin' Remake Will Feature At Least Two New Songs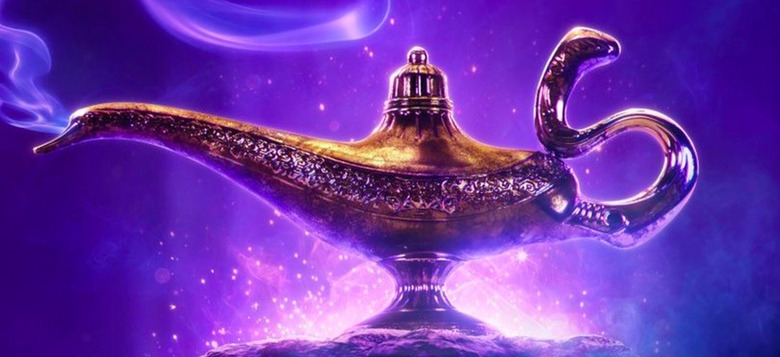 I can show you the world. Shining, shimmering, splendid! And filled with live-action remakes of Disney films. Like Aladdin, which will have the live-action treatment courtesy of director Guy Ritchie. One of the biggest complaints surrounding these live-action remakes is that they often take a shot-for-shot approach, leading some to question: what's the point? When it comes to Aladdin, you can rest assured that the new film won't be identical to the 1992 animated hit. For one thing: there are at least two new songs featured, one of which is said to be "empowering for women." More on the new Aladdin songs below.
While Princess Jasmine in the 1992 Aladdin is one of the iconic Disney princesses, she doesn't really have a whole lot to do. Her character mostly waits around while Aladdin has all the fun, and attempts to woo her. Thankfully, the live-action Aladdin remake is going to change that. Mena Massoud, who plays Aladdin in the 2019 film, told Variety that the upcoming film will have two new songs, one of which is going to full of full-blown female empowerment.
"We've got all the original music in there, plus a couple of new songs," Massoud said. "They're really empowering. I gotta say one is very empowering for women, I think people are going to really, really dig it. The other one is awesome as well. We got the same guys who did La La Land and The Greatest Showman, we're in good hands."
In addition to La La Land and Greatest Showman duo Pasek & Paul, Alan Menken, who wrote the music for the original film, is back as well. Massoud doesn't mention who is singing these songs, but it's probably safe to assume the female empowerment ballad will be performed by Naomi Scott, who plays Jasmine. Pasek & Paul have mentioned a new Jasmine song in the past, telling Variety: "We got to write a new song for Jasmine,...Alan wrote a beautiful piece of music and [Naomi Scott] is incredible."
Scott previously spoke a bit about the new and improved Jasmine. "Being a female character is also about being a real person, and guess what? [She] can be strong and have fun, but also get it wrong and be emotional," the actress told THR. "She's a multidimensional woman, and she doesn't have to just be one thing. So in this movie, you see her go on such a roller coaster, as opposed to her one goal being to fall in love or get married."
During his brief chat with Variety, Massoud also provided some more detail on how the live-action Aladdin will differ from the animated original: "It's live action...So you get to look into people's eyes and see what they're feeling and feel connected to them. And Will [Smith is] playing the Genie so that's a little different too."
Aladdin opens on May 24, 2019.