'Night Gallery' Reboot To Update Rod Serling's Horror Series For The Digital Age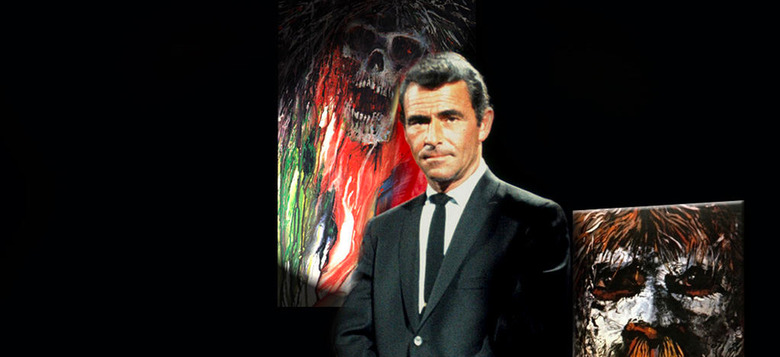 The Twilight Zone isn't the only Rod Serling property getting a 21st century reboot. Syfy has landed a Night Gallery reboot, based on Serling's 1969-73 horror anthology series. In the original series, Serling would introduce a new supernatural/horror story every week by unveiling a painting in a gallery. The series is famous for giving Steven Spielberg his first real directing gig. More on the Night Gallery reboot below.
Night Gallery
After he created The Twilight Zone, Rod Serling went on to conjure up Night Gallery. Serling considered Night Gallery to be an extension of The Twilight Zone, but while the Zone episodes primarily told tales of science-fiction, Night Gallery's focus was more on horror. So it's only fitting that in the midst of Jordan Peele's Twilight Zone reboot, we're about to have a Night Gallery reboot as well.
Deadline reports Syfy is working on a "re-imagination" of Night Gallery from Teen Wolf creator and executive producer Jeff Davis and Midnight, Texas executive producer David Janollari.
Like The Twilight Zone, Serling served as the ominous, all-knowing host of Night Gallery. Every episode would begin with Serling's intro: "Good evening, and welcome to a private showing of three paintings, displayed here for the first time. Each is a collector's item in its own way—not because of any special artistic quality, but because each captures on a canvas, suspended in time and space, a frozen moment of a nightmare." Serling would then unveil a painting, which would set up the episode's story. Over its three seasons and 43 episodes, Night Gallery adapted stories by authors like H.P. Lovecraft, but the bulk of the episodes were based around stories Serling wrote himself. The show began as a pilot TV movie starring Joan Crawford, directed by none other than Steven Spielberg. It was Spielberg's first real paid directing gig, and helped launch his major moviemaking career.
While The Twilight Zone seems to be more well-known than Night Gallery, I love the idea of bringing both shows back, with Peele's Twilight Zone telling sci-fi-ish stories with a social message, while Syfy's Night Gallery covers things from a horror-based perspective. I've always been more a fan of horror than sci-fi, and if the new Night Gallery reboot is able to deliver genuine scares and memorable episodes, I'll be thrilled. That said, the reboot's description is curious. The creators are hoping to "update the series for the digital age. Featuring dark and twisted morality tales paired with Serling's specific brand of irony, Night Gallery will explore and exploit every modern nightmare imaginable, mining our fears of the dangers of social media."
This makes me a little nervous, because it makes the new Night Gallery sound like a Black Mirror knock-off. I'd rather just have a straight-forward horror anthology series, but I'll reserve judgement for now.