'Aquaman' Sequel Already Being Planned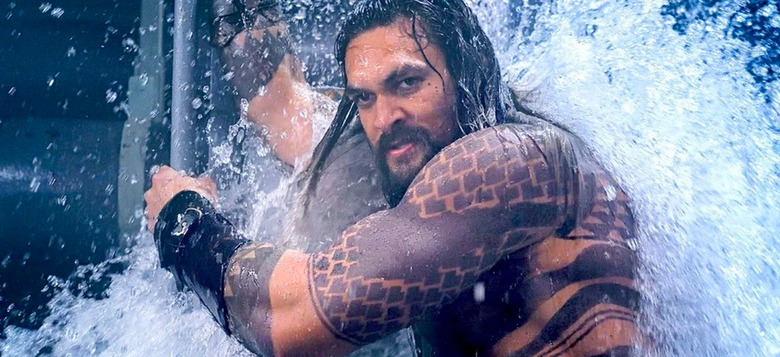 Aquaman has yet to swim into theaters, but that won't stop Warner Bros. from planning for his future. Early ticket sales have been so promising that the folks at WB are already in talks for a sequel that will bring Jason Momoa's aquatic hero back for another fishy adventure. While sequels can often seem inevitable to any and all superhero movies, poor reaction to previous Warner Bros. DC films has slowed momentum on several projects. But Aquaman is apparently about to make a big splash. 
Buried in THR a profile on Aquaman actress Amber Heard is this interesting tidbit:
According to strong early tracking, the film is expected to earn an impressive $65 million in its domestic debut and top Mary Poppins Returns and Transformers spinoff Bumblebee. That number gave Warner Bros. Pictures Group chairman Toby Emmerich enough confidence to begin talks on a sequel (though no writer has been commissioned yet).
This is all good news for Aquaman and Aquaman fans. The latest DC movie from Warner Bros. is still two weeks away, but all signs point to success. Not only is the film tracking well, it's also earning overwhelmingly positive early buzz. Reactions to the film from those who've seen it have praised James Wan's superhero epic, calling "a big, fun wild ride" and "another step in the right direction for the DCEU."
Warner Bros. is probably very happy about all of this, because they've hit a few rough patches with their DC films. Wonder Woman is the only title to date that seemed to garner high-praise – enough to warrant a sequel. And while a sequel to Suicide Squad is in the works, reaction to the first film was extremely negative. Batman v. Superman and Justice League didn't go over too well, either. In fact, they went over so poorly that several stand-alone films featuring other Justice League characters might never happen (don't expect that Cyborg movie anytime soon, folks).
The DC film universe is at an odd point right now. They no longer seem committed to mimicking Marvel's MCU and connecting everything. Instead, more and more of the new projects are standing on their own. There's the Joaquin Phoenix Joker movie, which has no connection to any previous DC film. Then there's the Birds of Prey movie, which whisks Margot Robbie's Harley Quinn away from Suicide Squad and gives her something (presumably) better to do. Shazam! will arrive next year with Wonder Woman 1984. On top of all this, Matt Reeves' standalone Batman movie will probably get made...maybe. For now, though, everything is coming up Aquaman.
Aquaman opens December 21, 2018.