'The Patient Who Nearly Drove Me Out Of Medicine': Ryan Reynolds Adapting Reddit Horror Story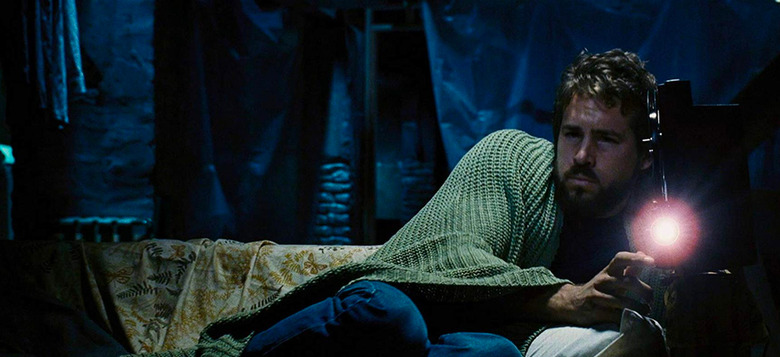 Buried within all the nightmarish drivel clogging up Reddit is the occasional genuinely creepy short story, commonly referred to as "creepypasta." Hollywood has caught on to creepypasta in the last few years, snapping up film and TV rights to these message board tales of terror. Ryan Reynolds is the latest person who wants in on this Reddit movie action, and will produce a film version of the story The Patient Who Nearly Drove Me Out of Medicine.
Variety broke the news about Ryan Reynolds producing The Patient Who Nearly Drove Me Out of Medicine. The story first appeared on the Reddit "No Sleep" page, written by Jasper DeWitt. The story, according to DeWitt's website, follows "an ambitious young doctor attempts to treat a mystery patient on the psych ward whose condition has bedeviled all previous comers, only to discover that the secrets surrounding this patient's care could cost him his sanity." You can read the full story here.
According to Variety, "bidding for the project was described as very competitive with several studios and other production companies chasing the property." Reynolds will only produce, not appear (as of now). Jeremy Kramer will rep the film for Fox, while Natalie Lehmann will handle for New Regency, George Dewey and Patrick Gooing working for Maximum Effort, and Liya Gao handling for Vertigo Entertainment.
Online horror stories are turning into a goldmine for Hollywood. New Line recently snapped up the rights to Dear David, based on a ghost story that originated in a Twitter thread. Penpal, another short horror story that originated on Reddit, was optioned for a film in 2012, but so far nothing has happened. The Syfy series Channel Zero devotes each season to adapting a different creepypasta story into six episodes. And of course, this year's Slender Man was based on one of the most famous creepypastas of all – although perhaps that's not the best example, since everyone hated that movie. In fact, Channel Zero is the only internet-to-live-action adaptation on this list that's yielded good results so far. Maybe The Patient... will break the movie mold. If it ends up being a hit, you can expect even more movies based on Reddit threads in the future. I'm not sure how I feel about that.
The Patient Who Nearly Drove Me Out of Medicine is just the latest title to join Reynolds' growing list of producing projects. In addition to the two Deadpool films, he's also producing the upcoming X-Force movie, as well as a reboot of Clue.