Now Stream This: 'The Immigrant', 'Let The Corpses Tan', 'The Dead Zone', 'Gotti' And More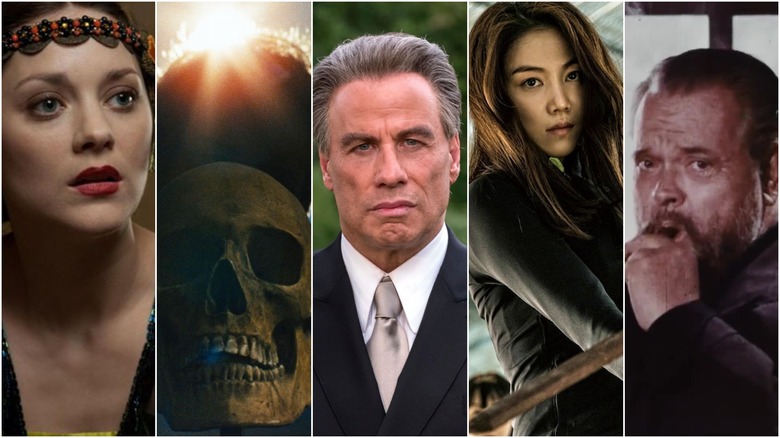 (Welcome to Now Stream This, a column dedicated to the best movies streaming on Netflix, Amazon, Hulu, and every other streaming service out there.) 
Welcome back, streamers. Come along with me as I take you on a journey through several great films you can stream right now. As always, I'm trying to highlight titles that might not stand out on first glance – titles that slip through the cracks. Here, you'll find a few documentaries, a stylish '70s throwback, a chilly ghost story, and more.
These are the best movies streaming right now. Let's get streaming!
The Best Movies Streaming Right Now
1. They'll Love Me When I'm Dead
Now Streaming on Netflix
Release Date: 2018Genre: DocumentaryDirector: Morgan NevilleCast: Orson Welles and all his buddies
Netflix famously rescued Orson Welles' long-lost final film The Other Side of the Wind this year, completing it after years of obscurity, and releasing it on their platform. Welles' faux-documentary is definitely worth checking out, but the real gem of this entire situation is Morgan Neville's They'll Love Me When I'm Dead. Interviewing people who worked with Welles on the film, and splicing in footage from Welles' life, career, and more, They'll Love Me When I'm Dead is an incredibly entertaining, utterly fascinating look at Welles as an artist. The Citizen Kane director toiled for years to get Other Side of the Wind made, and They'll Love Me When I'm Dead underlines how brilliant, and ahead of his time, Welles really was. I'd recommend you watch this before watching The Other Side of the Wind, because it will only make you appreciate the film more.
For fans of: Hearts of Darkness: A Filmmaker's Apocalypse, Lost Soul: The Doomed Journey of Richard Stanley's Island of Dr. Moreau, Best Worst Movie, watching Orson Welles do whatever the hell he feels like.
Now Streaming on Netflix
Release Date: 2013Genre: DramaDirector: James GrayCast: Marion Cotillard, Joaquin Phoenix, Jeremy Renner
The Weinstein Company all but buried The Immigrant in 2013, having no faith in its profitability. But this lush, tragic drama from James Gray (We Own the Night) is a marvel. With dreamy, hazy photography from Darius Khondji, and quiet, impactful direction from Gray, The Immigrant follows two Polish immigrant sisters (Marion Cotillard and Angela Sarafyan) who come to America. Sarafyan's character ends up being quarantined at Ellis Island, forcing Cotillard to wander America alone. Naive and hopeless, Cotillard falls in with a charming, but dangerous, pimp, played by Joaquin Phoenix. Phoenix's character tricks Cotillard into a life of prostitution, while also pining for her. Things look bleak, but Cotillard finds herself smitten with Phoenix's cousin, a dashing magician played by Jeremy Renner. Gray follows these characters through 1920s New York, crafting a wholly believable world. It's as if we've stepped back through time to watch history unfold. Phoenix is marvelous, as always. And Cotillard is lovely and sympathetic. This is one of the 21st centuries best films – and almost no one talks about it.
For fans of: The Godfather Part II, The Lost City of Z, There Will Be Blood, Jeremy Renner wearing eyeliner.
Now Streaming on Amazon Prime Video
Release Date: 1987Genre: ThrillerDirector: David MametCast: Lindsay Crouse, Joe Mantegna, Ricky Jay, and J. T. WalshDavid Mamet made his feature directorial debut with this twisty, surprising thriller. Lindsay Crouse plays a psychiatrist who tracks down a bookie threatening one of her clients. The bookie, played with sleazy charm by Joe Mantegna, draws Crouse into his world of high-stakes poker. Mantegna trains Crouse to help him with his gambling, but the deeper Crouse gets drawn in, the trickier things become. Like most Mamet films, there's more going on here than meets the eye – Mamet, like his characters, loves a good con. Loaded with Mamet's trademark snappy dialogue, and featuring a memorable turn from the late, great Ricky Jay, House of Games was the film that proved Mamet was a filmmaker worth paying attention to.For fans of: The Spanish Prisoner, Heist, Molly's Game, twists upon twists upon twists.
Now Streaming on Kanopy
Release Date: 2018Genre: Style-explosionDirector: Hélène Cattet and Bruno ForzaniCast: Elina Lowensohn, Stephane Ferrara, Bernie Bonvoisin, Herve Sogne
A wild, hyper, over-the-top homage to 1970s Italian crime films, Let the Corpses Tan is an exercise in style over substance. Sure, the film does have a story – a gang pulls off a gold heist, and then heads to a Mediterranean village to lay low. They expect their hideout spot to be low-key and quiet, but it turns out to be anything but. But as you watch Let the Corpses Tan, you'll find yourself letting any semblance of plot and storytelling slip away, and instead focus on the colorful, garish, blood-drenched visuals. Every frame of this flick is a work of gaudy, gorgeous pop art, and as everything descends into chaos and mayhem, you'll give yourself over to the madness, unable to resist those mind-blowing visuals.
For fans of: Revenge, Amer, The Strange Colour of Your Body's Tears, non-stop gun battles.
Now Streaming on Shudder
Release Date: 1983Genre: HorrorDirector: David CronenbergCast: Christopher Walken, Brooke Adams, Tom Skerritt, Herbert Lom, Martin Sheen, Anthony Zerbe and Colleen DewhurstDavid Cronenberg took on the work of Stephen King with this chilly, iconic horror-thriller. Here, Christopher Walken plays perhaps the most normal character in his entire career – and that's saying something, because Walken is portraying a man with psychic abilities. After an accident lands him in a coma for five years, Walken wakes up and finds himself able to see the future, and learn a person's secrets from touching them. This is more a curse than a blessing, as it makes Walken something of a freak – and also sends him down a doomed path. The Dead Zone is one of Cronenberg's more subdued films, but it has an extra layer of uneasiness here in 2018, thanks to Martin Sheen's portrayal of a very Trump-like politician Walken is trying to stop.For fans of: Stand By Me, Stir of Echoes, Minority Report, Christopher Walken's mountain of hair.
Now Streaming on Hulu
Release Date: 2014Genre: DocumentaryDirector: Steve JamesCast: Roger Ebert
No, not the 2018 Life Itself that received abysmal reviews. This is the wonderful documentary about the late Roger Ebert. Based on Ebert's own memoir, Life Itself tracks the film critic's life, from his childhood on, covering his career and his love of film. Director Steve James started making the film in the final months of Ebert's life, and Ebert appears several times, his jaw removed due to his cancer. Despite this element of the story, Life Itself isn't a tragedy – it's a celebration. Watching this doc, you begin to fully understand, and appreciate, what made Ebert so unique, and why his legacy will live on for years to come.
For fans of: Page One: Inside the New York Times, Obit, Won't You Be My Neighbor, silent weeping.
Now Streaming on Netflix
Release Date: 2015Genre: DocumentaryDirector: Noah Baumbach and Jake PaltrowCast: Brian De Palma
If you're not a fan of the films of Brian De Palma, De Palma might change that. This documentary from Noah Baumbach and Jake Paltrow sits the De Palma down, and lets him talk about his entire career – Blow Out, Scarface, The Untouchables, Sisters and on and on. Intercut with De Palma's narration are scenes from those films, reminding the viewer how masterful a craftsman the filmmaker is. De Palma himself is insightful, funny and honest, talking about the problems behind-the-scenes on some films, and more. The doc runs only 107 minutes, and manages to cover all of De Palma's films – but I personally wish it were longer. I could've watched another full hour of the director talking about his work.
For fans of: All of Brian De Palma's films.
Now Streaming on Shudder
Release Date: 2011Genre: Supernatural dramaDirector: Nick MurphyCast: Rebecca Hall, Dominic West, Isaac Hempstead-Wright and Imelda Staunton
In this creepy slow-burn chiller, Rebecca Hall plays a highly skeptical woman who travels around debunking ghost sightings, and other phony paranormal occurrences in the 1920s. But her skepticism is put to the test when she's asked to come check out ghostly sightings at a boarding school, where there very well may be actual ghosts present. The Awakening is an old school ghost story, the type that seems as if it's been pulled from a Gothic romance novel of the past (it hasn't). Hall is, as always, wonderful in the lead, giving a nuanced, quiet performance.
For fans of: The Innocents, The Others, overcoats.
Now Streaming on Hulu
Release Date: Genre: ActionDirector: Jung Byung-gilCast: Kim Ok-binThe Villainess is like a sudden rush of blood to the head. And then all the blood comes pouring out of your nose. This South Korean action flick opens with a stunning, impossibly long POV shot of the main character (played by Kim Ok-bin) tearing through several locations, murdering the ever living hell out of several nameless goons. Plot-wise, The Villainess is more or less a remake of La Femme Nikita (which was already remade once as Point of No Return) – a young woman is trained to be a deadly assassin by a shadowy organization. The story is really secondary. What matters here is the brutal, pulse-quickening action, which almost never lets up for the exhausting 129 minute run time.For fans of: La Femme Nikita, Kill Bill, The Night Comes for Us, lots and lots of punching.
Now Streaming on Amazon Prime Video
Release Date: 2018Genre: Fuggedaboutit!Director: Kevin ConnollyCast: John Travolta, Kelly Preston, Pruitt Taylor Vince, Spencer Lofranco, William DeMeo, Leo Rossi, Victor Gojcaj, Stacy Keach
Yes, that's right – I put Gotti on this list. Gotti, reviled as one of the worst films of the year. Why is it here? Am I trying to tell you Gotti is actually better than the critics say, and secretly surprising? Absolutely not! This movie is terrible! But it's that unique kind of terrible that has to be seen to be believed. John Travolta hams it up big time as the famous mob boss, strutting around the film with a permanent frown on his face. Over-directed, cursed with a clunky script that has no sense of pacing or the passage of time, and chock-full of gangster movie cliches, Gotti must be seen to be believed. I know what you're thinking – life is too short to waste time watching deliberately bad movies. Maybe you're right. But maybe, just maybe, you should pop open several bottles of wine, kick-back, and marvel at the wonderful badness that is Gotti.
For fans of: The five boroughs – Manhattan, Brooklyn, Queens, The Bronx and Staten Island.