Kevin Smith Raves About His Experience Visiting 'Star Wars: Episode IX' Set, Singles Out One Amazing Performance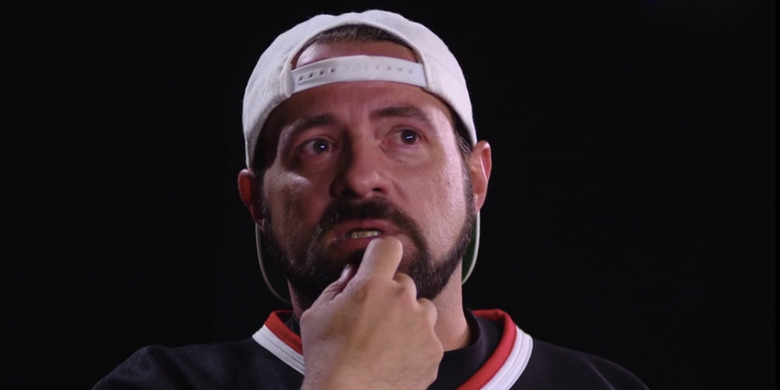 Writer/director/podcaster Kevin Smith has visited J.J. Abrams' Star Wars Episode 9 set, and he hated every second of it. "It was dumb," Smith said of the set. "I looked around, shrugged my shoulders, and said, 'This is the best you got?' I interrupted J.J. in the middle of a take and just said, 'Hey man, thanks for the invite, but this sucks. I'm outta here.'"
I'm kidding, of course. Smith, as rabid a Star Wars fan as you'll ever find, brought back several tidbits from his travels to the film's London set, and they're all overwhelmingly positive – including how he witnessed a performance that drove him to tears. Watch him recount his visit in a video below.
Kevin Smith's Star Wars Episode 9 Set Visit
WATCH:
– "I wept on set..."
– "Biggest set I've ever seen in my life."
– "@jjabrams is doing the Lord's work"@ThatKevinSmith joined us on #GMADay with @sarahaines & @michaelstrahan and dished on being on the set of @starwars: #EpisodeIX! https://t.co/pIZkAkwId3 pic.twitter.com/T4VPa4mH2u

— Good Morning America (@GMA) December 5, 2018
Smith was a guest on something called GMA Day and regaled the hosts with tales of his travels to a galaxy far, far away. In case you can't watch the video above, I'll transcribe his relevant quotes:
"Number one, J.J.'s doing the Lord's work, man. This movie looks fantastic. It's a year away, but man it looks fantastic. I wept on set because I saw somebody give a career-best performance. Somebody I've seen in these movies before. I rolled a tear, it was so darn powerful. Biggest set I've ever seen in my life. The dude's not directing a movie, it's like he's directing a small country. The thing is so massive."
Smith says he saw two scenes being filmed, one of which was "absolutely amazing," and says he overheard plot details while he was there – but of course, he couldn't reveal what those details might be.
Since we're legally bound by Internet Law to speculate about every single element of Star Wars news, no matter how small or seemingly insignificant, let's talk about which actor may have driven Smith to tears on the set. Could it have been Mark Hamill? Does his Force ghost get a powerful close-up moment that could have sent Smith over the edge? It doesn't seem likely that it was any of the younger cast members, because their careers are still relatively fresh. If I were to bet money on this, I'd put all of my chips on Billy Dee Williams, who will reprise his role as Lando Calrissian. Audiences haven't seen Williams as the live-action Lando since 1983's Return of the Jedi, so it makes sense that Smith might get caught up in the emotion of seeing him return.
Smith always has exceptionally nice things to say about the productions he visits, so keep that in mind when digesting his comments here. He also visited the set of The Force Awakens and admitted to breaking down into tears on that set as well, and StarWarsUnderworld reminds us that Smith actually lent his voice to one of the Stormtroopers during post-production on that movie.
Star Wars: Episode 9 hits theaters on December 20, 2019.