Female-Led '21 Jump Street' Spin-Off Eyeing Tiffany Haddish And Awkwafina To Star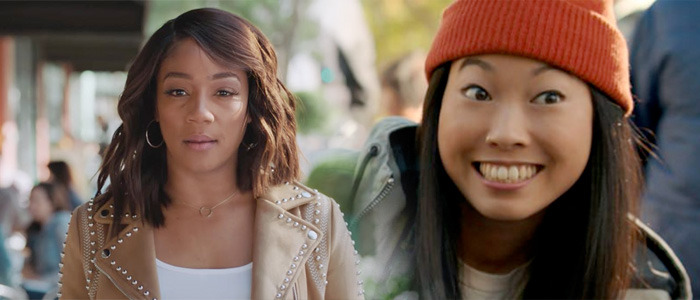 It seems like that 21 Jump Street crossover with Men in Black isn't happening anytime soon, but Columbia Pictures is still very keen on getting a female-centric spin-off of the Phil Lord & Chris Miller buddy cop comedy franchise off the ground. And they're trying to line up a couple of promising leading ladies.
A new report says Girls Trip star Tiffany Haddish, one of the hottest comedy stars working right now, is in talks to take one of the two lead roles in the female-driven take on 21 Jump Street. However, she's not exactly the right age to be pretending to be in high school. So how is this going to work? Well, it all makes sense when you hear who they're trying to land for the second lead.
Collider has word on Tiffany Haddish in talks for the 21 Jump Street spin-off, and instead of being an undercover cop posing as a high school student, she'll be a teacher at the high school. But that's not all. She'll also be posing as the mother of a new student at the school who just so happens to be an undercover cop too. That's a solid spin on the premise without treading familiar territory.
So who is Sony looking at to play the student? As of now, Crazy Rich Asians and Ocean's 8 co-star Awkwafina is the top choice to play the younger cop. She's not in active negotiations for the role, it seems, but the role in question will likely be going to a younger actress to fit in with the premise.
Personally, I think this approach to a new Jump Street movie has a lot of potential. However, and I might be in the minority here, but I can only handle Tiffany Haddish in small doses. She has the same kind of obnoxious presence as Kevin Hart, and her schtick gets old fast for me. That's not to say she isn't funny, but having her lead a movie and always cranking her energy up to 11 just feels like too much.
This has the potential to be a lot of fun, but it's going to be hard to measure up to what Phil Lord & Chris Miller did with the first two installments of the franchise. Thankfully, 22 Jump Street writer Rodney Rothman is retooling a script previously worked on by Broad City scribes Lucia Aniello and Paul W. Downs and Bob's Burgers producers Lizzie & Wendy Molyneux. He's also directing, so hopefully this will work out well for everyone.